So a couple of months ago I picked up the remains of a 1972 CL450. It really is a basket case. The prior owner was using it to learn about motorcycle mechanics. So when I got it the bike was completely dismantled, the frame was stripped, head was removed from the motor and all the cams, followers, valves, etc. were out. It looked like the head and jugs had been bead blasted. The bottom end of the motor was intact but open at the top to whatever wanted to crawl in and die.
All the rest of the bike is in various boxes. It seemed to largely be there, except for the gas tank... Discovery begins...
figured the best place to start was the engine, if that was shot then I'd be parting out the rest.
I like to pick music related names for bikes I'm working on and this one is Exile ... after Exile on Main Street... Released in 1972...
The PO left oil in the bottom end of the motor - it was nasty dirty oil - but still oil and it preserved the transmission and crank quite nicely.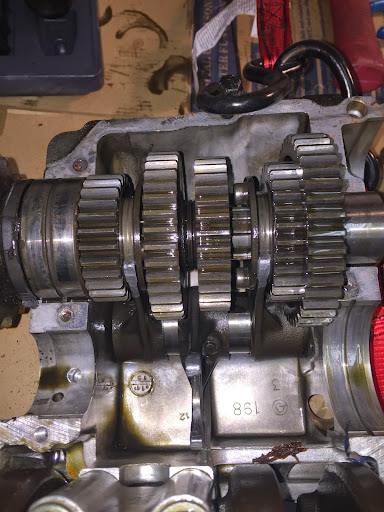 The bolt holding the shift roller and neutral detent to the shift drum is a staked bolt. someone working on the motor at some point had tried to remove it and shredded the JIS/Philips head - I drilled it out and replaced it. I'll lock it in there with red thread lock and stake it also.