Ohhh yeah, Ive wanted to build one of these for a while but had too many other projects going on. I still have too many projects but hey... what the hell. Ive build a few cars in my time but now I want to try something else. I tried a boat. but they are right. There is 2 happy days in a boat owners life. The day you buy it and the day you sell it. So anyways.... here is my cafe bike build.
I found the bike about 100 miles away from my house. (I live in Los Angeles) When I found it I asked they guy whats wrong with it. He said, " I dont have papers, I dont know whats wrong with it, and the motor is seized." I said..... " Perfect!" I picked it up for $400 complete. Here are some pictures of it when I took it home.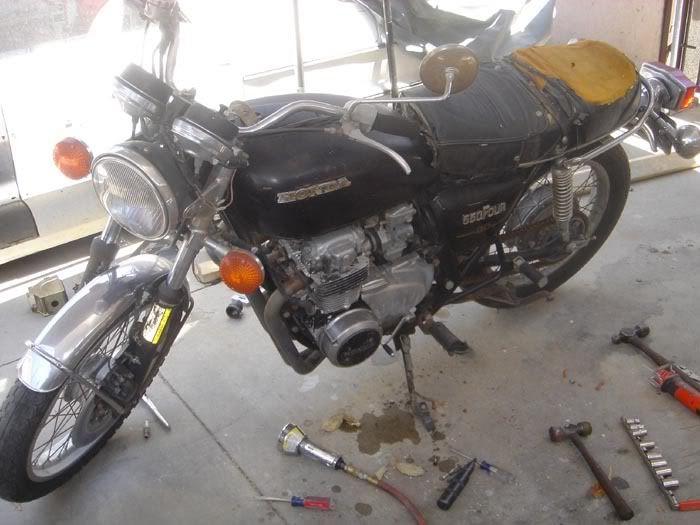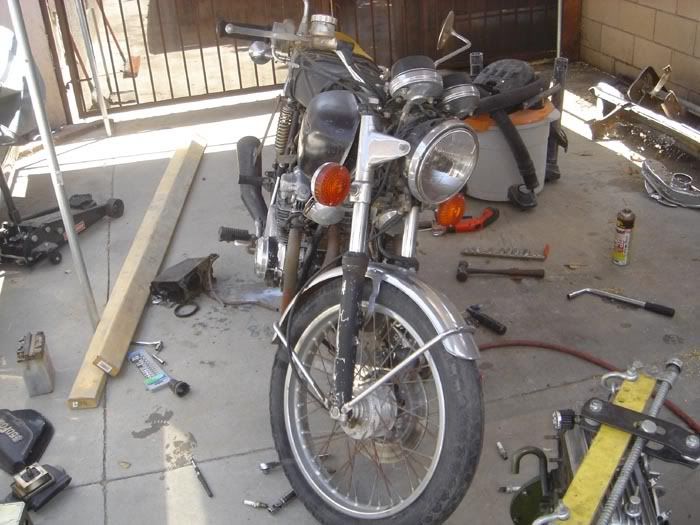 I picked up a prefab'ed fiber glass seat and started to mount it. They said to just straight mount it on the frame. I tried that and the seat didnt line up with the tank. and was not stable. I didnt like how it was soo low and not flowing with the tank line. also it was hitting the side cover. look at the picture
So then I decided to fab up a seat bracket. I was scared it might be heavy but after building it, I think it still under a pound. The new seat bracket is very strong. A 500 pound man can now sit on it. It will be mounted using riv'nuts.
Now the seat, tank and the side cover lines up.
I also started the tank knee releifs. Some other people was poking at me for doing knee releifs but fuckk it.. I like the way it looks. (with my clubmens... hahaha)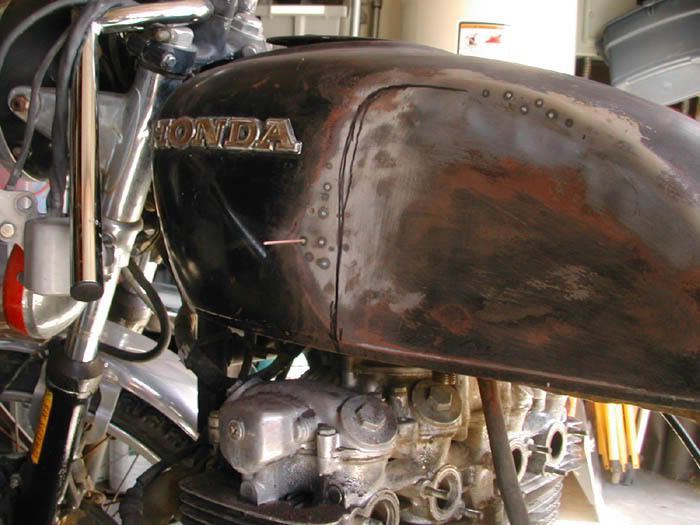 fits like a glove
here is the bike mocked up and ready to be taking apart for a frame up rebuild. I just need to get the hardware together so there is no suprises after powdercoating. Its starting to come together.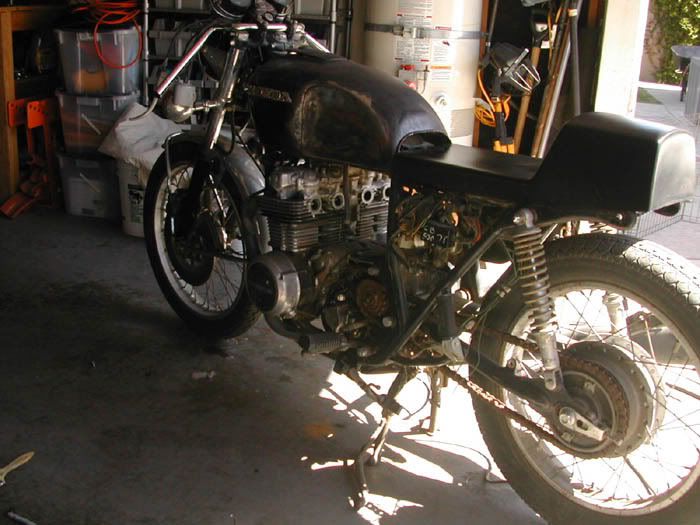 June 3rd, 2008 Tuesday... UPDATE!!
Alright. I got up this morning and Id thought Id do a little work on my bike. Last week I took the bike down to a rolling chassis. No today Id thought to get it down the frame so I get get the parts chromed and powdercoated. So this is what I did this morning.
got the frame down to bare frame. now it was time to do some cutting and grinding
I bagged and tagged all parts and sorted it out to whats going to get chromed and powdercoated and polished. all hardware was sorted out to get replaced with stainless steal allens
motor is getting ready for a rebuild. I guess Ill start doing it after I drop all the other parts for chrome/polish/powdercoat So when they get back. everything will be ready to be put back together.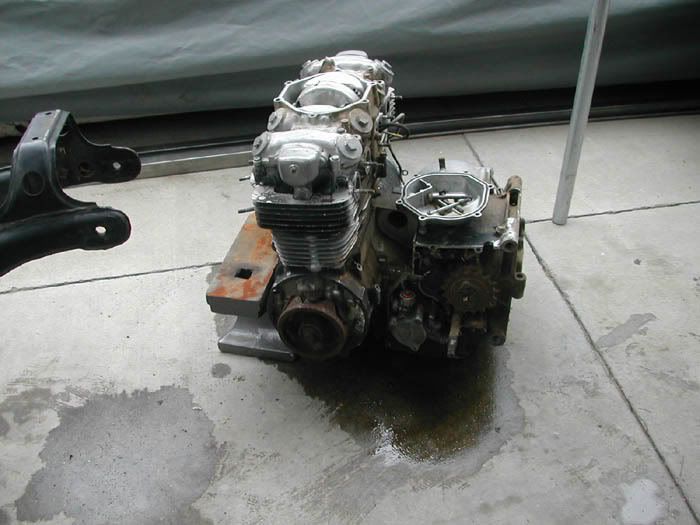 the Horse shoe center kickstand was removed. Im glad i did it becuase that thing is heavy and there was a lot of rust under it. take a look.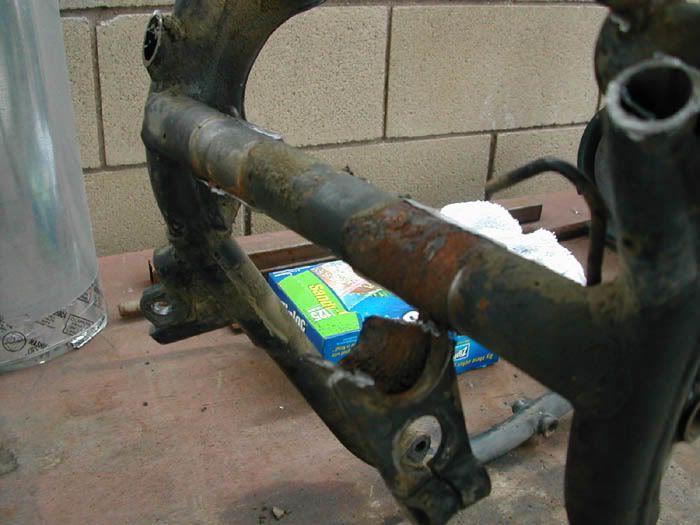 also chaingaurd tabs was grounded off. I just have to press out the shock bushings and a little sanding and its ready for chrome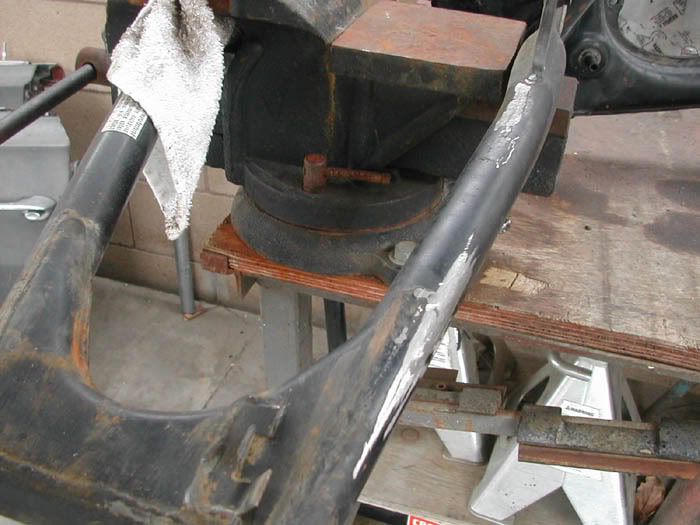 I cut off the back pegs and tubes and grounded them down smooth. (girl friend wont ride with my anyways) and cut off and grounded the stock seat brackets and tabs.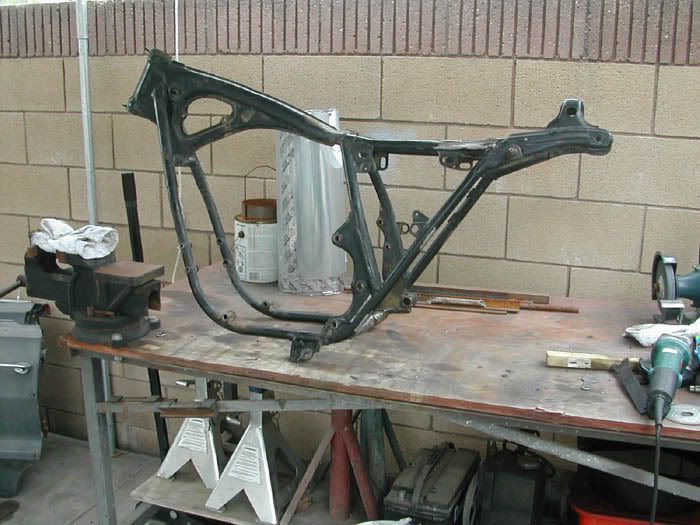 So that all for today.... Time to go to work (swing shift) and pay for the bills. but Id rather be home working on this thing!! ;D