Yes, Yet Another CB400 four build for y'all. I thought I should start a build-thread on my next project now that I'm done with the
Super Bol D-Or
.
I got this little "gem" from a friend of a friend, who had it sitting outside around at his farm unloved and unused for years. I'm reluctant to call it a barn-find, because a) we don't have barns over here, and b) it was outside in the elements anyway
Apart from spending all my money and time on the 900, I didn't want to invest too much in this project until we had the paperwork sorted. In order to prove transfer of ownership of an unregistered vehicle I had to organise a Statutory Declaration from the previous owner saying he has given the bike to me. (Yep. Got it for nothing. Well in these days of the beer-economy, a slab of Carlton Draught-which is worth next-to nothing
) Problem was that in the meantime, this guy had moved a couple of hundred Kms away, and I had to deal with a third party to track him down, get him to sign in front of a JP/Police Officer witness, and send the papers back. Took just under a year, but we're good to go now.
Here she is the day I got her home: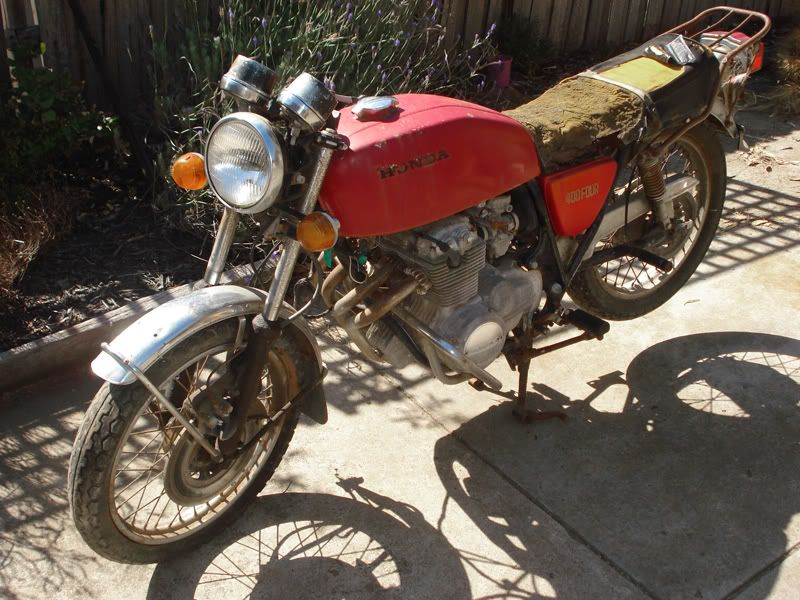 A little rough, but some useable bits there. Somewhere.
Interesting flora and fauna under the seat: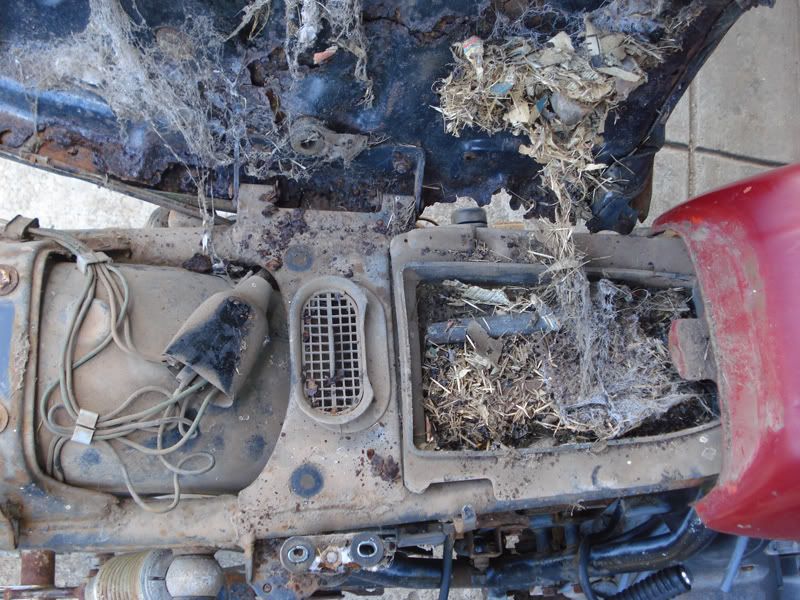 Under the tank was slightly cleaner: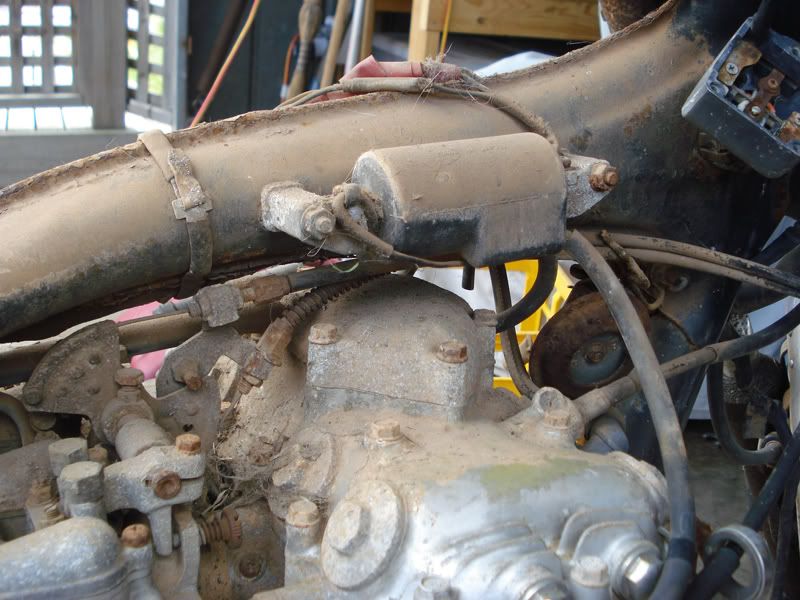 Forks and brake – not so good:
This was the caliper I swapped with Justinas for one of those cool Russian haedlights for this project. I did manage to clean it up a bit first: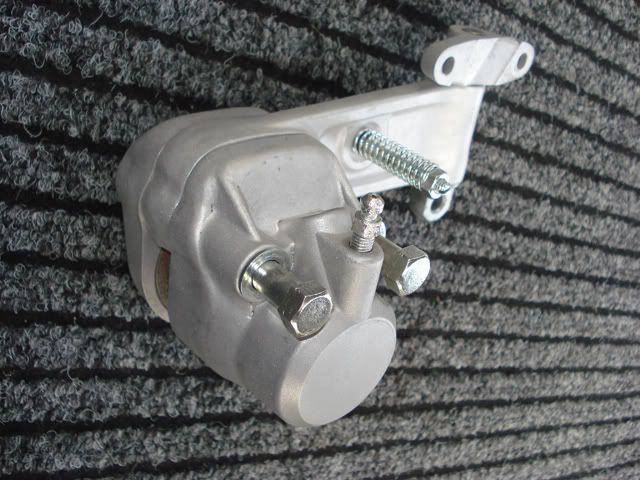 So the first step was strip her to bits.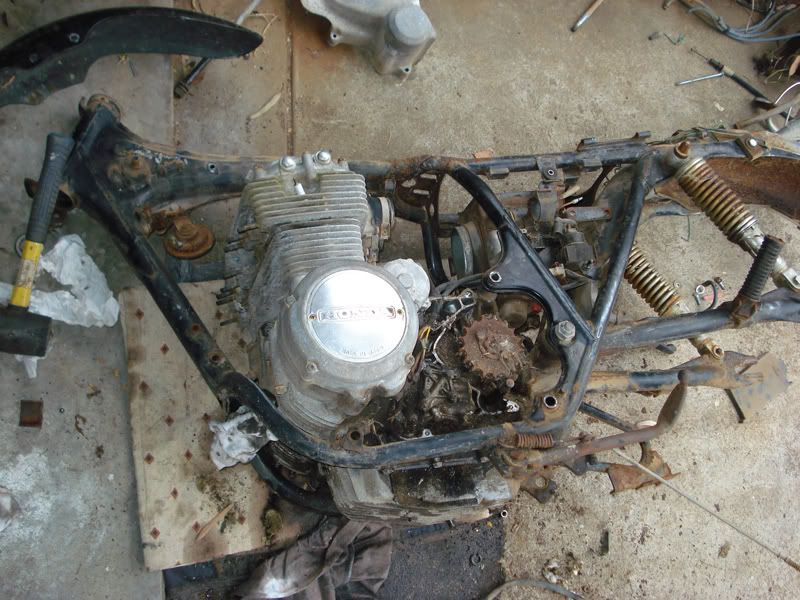 I made a stand for the motor, and set to work massaging some movement back into that.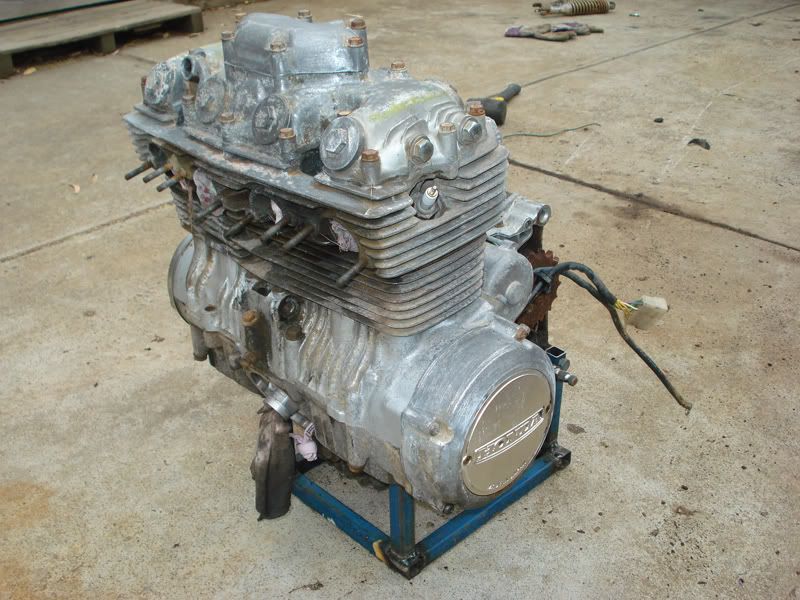 I have no idea why this bike was parked up, but I thought some mechanical catastrophe was to blame. I pulled the plugs, and poured some oil down the holes and let it sit for a couple of days. I gently tried the kick starter, and all the little bits and pieces seemed to be moving in the right direction, so after a few more rotations, I hooked a battery up and tried the electric start. Again, all good, so I hooked the compression tester up, and got good readings across the board, so that made me happy. A few months later, and the readings are still strong. The speedo has 15000 Kms on it, and I'm thinking that could be accurate. I pulled the clutch apart, and there's very little wear. All the valves were within spec. The rear brake shoe is almost new, and the disc pads look great too. Footpeg rubbers show very little wear. I'm starting to think he just got sick of riding it? I haven't tried to start it yet, because I drained the oil and can't find the spring that goes in the filter-housing
I've also rebuilt the carbs, and they're ready to go back on.
The Plan
Well, I should state from the outset that this might not be a 'classic' cafe racer. It won't be a bobber or fighter, so I think this will be the best fit. To be honest, I'm not sure how it will end up, but I will be doing some suspension mods just to bring her up to date a little bit. Having felt the difference it made to my 900, I'm not sure I could settle with a 'restoration'. To this end, I started playing with a few bits I had lying around (still unsure if I'd get the paperwork), and fitted a pair of cbr600 F2 forks to the 400 stem. The originals were shot anyway. 2 new bearings for the wheel, a couple of spacers, bingo bango - new front end. The next challenge was to mount a pair of disks for the twin calipers. After initially trying some 900 units, I settled on a pair of cbr900 floating disks. Much cooler. I also pulled the front wheel apart to see if I could re-spoke these things myself. Turns out I can
I needed a couple of spacers/adapters turned up, but my brother came to the party, and made 2 16mm aluminium plates with a centre boss that fit perfectly. I drilled and taped 4 holes for the new disks, and was able to use the 5th and 6th holes + another 2 to mount the whole lot to the hub using the original 4 holes. Sound complicated, but I only ended up drilling 2 new holes.
So here she is sitting patiently on the lift, waiting for some more TLC:
The Marzocchi's are there just to support the rear end, but I'll be looking at piggy back shocks of some description.
So there you go. You're all now as up to date as me, and we'll wait to see what happens next
cheers
ian