So I I figured it was time for me to start a build thread. Virago's being all the craze these days I couldn't help but try my hand at one when I found a nice deal on a '81 XV920R chain drive. Might as well be taken from different pages of the same cookbook I know (Benelli tank, motolana seat, spoke wheels).
The fun part is the R6 forks with spoke wheels, r1 rear shock. At some point I plan on getting some sumo rims to lace to my hubs, but the wheels I got fit the tires already on it so for now I'm sticking with them.
The day I got her. Bought it from the coolest old dude that lived out in the boonies. Of course it was labeled "Beast"...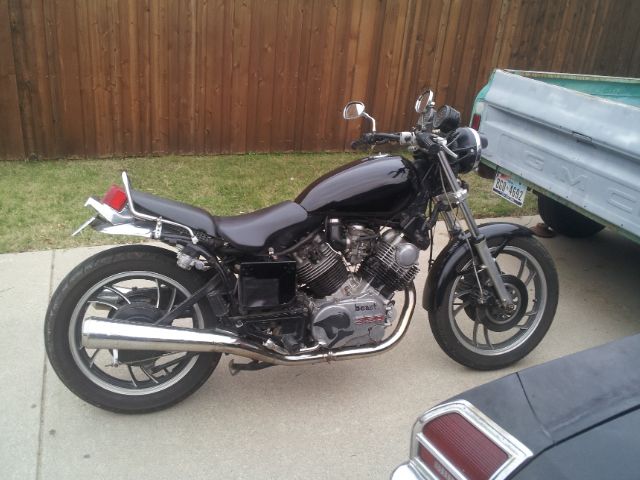 My now ever growing collection...
Started to strip the her down.
Got a pair of stem bearings from AllBalls and pressed out the stem from my 07 R6 forks I scored cheap on craigslist, turned it down 1mm, and stuck them on.
For wheels I bought a set off a TX500 which the front hub is as far as I can tell the same as a xs650 (for a heck of a lot less money on ebay). I'm going with a single floating disk off a Ducati 748S. The center bore and bolt holes are perfect (idk why), but the rotor spacing is completely wrong so I turned a hubcentric spacer:
Also turned a couple bearing spacers to align the wheel in the forks.
Started mocking up the rear R1 shock (which should be about right on the spring rate). Also threw the Benelli tank on there for good measure. Caliper is off a GSXR. I'll probably put a R6 caliper on it at some point, but I'll have to make some spacers to get one to fit. Since the r6 has 310mm rotors, the gsxr has 320 (like the Ducati) and the calipers otherwise bolt into place. I have r6 calipers on my gsxr forks on another bike, but it took some spacers to make it work. Yes I know the caliper is for the wrong side, just mocking it up.