I've had a couple of requests in my build thread (link in sig) to post up some rough measurements and ramblings about an engine install stand I cobbled together from some scrap metal. I know it looks strange but it works, so just humor me. Exhibit A:
Which allows me to go from this:
To this, in about 20 minutes without lifting anything heavier than the frame:
I know there are some proven ways to get this done for this historically tight frame but none appealed to me. I have done the "place the bike on its side" method that seems be the most popular and it is doable....but.....I thought it would be easy enough to come up with something that had a mechanical advantage in the interest of hernia prevention since I am always a one-man show while working on this thing. The typical disclaimer applies: I have a mechanical background but I am no structural engineer; if you are cutting, drilling, and welding metal in order to support another 200 lb. lump of metal without taking a moment to think about what you are doing, there is a good chance you might need a band-aid or in the very least get your feelings hurt. Please be careful. So here we go.
Why?
-My build is going to require a multitude of complete mockups and teardowns (again all solo).
-I wanted to embarass myself with some truly piss-poor arc welding.
-I wanted to practice fixing warping due to aforementioned piss-poor welding using improper OA torch technique.
-My body type is what is known as "wiry" (a.k.a. skinny, a.k.a. lazy)
Some limitations this thing has that I have picked up on so far, and I'm sure the experience level on this forum will identify some others.
-It is not adjustable height-wise....YET!
-The carbs have to come off.
- Lacks mobility for moving the engine to/from a complete bike as opposed to my current method of bringing the frame to the engine. Easily fixed with more adjustability and some castors I suspect.
So here is how it goes basically. I start with the engine on its overhaul/storage stand that uses only the two lower engine mounts which is key to this whole idea (another pitiful weld project).
Slide the Install Stand on the backside: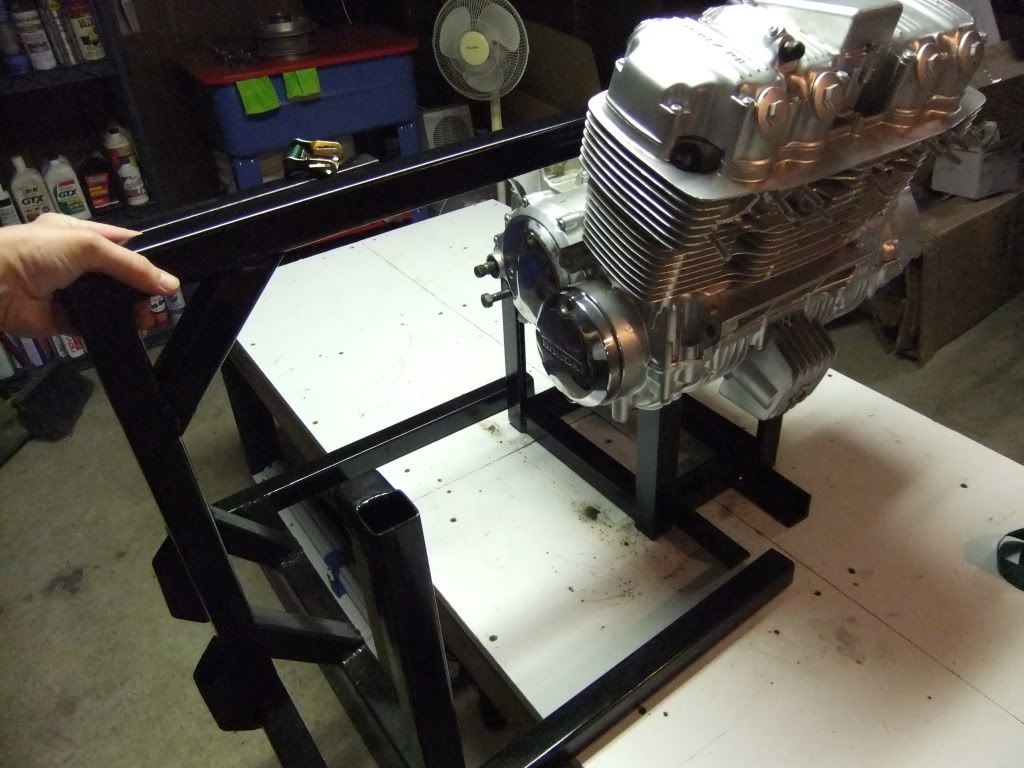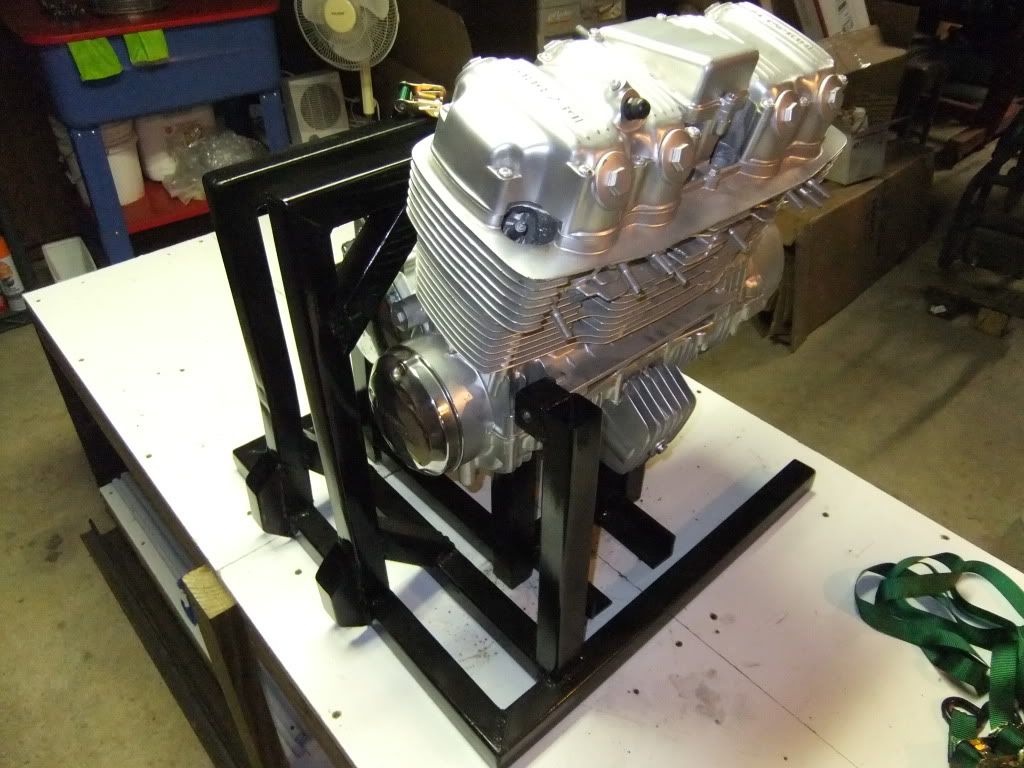 To be continued in another post, just give me a minute or two. I've been burned before on large posts disappearing before I could push the submit button.