I have some Z1/Kz900/1000/1100 parts I'm selling. I was saving them for a trackday weapon build but I already have too many projects. All prices are shipped to your door in the lower 48 states from zip 63303.
Mikuni 29mm Smoothbores. Good shape overall but could use a minor cleaning. Slides and choke plungers move freely. (No pics.)
$1000
Keihin CR33 carburetors. Come with short velocity stacks and K&N pod filters. Need cleaned and the choke appears to open only 1/2 way. Slides move freely. Some physical damage but nothing the reduces functionality.
$700


1015 block bored to 72mm (1075). Freshly bored and powder-coated gloss black. Bead blasted prior to coating but they blasted all surfaces minus the bores.
$250


MTC 12.5:1 1075 pistons and wristpins. Will need rings and circlips. Bead blasted all over. Engine builder friend said they can be smoothed with 1000grit sand paper and used.
$150
Camotion Z2 camshafts. Journals and lobes look good. Comes with stock sprockets that have been slotted.
$300
Andrews X3 exhaust camshaft. Lift is 0.412" +/-. Journals and lobes look good. No sprocket.
$120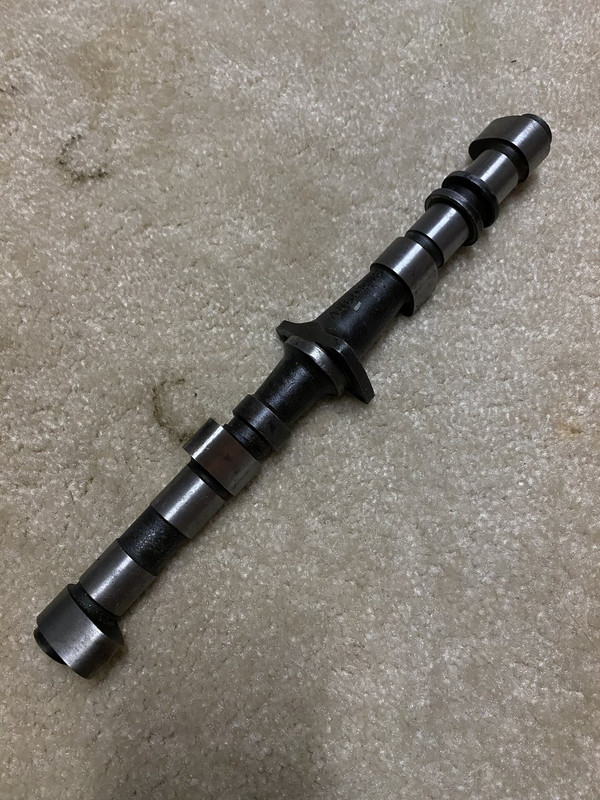 Unknown "Made in USA" intake camshaft. Lift measures .402" +/- Journals and lobes look good. No sprocket. (No pics.)
$100
Gpz1100 (air-cooled) OEM camshafts. Journals and lobes are pitted. Maybe good for hard-weld cores? Or an art sculpture. (No pics.)
$60
Kz1100 Cylinder head. Comes with matching camshaft caps. No broken fins or snapped off studs. One cylinder has a heli-coil coming out. I don't know condition of cap bolt threads. (No pics.)
$200
Vance and Hines Street System - Header only. Some blueing on the pipes and flat-spotting on the collector. Plus the typical rust before the collector on the head pipes. (No pics.)
$150
Outboard starter plate. Possibly homemade? Will need seal replaced. (No pics.)
$40
If can take pictures if needed.
Later, Doug