Comfort the afflicted and afflict the comfortable.
DTT SUPPORTER
DTT BOTM WINNER
I've been keeping eyes and ears open for a 3/4 ton truck for quite a while. I really like the Tundra and it's been a great truck and it JUST handles the 5th wheel safely but I wouldn't be comfortable dragging it up or down much of a grade loaded down like that. Being right at my weight max I've been very careful with trip planning so that I don't over tax the equipment. So far things have been OK but we want to go farther and longer in the future so more truck was a neccecity. The search for has been long and discouraging, the things are so well-built any more that there aren't many out there on the market and when likely candidates come up they are either extremely expensive and/or high mileage. I can't tell you how many I've seen that look great... and have over 200k miles!
We came across this one by the road w/ a For Sale sign. I called the guy and he and his wife are both people my wife has known since they were kids and I performed in a men's singing group w/ his dad. The next morning I went to see him and by 10:00am cash and keys had exchanged hands.
'11 GMC Sierra 2500HD, 6.0L gasoline, six-speed, trailer tow package, spray-in bed liner, solid folding tonneau cover, & a nearly perfect interior. It's got less than 53,000 miles, new tires, & brakes. I would have preferred a two wheel drive but those are almost impossible to find so a 4x4 will work fine. 4X4s have their use but I certainly won't be doing any off-roading in this thing and a 2X4 really suits my needs better. (The last 4X4 I owned was off-road only when it sat in it's gravel parking spot.) The price was excellent so I had to jump on this one.
When I get back home from winter in the south the fun will start. The clear coat is coming off in a couple spots so it's going to a body shop fairly soon after we get home. There's also a bit of bubbled paint on the back of the bed beside the tailgate that I'll have them fix. When the weather warms up I'll get underneath and reapply undercoating in a few spots.
GM seemed to have some issues w/ clear coat on wheels during that time and mine were good examples of that. I looked into replacements or other ways to correct and I had about decided to refinish them. I wasn't thrilled at the prospect of blocking up three tons of truck in the driveway, having the tires dismounted, wire brushing off the clear coat, paint or powder coat the wheels, re-mount the tires, and on and on. Yeah, coulda' done 'em one at a time. Anyway, did lots of searching and found a guy on Marketplace w/ four brand new take-offs just like mine available over in FL. We don't do FB so I contacted my friend in PA to see if he'd give the guy a yell. My buddy was at his kid's in VA so the guy from PA was in VA and contacted the guy in FL for his friend from OH who's in MS. (Ain't modern technology wonderful?) Anyway, the things are brand new and for $400 I would have been nuts to walk away.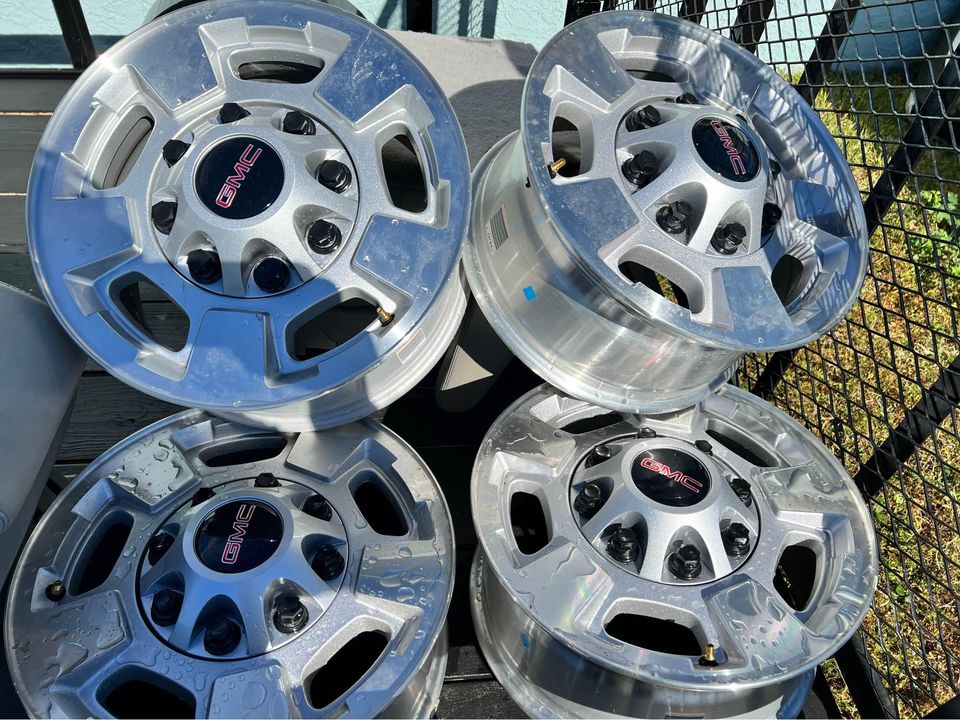 The headlights are foggy and I could do a polish job but I got a decent deal on a new pair so they're ready to go on as well as all the required hardware to mount the 5th wheel.
Last edited: