1962 BSA DBD34 Gold Star Restoration
Someday…How many times have you told yourself "Someday, I will find the bike I have always wanted?" Well for me, "someday" finally arrived and I feel like the luckiest bastard in the world. After 10 years of patience, perseverance and pure luck, I found a barn fresh 1962 DBD34 Gold Star that I could afford. My goal is to restore her from the crank up to full UK clubman specs and then will ride the hell out of her this spring.
My bike arrived from Texas and I am the one who found it in the first few minutes it was listed on Craigslist and snapped it up. I feel like a I won the f%#@ng lottery…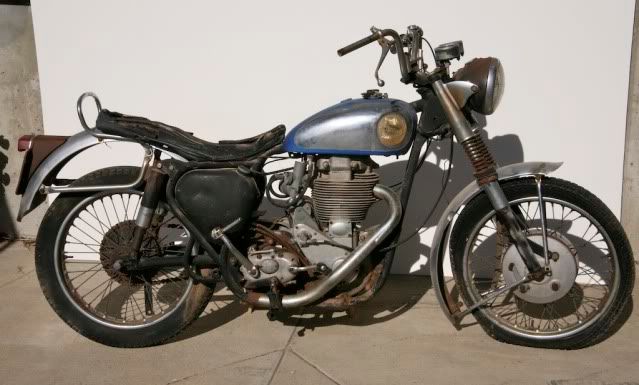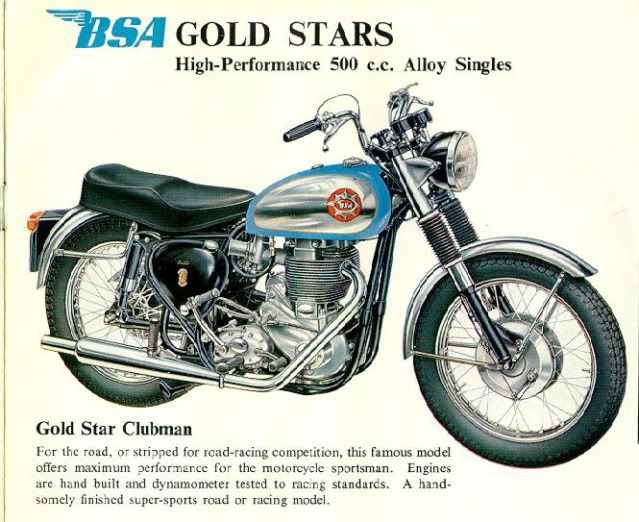 Original US Clubman Specification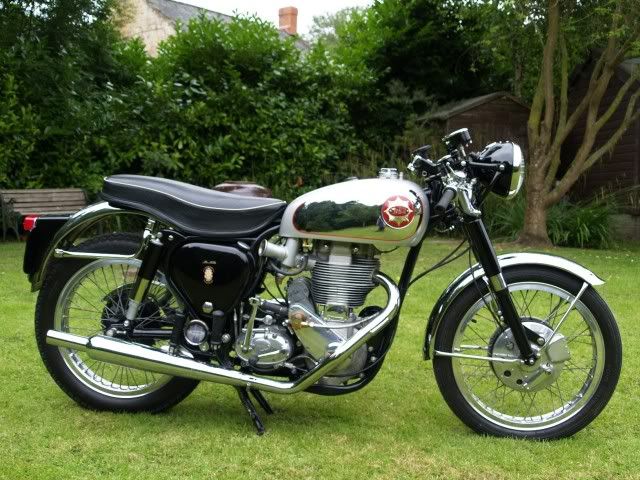 My goal is to bring it to UK Clubman specs like this bike.
The Sale
As many of us often do, I was searching Craigslist for vintage British bikes and parts. The following listing popped up in Dallas/Fort Worth "Barn find BSA 500!!!with title!!!" It was listed 20 minutes earlier, my mind raced to thoughts of a Gold Star, though it was probably an early 1970's Gold Star, a Royal Star or another 500c BSA. A man named Brad answered my call and I asked him a few basic questions. He is a Harley guy working for American Cycle Traders and knew little about BSA's, except they were old.
I asked "Does it have one or two exhaust pipes?"
"One" he replied. My pulse quickened.
"Could I have you walk out to the bike and read the serial numbers on the left side of the crankcase beneath the cylinder to me?"
"Sure, it is right outside on my trailer", "Let's see, DBD34 GS 6XXX.."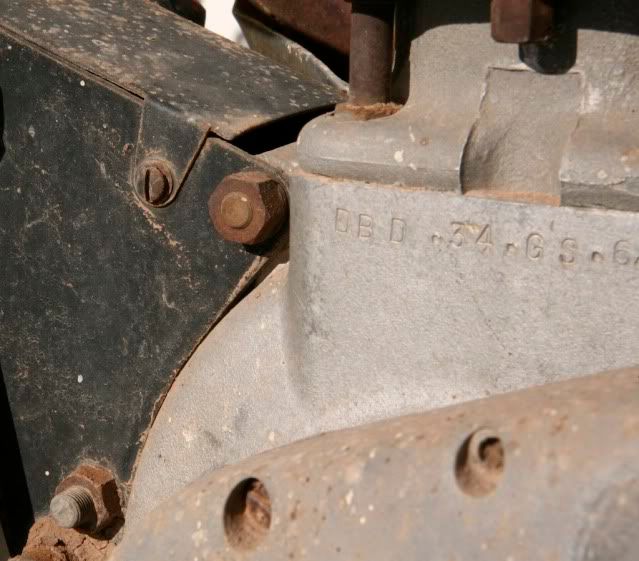 I have the BSA Gold Star serial numbers committed to memory for an imagined moment like this. My head was spinning and I wanted to scream out in joy, but forced myself to play it cool.
"Could you read the numbers on the frame near the neck atop the gearbox on the left side?"
He said "CB 32 10XXX". Wow, this cannot be happening…
Then I asked "Now could you read the numbers and letters atop the gearbox on the right side?"
Brad wiped off the dust and dirt and said " RRaT2"
Hmm, Is this the legendary close ratio RRT2 gearbox or not? Maybe, but I still own a standard box in great shape I could use…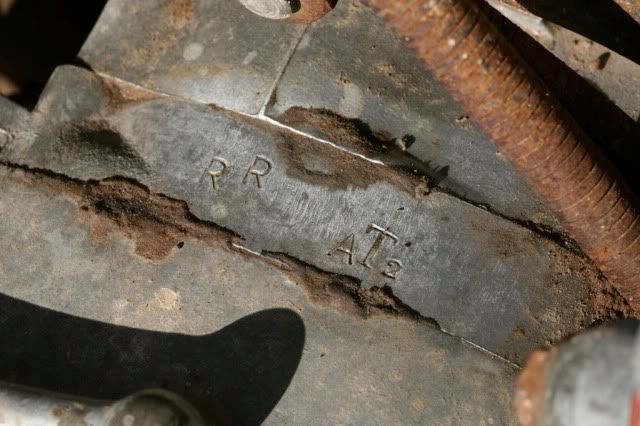 "Does the motor turn over?"
"Nope, motor is frozen." Grrr….
I ask a few more questions. "Broke fins, damage to cases, solid frame?
"Yes, the top one. No, Yes."
"I need your e-mail address to send your full asking price. Consider it sold and pull the ad"
"Really?, OK." Brad replied.
With my head spinning and my fingers typing as fast as possible, I sent a Paypal payment to a complete stranger 1100 miles away, gulp, a big leap of faith and the adventure begins…
The next hour was spent researching my bike and I called Brad back. "What the hell, I have had 75 calls in the last two hours! People are offering a hell of a lot more than you paid, what is this thing?"
I explained this "thing" is 1962 BSA Gold Star 500cc single cylinder US spec clubman motorcycle. The Gold Star is one of the most sought after, important, powerful, fast and beautiful motorcycles ever to roll out of Birmingham during the 1950-60"s. I have been dreaming of this bike for 10 years. He honored our deal despite much higher offers. (One of the things I liked while in graduate school in Texas was your word or handshake is a contract, paperwork is just red tape.)
The next day I called to arrange and pay for shipping my bike to Minnesota. A BSA "expert" showed up at his shop with $5000 cash more than I paid for the bike. He wanted to part it out on E-bay. "No sir, it is already sold." You are a good man and a man of your word Brad Van Horn.
Brad bought two bikes from the original owner in New Mexico. He and his wife are alive and well and expressed a desire to see this bike restored. Brad and I agreed not to disclose his purchase price or my purchase price, so I will not. The original New Mexico title was included and I agreed to send photos and report progress of the restoration to the original owner.
We contracted Steve Loken of Lokenmotive Transport to haul my bike straight up I-35 to my doorstep. With his leadfoot, I had the bike 5 days after I found it. Now the fun begins.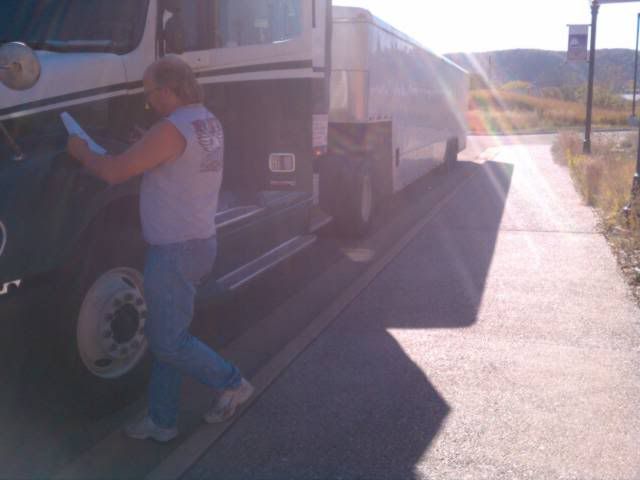 First Things First…
Before I could really spend any real time working on the Gold Star I needed to liquidate three other project bikes I had scheduled for the next year. First up was my 1966 Triumph Bonneville project. This really hurt, but told myself I can always find another 66 Bonnie in the future for a realistic price. It sold to a nice guy in the Anoka, MN for a $1700 and I felt good he is going to bring it back to stock as I had planned. Ouch, but I keep telling myself I have a Goldie. Next, I E-bayed the Rocket Gold Star replica I was going to start this spring. I had collected a 1956 A10 frame and 1958 Super Rocket motor, forks, hubs tool box, oil bag etc was sold for a total of $1500. I kept the standard gearbox and came out a head on the deal. The motor went to a man in Indonesia building a RGS replica and the frame to a member on the Britbike forum. Sir Lucas's magneto and dynamo went to Australia and forks to the UK. Twenty-four hour a day global society.
The next victim was a 95% restored 1975 Honda CB400F Super Sport. I have built three and sold two of these and am sitting on a fourth, so one had to go immediately, while the other will go in the spring once complete to fund the Goldie. She went to a cool dad in Minneapolis who wanted simple classic bike for his daughter. He paid me to finish the restoration, to lace new rims, mount new tires etc for him and I will make a little extra on the deal so I ended up with $1800. Yikes, I am going to spend more than that amount for a crankshaft and other motor parts…
First Impressions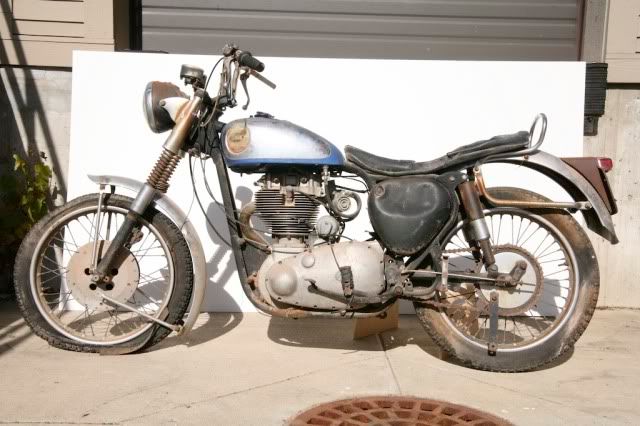 Steve Loken dropped off my new bike on my day off. It was a beautiful warm Indian summer day and I got to spend some quality time photographing, assessing and breaking the bike down. The bike may look terrible to most people, but to me, it is a shining jewel. The good news is nearly everything is there: tank, clocks, 190mm front drum brake, transmission kicks through and shifts, etc. The bad news is the motor is seized (frozen rings?), the cylinder head has a broken top fin, no Amal GP carb, the clocks are cores for rebuilds at best, no side or center stands, one of the centerstand tabs is broken off the frame, spokes and rims are bad, seat pan has rust holes, broken Lucas head and tail light lens, dented tool box and oil tank and a few other minor things. So what, the frame and motor match and every missing part is available in the US or UK. I have my Goldie at last.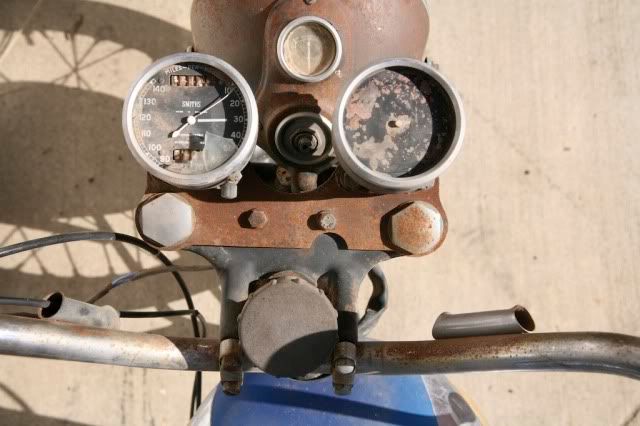 A broken clock gives the correct time twice a day. My clocks tell me I will be spending hundreds of dollars to restore them.
Anyone home?
My dirty kinky girl
Restoration Method
I have built and restored a 1966 BSA Lightning, 1974 Norton 850 Commando, 1976 Triumph T140 and my current ride, love of my life, a 1966 Triton (Triumph/Norton hybrid café racer). Also, I have been restoring and selling several 1970's Honda CB 400, 550 and 750's for cash to support my vintage British habit. So, I know bikes, what to do (and not to do), where to get parts, find information and have tools and am well prepared to plunge into the mysterious world of the single cylinder Goldie.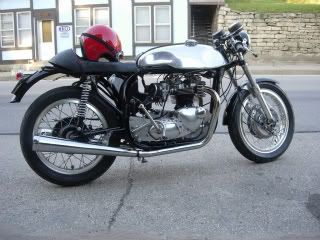 I have worked as a museum curator, archaeologist and archaeological conservator and have graduate degrees in Art History and Anthropology. My training and work experience has me handling objects centuries and millennia old, some extremely valuable or priceless, so restoring a 50 year old motorcycle is easily manageable.
My goal is to restore the bike to UK Clubman specifications and ride the hell out of her. I would like to retain and restore most of the existing parts, rather than replace everything. The concept of motorcycles as blue chip investments or part of an investment portfolio or the concept and practice of building "show" bikes drives me absolutely crazy. I think the concourse people need medication. Why spend all the time, energy and money to create something you will never ride, let alone even start? To me, riding bikes hard, as designed, is most enjoyable. To each is their own.
Since I have a beautiful Triton, a second bike is a luxury, not a necessity, so I made a deal with myself that I would not go into debt building the Goldie. With all that needs to be done, I am on track and budget to have this running next June. Yes, I realize motorcycle projects take three times as long and twice as much as planned, but this is a realistic goal for me.
I already owned Mick Walker's Gold Star Book and ordered a factory parts list and service manual as well as The Gold Star Book from George Prew.
The Breakdown
My bike spent 30 some years in storage in the dry New Mexico climate. I sprayed all the hardware, fasteners and moving parts in PB Blast penetrant and nearly everything came off easily. No drilling or easyouts, no snapped bolt heads, no impact driver. The only parts that gave my grief were the dreaded swing arm bolt removal and the fork sliders. I had Winona Welding and Sandblasting try and press out he swing arm bolt, but they needed to cut it and press out the remaining part. The fork sliders were siezed beyond belief and I have spent many frustrating hours trying to free them. No luck, so I found a used pair through the
www.britbike.com
forum. Everything else was photographed, cleaned, removed, labeled, bagged and boxed.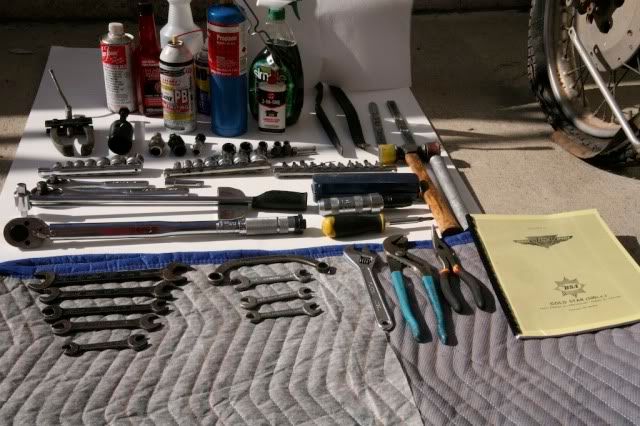 Weapons of Mass Deconstruction
The frame appears to be straight, rust free, and without repair. The only damage was a missing centerstand mounting tab.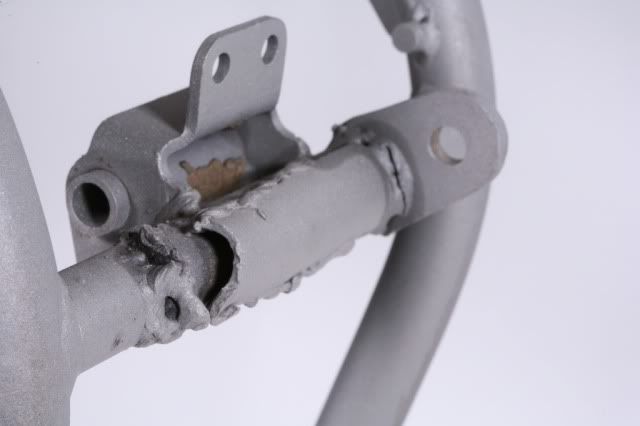 Missing centerstand tab.
Goodnight Goldie
I will document the individual components in following posts. Stay tuned!