static fluff
DTT BOTM WINNER
I recently purchased an old smoker in semi rough shape. It looked like the perfect candidate to try and pull off a cafe type build so here I go.
When I first got the bike home I checked it out for spark. Fail. Step two, inspect the wire harness, looks like the regulator is missing. Damn! I then pulled the oil tank off and drained it. Water came out first then oil. This is starting to look like a challenge
The bike seems to have very good compression but I have not tested it with a gauge at this point. I did order a new regulator and now I'm contemplating trying to at least get a spark going or just take the motor out now and start rebuilding it. It'll get rebuilt no matter when it comes out but I'd like to see if I can at least get it to make some kind of noise and smoke.
Overall, I'd like the bike in a yellow and black scheme like the late seventies/early eighties motocross bikes. I may do a front end change depending on costs and I'll take a swing at making the seat for it. I don't have the stock tank for it but I was planning on putting a RD400 tank on it. If anyone has one laying around hit me up cause I'd rather pass some cash to someone on here if possible. I'm already thinking about 350 cylinders with the reeds and some decent chambers, I really dig the bare cone pipes. I'll be looking for some good input from here along the way.
The points don't look good either: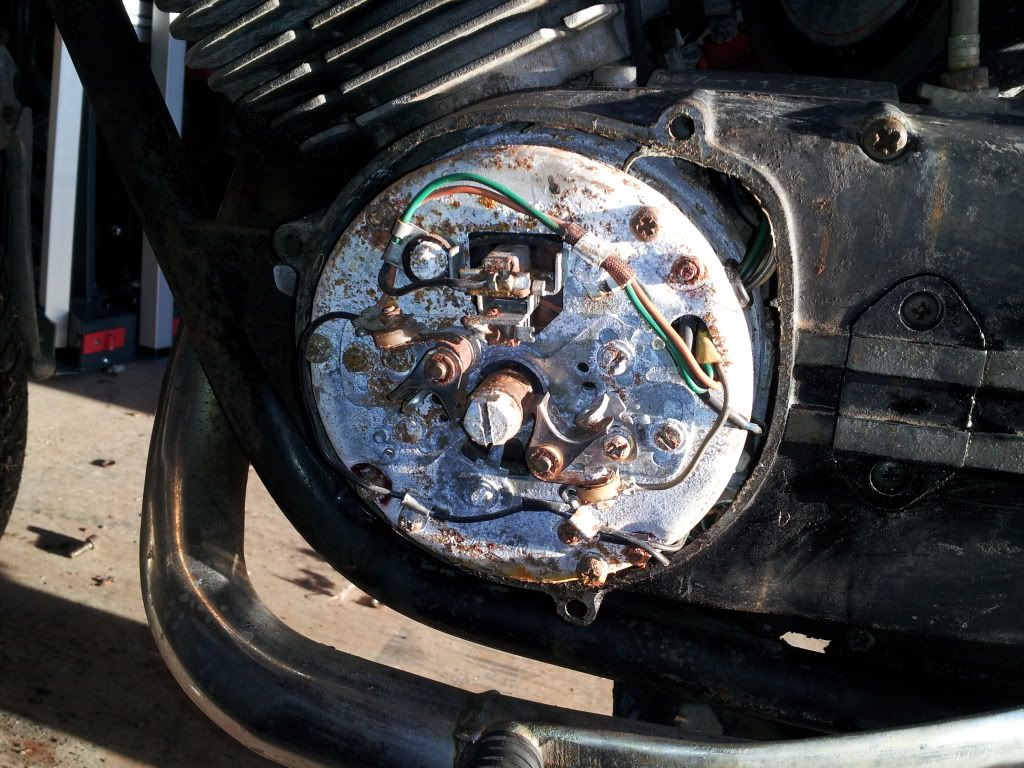 Did I mention that it doesn't shift through the gears either? Lol
Good News:
The blinkers and tail light work!