Never done a full project like this before nor have I had a thread for any of my projects. I've always gravitated towards bobbers and some choppers. My last build was a 99 vulcan 1500. I'll include some before and afters. That is what made me fall in love with this hobby. Cheaper (sometimes) less space (sometimes). To me, as a husband and father, I have to always have something to keep me busy or I'll end up in some sort of trouble. Idle hands are the devils workshop. There's also something therapeutic too. Since I was younger I've always had a bagged or other modified vehicles. Over the last two decades I've had some pretty sick rides. As I've aged I've realized that modded cars aren't very practical for a professional or family man. I can't have just a daily and a project. Everything must be modified to some extent! Wife keeps me away from her stuff. Can't even change the wheels. Argh
So anyway I've dug the look of cafes and wanted to try my hand. I can't promise it will be an original build but I can say I'm going to give it a go.
I picked up a 73 cb350 in a trade for a rebel I bought for the wife. I want liking the way it was going and didn't have a vision for it so I traded the running rebel for this bike. It was picked up in a trailer park in Daytona Beach. Met the fella on fb and seemed like a genuine guy. Had the same story as always that I see for these bikes. Ran when parked etc. I walked in with the thought that it needs a full rebuild just in case I couldn't get it running. Rusted and oxidized is the name of the game. Really rough , but but the bullet as I really want a Cafe and I don't have much else to do besides tinker and ride outside of work and gym.
I tooled around for about a week trying to get it running. Freshened up everything that was maintenance. Plus oil etc. No dice. I played with the carbs next. Cleaned out as much as I could without a kit. Still no go.
Then went to Google and learned about ignition. Never even saw points in my life so that was a learning experience that to this day i don't fully understand. I finally had enough and decided to go with the pamco. I received it 2 days ago and wired it up as soon as I opened the mailbox. Got my can of starter fluid and gave a small burst to each carb. Success!
I don't really want to mess with the carbs so I just ordered a new set of vm 30s from Speedmotoco. The guy on the phone was pretty nice. Answered some questions. I felt like he was fairly knowledgeable,so I pulled the trigger. I tried to sweet talking him into getting them out the same day, but I don't think it worked. I just wanted to get them by the weekend so I have something to play with. But hey I'm sure he's busy and the world doesn't revolve around me. Yet.
My thoughts are if it runs after the carb install, I'll start tearing the bike down. Send off the cylinders to tools1 and go half mm over. Send the frame and other parts off for powder coat. That's all I've thought up so far. I like the way the girls off of gsxrs look but seems like a lot of work. Which I'm down for, but I haven't really seen a definitive guide on how to do it. I don't mind spending the money but I like sure bets. Also thinking about going an inch or two lower so my 4ft11 wife can ride comfortably as this will mainly be her bike......unless I really like it. Lol
So that's where I'm at right now. Sitting in my garage with a whiskey in hand staring at my project on the lift table. I hate waiting. Lol
Any suggestions or mods that you can give would be appreciated. I'm really up for any suggestions and willing to give it a try or at least assess the option. I've budgeted about $400 a month for this project to give an idea. I don't expect to drop a ton, but I'm not afraid to for something that I'll love.
Have a good night.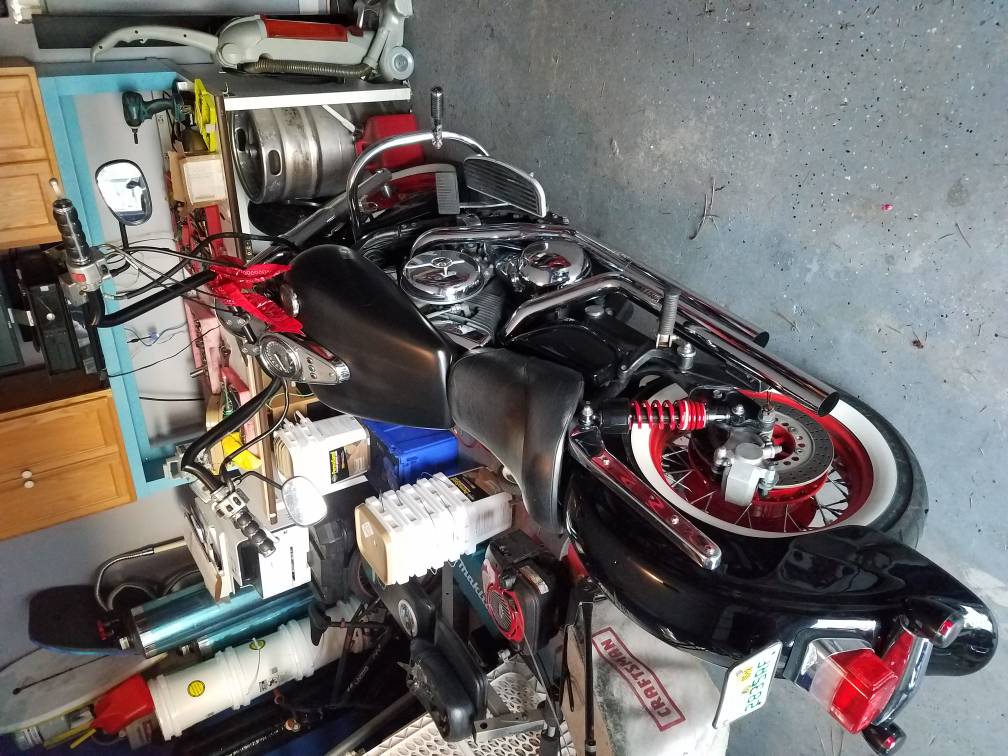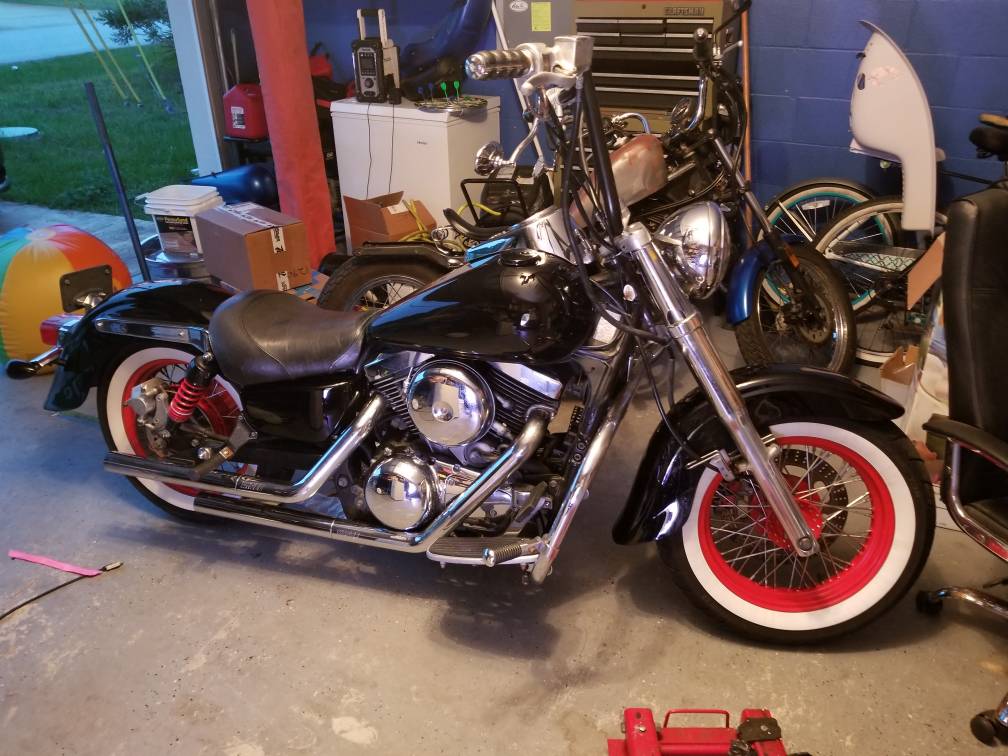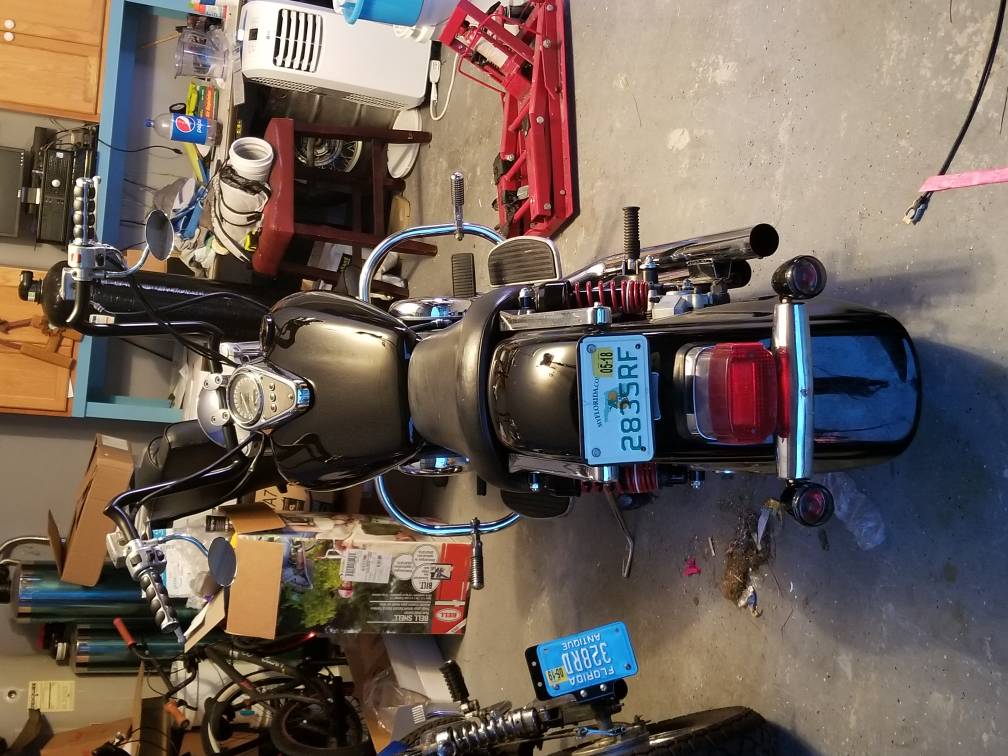 Sent from my SM-G955U using Tapatalk