Over 1,000 Posts
DTT BOTM WINNER
** I'm not sure what sub-forum to put this in, since it's not going to be a traditional cafe racer. I'm also not sure what other category it would fall under, either**
I've known about this bike for a few years. The owner approached me at breakfast a few years ago after seeing my 550 in the parking lot. Then...he wouldn't sell. I'd occasionally call and ask him about it. After I gave up on it, he started calling me!
I think the city is starting to get on him about his property. Imagine an episode of Hoarders meets American Pickers. There are four old Mopars and a bunch of Ford and Mopar big blocks there, too.
The bike is a '73 CB500. It was rough when I first saw it a few years ago and has only gotten worse. He bought it in '74 and parked it in '81. This is what happens when you leave a bike in a leaky shed for 35 years.
As found.
First time it saw daylight in 35 years.
The gas tank was as thin as a beer can when I first saw it. It obviously got worse...
For some reason, he wanted to keep it and the tag. I was more than happy to leave that mess in his yard.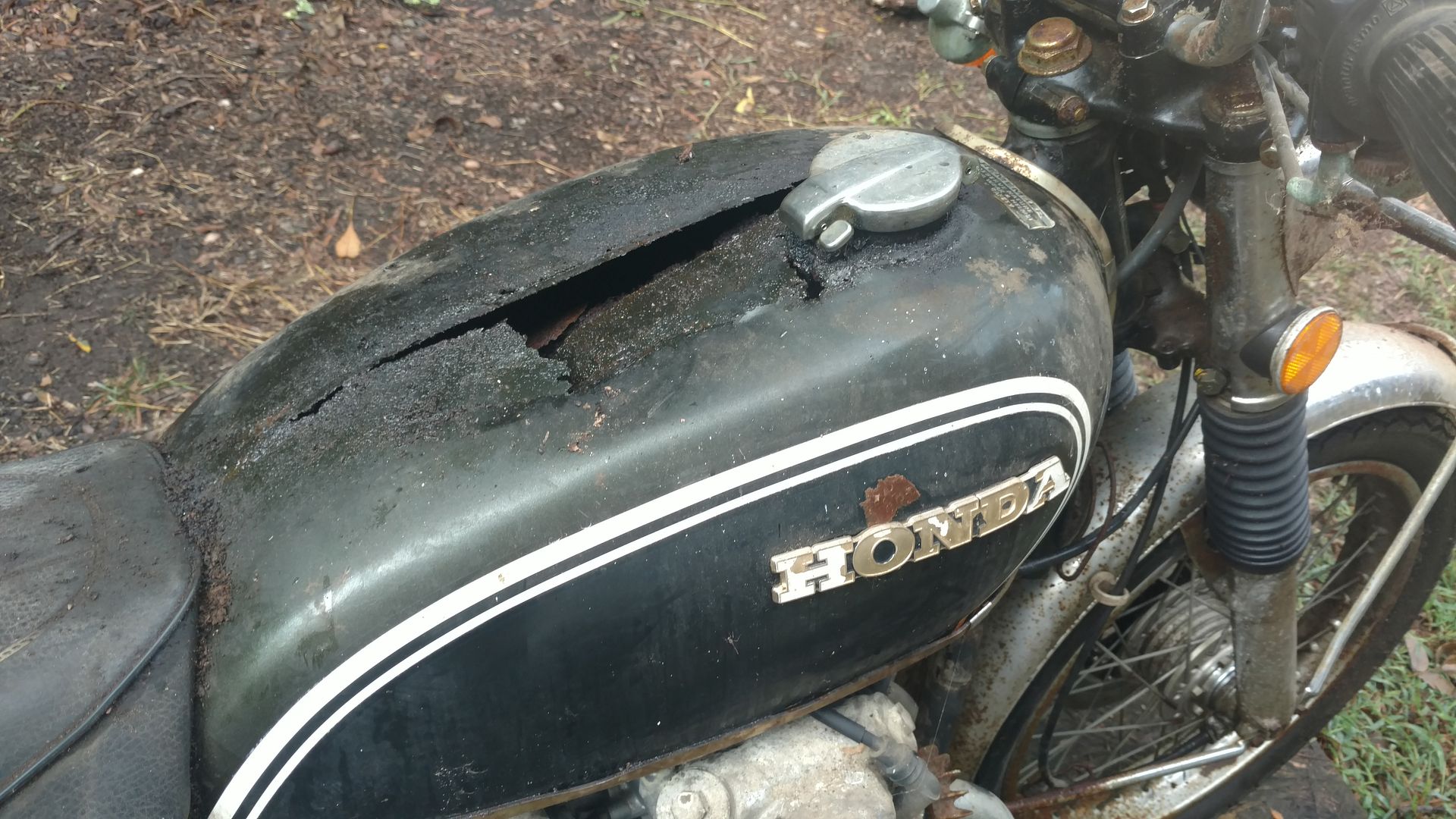 The bike was right across town. I also drove 4 hours round trip to pick up a pair of 550 engines. One is an F model and is locked up and missing a few pieces, the other is a K model and complete, free and with good compression.
I almost backed out on the bike after seeing it. The ONLY reason I went through with it is that a title is available (we're both still working with the DMV since it's lost somewhere in his parts hoard) and I have TONS of 500/550 stuff, including another good 500 engine/carbs, a tank, seat, side covers, exhaust, etc., etc., etc.
It wouldn't be worth saving if I didn't already have most of the parts.
Total for all of this: about $300.