Greetings
I've just gotten a hold of a project bike. 1975 CB550 K, 16000 miles on the clock, motor is locked/seized, the bike as a whole is in pretty rough shape, but I think it has plenty of potential. It's a project to keep me occupied whilst I go through recovering from some health issues, something I can work on when I'm well enough to do so. I'm not yet sure given my health, and experience, whether I've bitten off my than I can chew, but I figure whilst I can still bite, I'm gonna get to chomping. That said, I think it'll be a slow moving thread, so bear with me. It's my second bike, and before I got ill, I worked with CNC machinery, so I have OK mechanical skills.
I've spent some time reading up on the manuals, and other posts on here, so I have a bit of a game plan together for now.My plan is to restore it as much to stock as I can, given availability and price of parts. Hoping to focus most of my efforts on getting everything mechanical correct, rather than major atheistic changes. Plus I think these bikes look rad stock.
Today I started stripping a bit of it apart. Took out the spark plugs. The plug on cylinder 4 wouldn't budge, even after a soak with WD40 and oil. Hoping its just rust, and not cross threaded. I figure since I'm planning to pull the head off, I'll play it safe, and not force it for now. I sprayed a some WD40 down the other holes.
Cleaned some of the chrome parts with foil and water, most of the rust seems to be on the surface.
From what I can see under the gaiters, there isn't any rust on the stanchions, which is a win.
So here's some pictures. Any thoughts, info, advice etc would be greatly welcomed.
Before stripping it.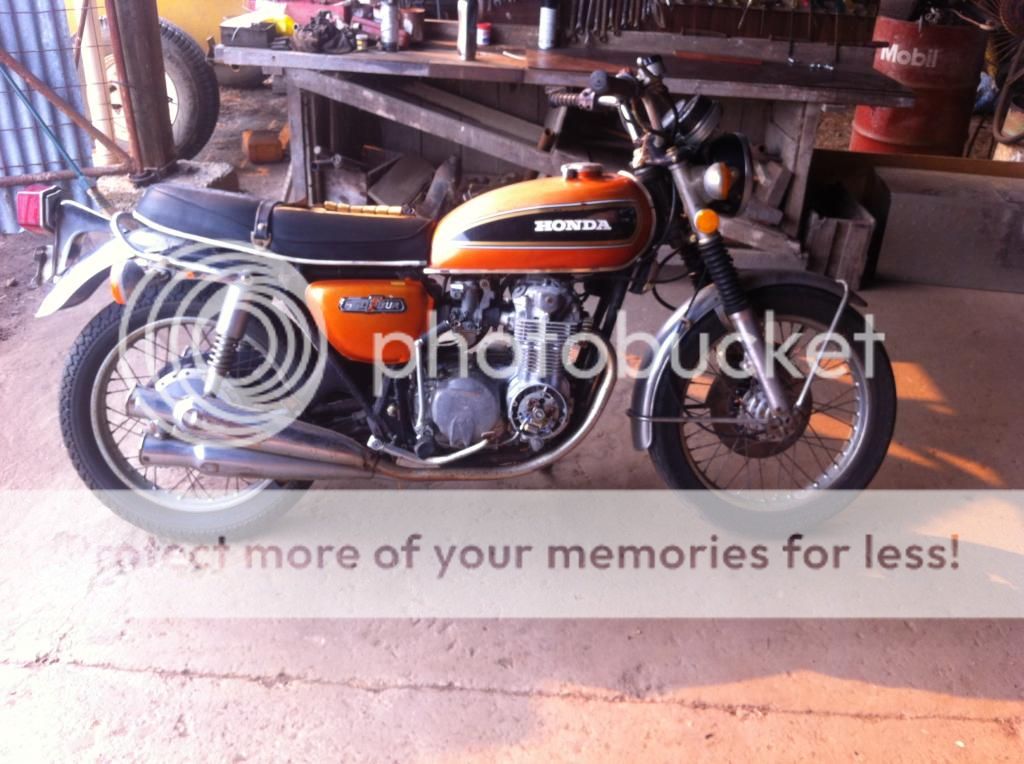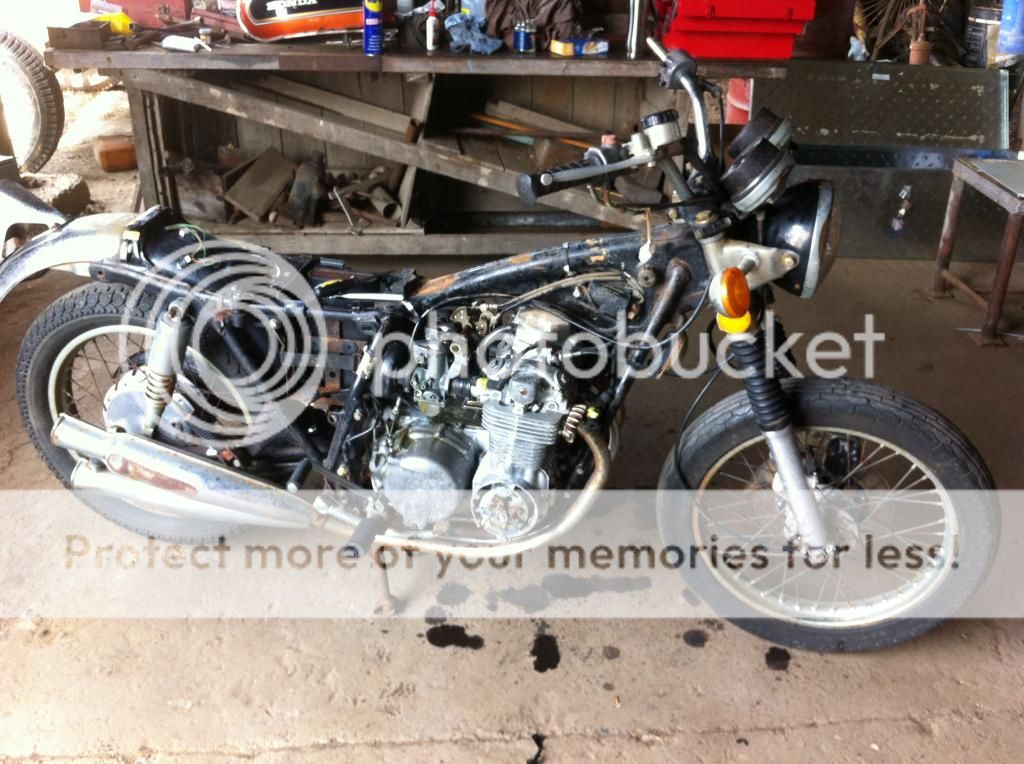 It has taken a fair slide down the road at some point, from the looks, it was never ridden after that. From what I can see the frame and forks look straight, the handle bars, brake pedal, head light, stator cover and exhaust took some damage.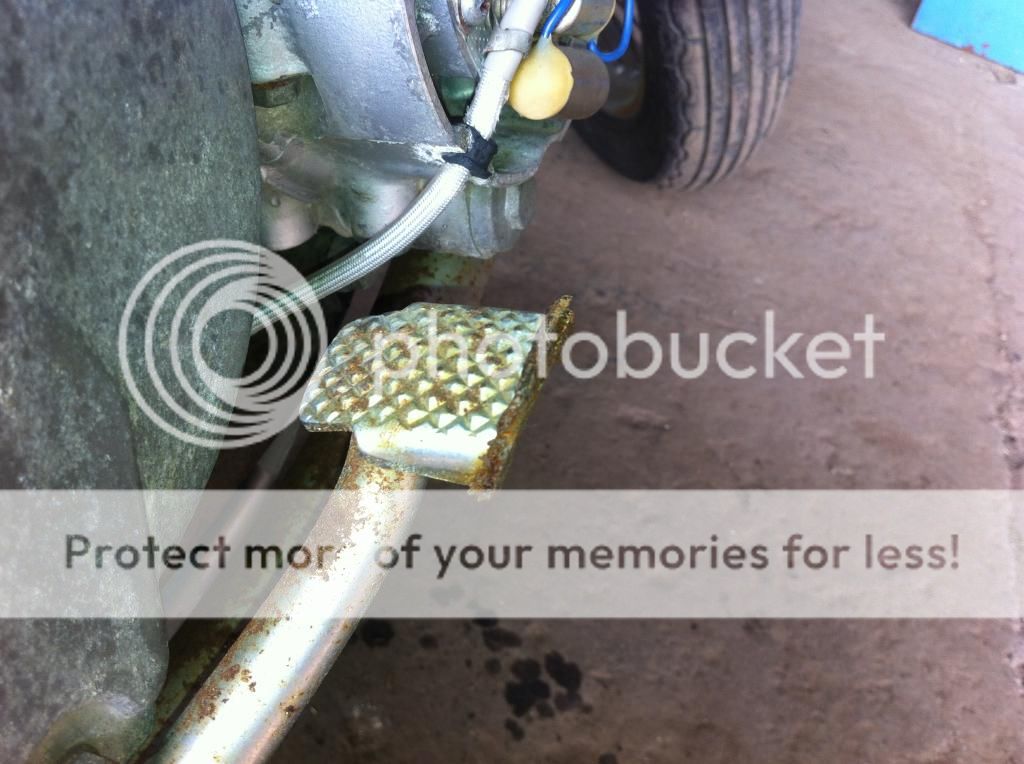 Some wasps must have called the bike home for a while, this was under the tank. One of the wasps (deceased) went down with the ship, and is still in the side of the carb.
The tank is a fair mess, and needs taking back to bare metal and repainting. I'd really love to keep the original colour/paint scheme, but I'm not sure whether or not its going to be achievable. I've seen some threads about how to redo the metal flake plaint, but I think it's beyond my setup.
There's a decent ding in one side, that I can't pop out. So not sure if I'll just have to fill it yet or not. The inside is pretty rusty. I am planning to clean it out with vinegar, then flush with bicarb and water. It's rusty along the exterior bottom, under where the chrome trim was, there is some bubbling in the paint, but can't really tell if its caused by interior or exterior rust. Not sure if it might have any pinhole leaks. If I clean it back to bare metal for repainting, and fill it will fuel, will any pinhole leaks be noticeable? Then if there is any leaks, I'll reseal it.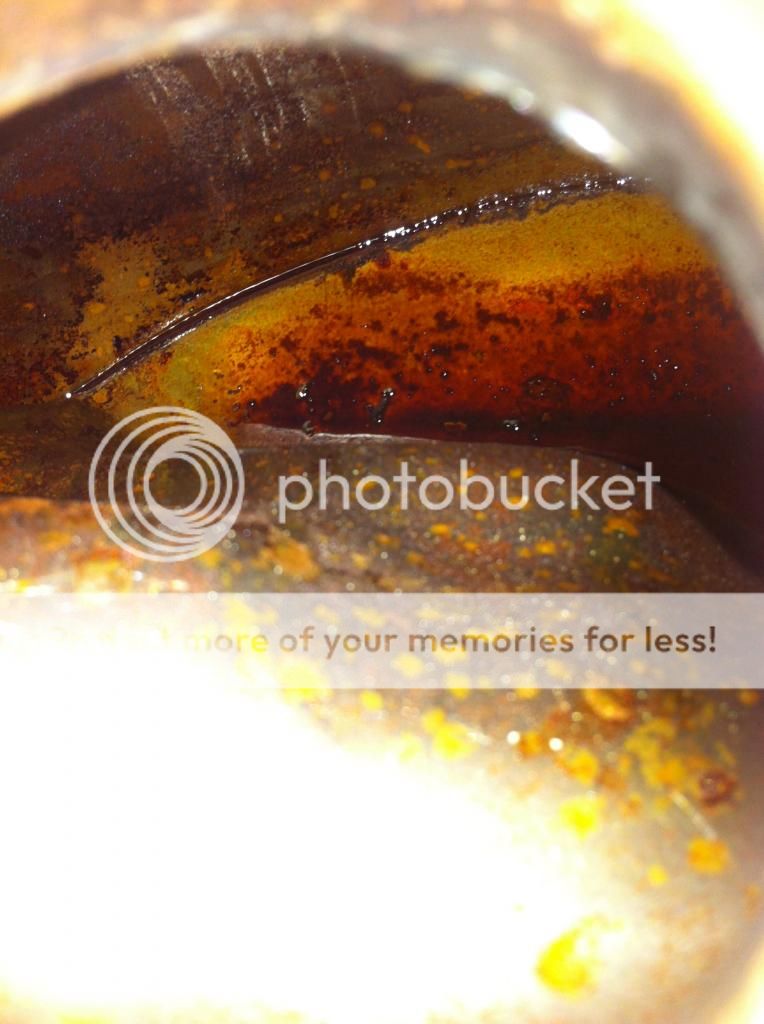 Under side of the tank looks OK, just some light surface rust.
Side cover needs replacing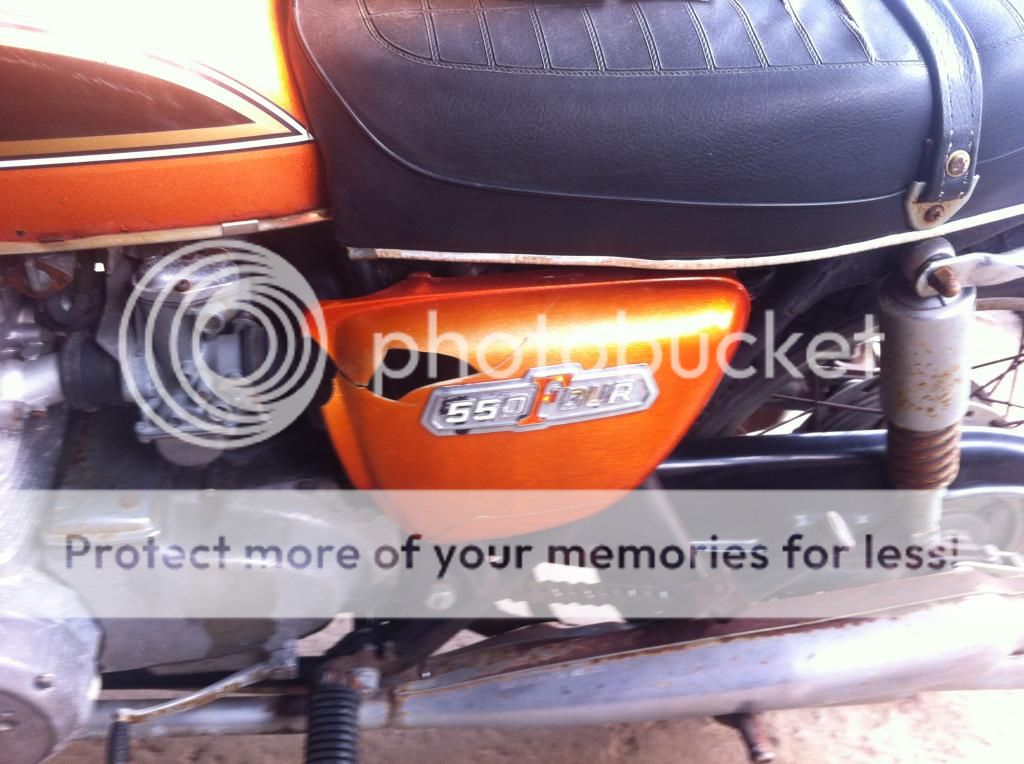 Personally I love the look of the 4 into 4 exhausts. Unfortunately the right upper pipe has a gaping crack in it, probably from the crash. So I'll have to try find a replacement, which in Australia might be quite expensive. Otherwise I'll have to rethink it.
I opened up the master cylinder, and its filled with what looks like sawdust...I'm not sure if brake fluid over time can deteriorate like this, or if its got water in it, or if its eaten away some seals or something. Anyone ever seen this?
That's it so far. If you have any thoughts or advice, please let me know. Cheers!