Just picked this up. Almost all original parts, but not the original exhaust
- I vow to finish this bike with a sweeping 4-1 exhaust.
I got a spare tank, footpegs, lights, etc.
Currently, the bike doesn't idle or go faster than 15mph.
PREVIOUS OWNER REPLACED OR SERVICED OR FUCTED UP: Fork seals, valve springs?, K&N pods, MAC 4-1 Exhaust, mini rear light, superbike bars, cleaned and rebuilt carbs with below mentioned "mods", replaced key cylinder, reupholstered seat (nicely), new (crappy) throttle and clutch cables (that are crappy).
CARBS: Previous owner drilled "one size up" on a set of drill bits. I have no idea what that means. Needless to say I think the stock jets are kafucted. I'll replace with a set of #85, as I've read that is what is necessary for pod filters alone.
EXHAUST: Previous owner scrapped the original exhaust this past week, deeming it "too beat up to keep"....I disagreed...but the current exhaust is a MAC piece in ceramic coat black. It's not overly loud, so I can't see it changing the flow (or jetting) that much. Hell, it might flow WORSE than stock. Disappointed about this one.
ELECTRICS: Everything works...strangely enough...but the wiring is a rat's nest of wire nuts and electrical tape. Random wires are cut places, and others groups of wires are all connected together. The starter wire is all on its own...running around the bike like someone lost track of the original wire and decided to run their own.
I got all of this for a few hundred bucks.
My inspiration?
Woody's CL350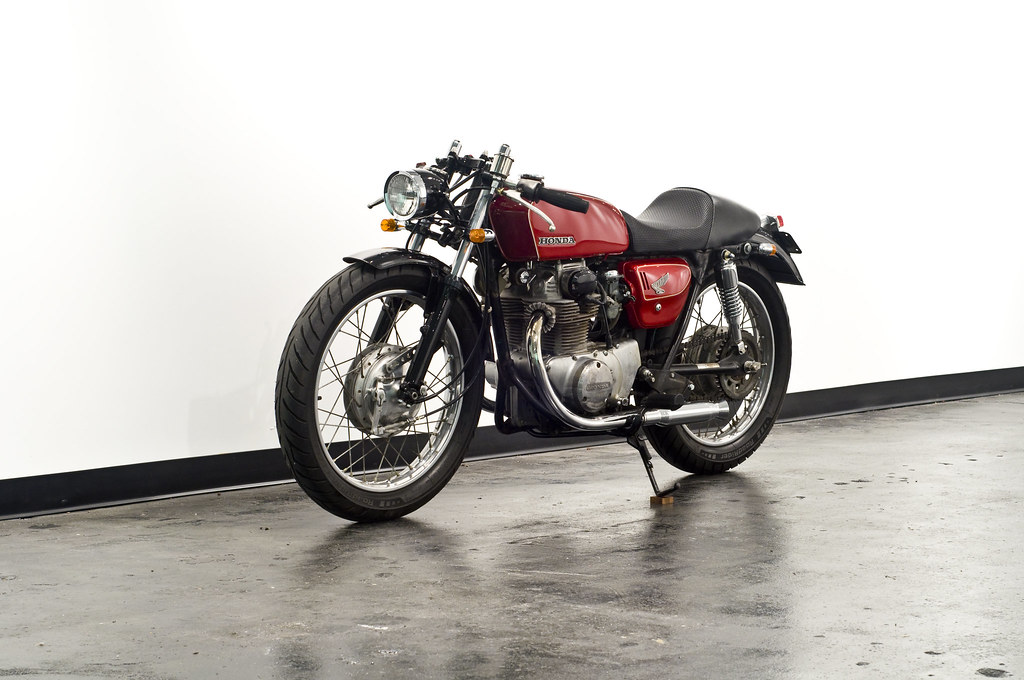 I'm thinking low, sleek, and built for style, not for speed. I might actually get ahold of a CL360 front wheel with drum, and a few other "back dated" parts.