OK. I'll bite. A new forum, and I have a build that qualifies, so bugger it, here we go...
It had always been in the back of my mind to do a restoration on my FA. Initially the task was to just rebuild her as a regular ride-to-work bike. The rebuild went well, and I was very pleased with the way it turned out. As I started to polish some chrome here, replate some there, and source spare parts from the web I began to realise that I wasn't too far off returning this girl back to a stock condition. I have a line on a stock exhaust system, but that will take some time to organise, and I've had the seat recovered to match this colour scheme, but apart from that, I reckon I'm nearly there.
I'd bought a complete set of body panels to paint during summer, so I could still ride around. The warmer weather is also better for spray painting
After much searching, I eventually found a paint company that could make sense of the Honda factory codes, and bought myself a litre of "Pleiades Silver", which has been applied liberally to all panels.
I managed to find a firm in England the produces the appropriate Reproduction decals, and these have been applied to the panels without drama. I have applied three clear coats to date, but will slap a couple of more on before I wet-rub them back and polish them.
A week of 10 degree days, and it was time to bite the bullet. The spanners came out, and boxes and containers started to fill up with bike bits. As I went along, I sorted them into bits that would be powder-coated gloss, bits that would have a satin finish, and parts that would need to be nickel-plated. I had already chromed everything that needed it.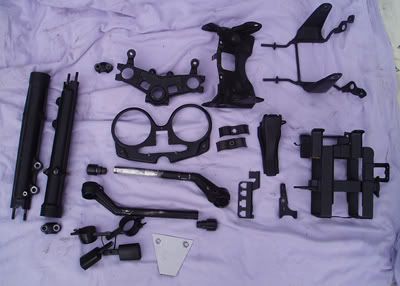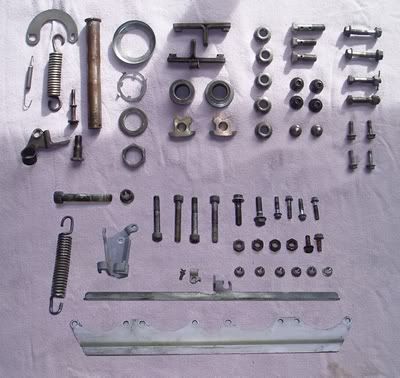 Powder-coating and plating finished.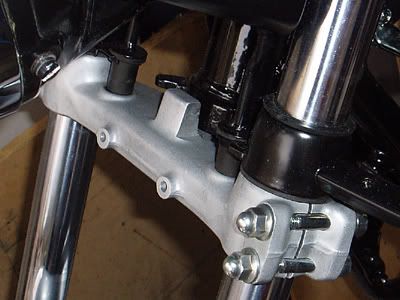 Lower triple tree got the glass bead-blasting, and a clear-coat to protect the finish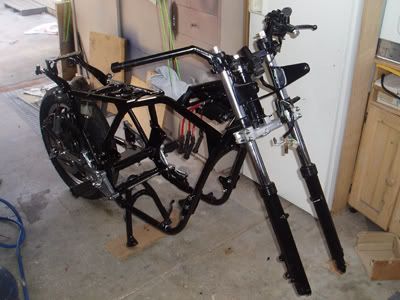 The motor was sandblasted to remove all the old silver paint, then beadblasted to give the castings a smoother finish, and remove any blemishes. The finish after all this was really nice, but for the sake of durability, I decided to repaint it. A new coat of "Aluminum" (that's Aluminium to the rest of us
silver was applied, and all the shiny bits were polished again.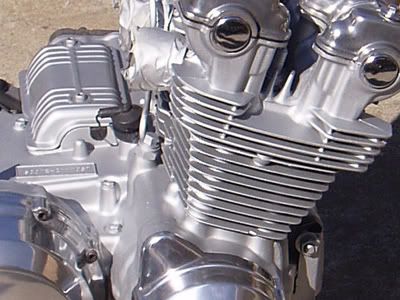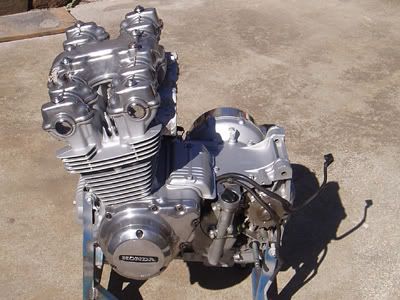 This motor-mechanicing stuff is easy:
Take motor (A), and insert in opening (B)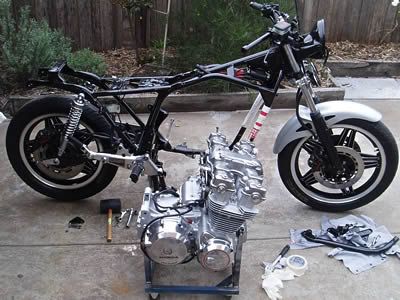 Note non-honda "downtube protectors" courtesy of our local bottle shop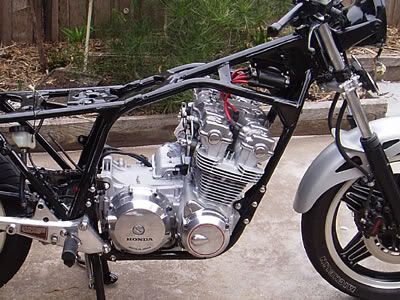 All going well, it should look like this
and this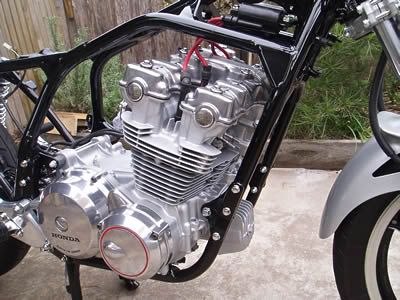 As with most things, it's always easier second-time around. I remembered it being a real struggle to implant this motor first time around. I discovered when removing it this time that the key is to jack it up as high as it will go without fouling on the top of the frame, then it will just slide out smoothly on the trolley jack. Installation, as they say in all the good manuals, is just a reversal of this procedure.
Now it's on to hanging everything else back off the frame, and we're nearly there.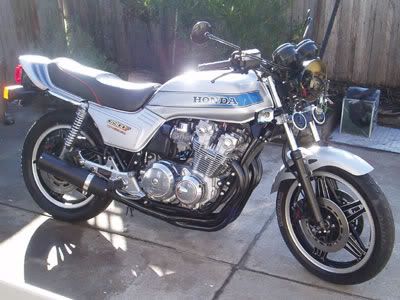 I have an original seat coming from the States, thanks to ebay, but in the meantime I'll use the one I have. Beats not riding at all.
All I need are the two orange reflectors that attach to the headlight mounting bolts. I'm reluctant to go OEM at this stage, because I suspect (like everything else I've had to buy new) they will be obscenely priced. I've also scored a pair of rear shocks from an '82 model, with the remote reservoir. They haven't turned up yet, but I expect I'll have to clean them up a bit before I fit them. I think I'll swap my newly-chromed springs too. Can't see them being in better condition than those.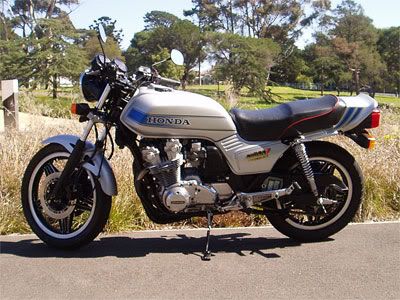 More of the same. Just a different stop on the way to work