Hey all, first up be prepared for a slooow thread here! Wasn't sure if this should be in the scrambler or cafe forum... but seeing as I'm sort of moving from scrambler inspired more to a cafe style I figured this will do.
Quick back story... bought my 1982 Suzuki GS450E way back in 1998 when I was flat broke, and it served me very well until I had to buy a car to drive for work and couldn't afford to register and maintain both, so it ended up sitting for a while.
This was then...
https://flic.kr/p/2hLHmMA]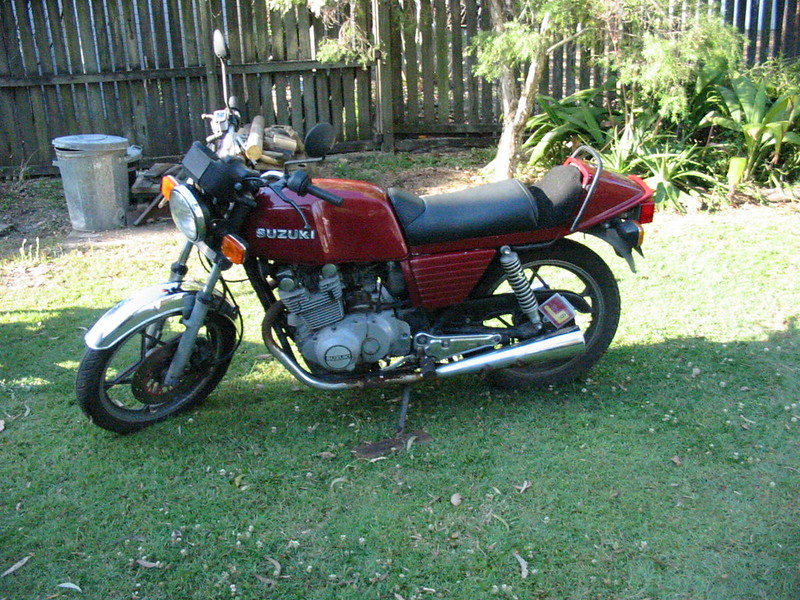 IMG_0267
[/url] by
https://www.flickr.com/photos/89703844@N08/]starpoint73
[/url], on Flickr
Fast forward to when I'd spent a number of years fiddling with it off and on and then getting serious about getting it back on the road, ending up with what I call a scrambler inspired build.
https://flic.kr/p/2hLHrXL]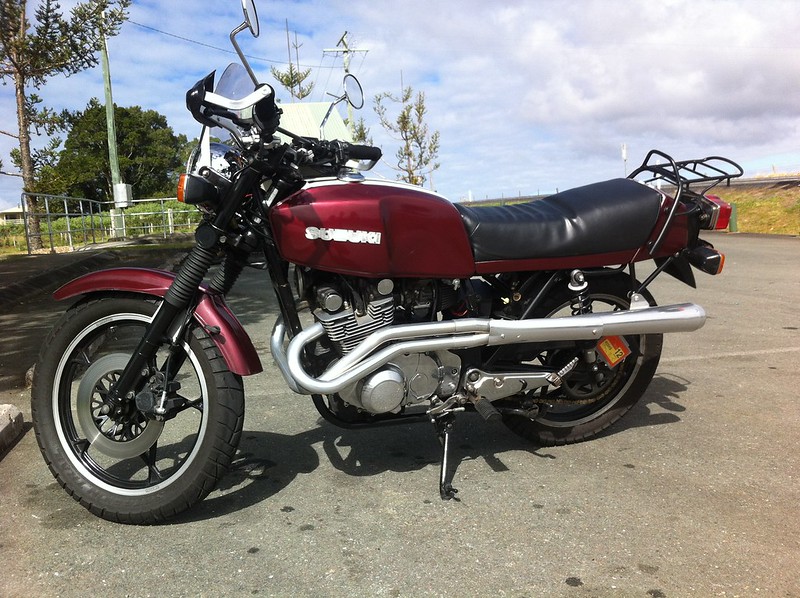 2012072614
[/url] by
https://www.flickr.com/photos/89703844@N08/]starpoint73
[/url], on Flickr
It's had a few minor changes along the way such as a smaller LED tail/brake light to replace the chunky Honda one that I put on there, have relocated the battery into the tail section, replaced the hand made rear rack with a genuine one with a top box for the commute, and various other things. I've also added headlight and coil relays and swapped over to an Acewell gauge as well.
As it's my commuter, hasn't had a lot of cosmetic TLC in recent times although mechanical is always kept up to scratch with servicing, tyres, chain and sprockets, etc.
Unfortunately it's been down the road three times now... once courtesy of a ute changing lanes on me, once courtesy of being rear ended, and once courtesy of me missing a line of diesel in a corner and having the rear tyre spin up ending in a slide down the road. The latter was on New Years eve morning of 2018 and I've not repaired the header or muffler that were damaged.
Here's where it is now, not pretty! Oh, ignore the second set of footpegs, I'll explain that below...
https://flic.kr/p/2hLHdQJ]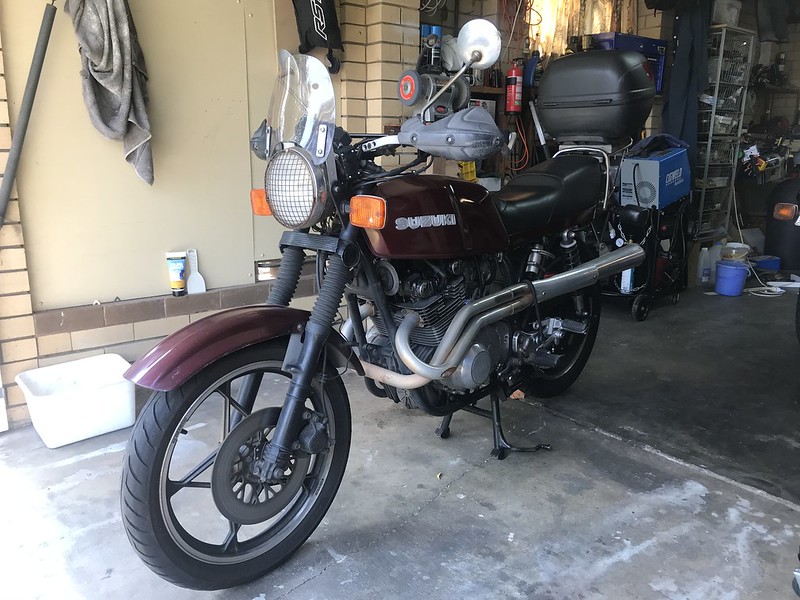 Untitled
[/url] by
https://www.flickr.com/photos/89703844@N08/]starpoint73
[/url], on Flickr
Anyway, long story short (already getting too long!)... over the last three and a half years or so I've built my dream bike (1984 Suzuki Katana 1100) but have still enjoyed the 450, it's definitely a fun little bike and is a great size for the commute.
The downside with all this is now that I'm comfortable on the Kat, I jump on the 450 and am feeling extremely uncomfortable. I feel like my elbows are out in the breeze with the motorcross 'bars and my wrists don't like the angles, and I've been missing a few gear changes due to the different footpeg positions, and I keep missing putting my feet on the pegs because I'm looking for the more rearward Kat peg position. The Kat has also proven to be great at filtering through the traffic due to being a bit narrower and the 'bars and mirrors are below the traffic's mirrors, whereas the 450's mirrors are generally at 4WD mirror level and the 'bars are at car mirror level.
My initial thought was... I need a bit of a ratty 750 Kat for my commuter... but then reality kicked in and I figured it would be far more sensible just to make some changes to the 450 and see if that solves the problems.
So, ordered some clubman 'bars on Friday to see if they fix the elbow and wrist issues, and I grabbed a set of ZX12 rearsets off a mate yesterday that he had lying around.
I mocked up the rearsets this morning and it seems like they should do the trick and I can even use an existing mounting bolt. The big trick is going to be getting enough leverage to actuate the rear drum, but I have a bent brake lever here from when I was rear ended that can be a donor towards that, and I'll just extend the brake lever actuator on the rearset and connect to the brake lever with some sort of linkage. Probably a horrible explanation but I know what I mean in my mind
(Had to take the brake lever off the rearset for the mock up)
https://flic.kr/p/2hLDs4X]
Untitled
[/url] by
https://www.flickr.com/photos/89703844@N08/]starpoint73
[/url], on Flickr
https://flic.kr/p/2hLDs58]

Untitled
[/url] by
https://www.flickr.com/photos/89703844@N08/]starpoint73
[/url], on Flickr
That's all for now, will mock up the clubmans when they arrive to make sure I have clearance for the tank and see how they work with the brake master cylinder and so forth.
I'll be getting some thick 6061 T6 aluminium stock to make up some brackets for the rearsets, 12mm thick seems to be an optimal size to keep them out enough from the frame so I won't be getting my ankle resting against the exhaust.
Oh, and I have a fork brace to suit which I got by mistake (meant to be for the Kat but too small fork diameter) and I'm thinking of trimming the stock front mudguard down and putting that back on as the fork brace won't work with the current setup.