New Member
DTT BOTM WINNER
Hey everybody,
New member here. Been working on bikes for about 5 years now and have been inspired by this sight over the years but never been a member.
I started on this project mid October and several people said i should put it over here, and hopefully it goes in this section. I think of it as a modern cafe racer. updated styling but still a cafe to the bone.
The plan for this project is a complete frame-up build using only the motor and drive from a 1982 virago 920. everything else will be custom made or fabricated. updated suspension, brakes and all new body-work and controls to go with a rebuilt engine and a single carb conversion.
These posts are from what i have already put up, so there is going to be a butt-load of new info. and then i will continue updating as the project progresses.
My plan is to strip it down, build a custom frame, tank and tail. My goal is to have a striped down bike that is basically wheels and an engine. I haven't decided completely on the styling, however i am going to be putting spokes on it and the bodywork will be primarily carbon fiber. Oh and the other thing is i am going to do my best to not spend any money from our budget on the bike. I am planing on funding the bike with side-work. so if you have anything that you need done, hit me up.
I also have parts left over from the last build, including these USD forks from a GSXR 750 that were in really bad shape that i cleaned up and am rebuilding.
Here is the bike as it sits newly introduced to its stable-mate.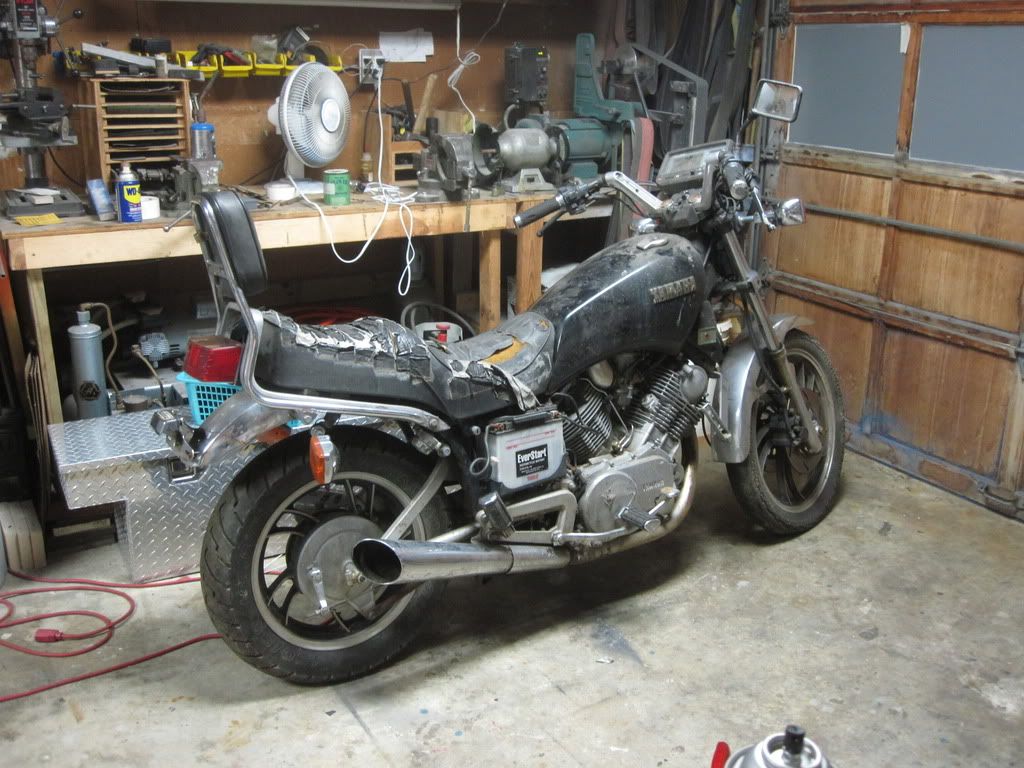 and the fork rebuilding:
I have some ideas in my head....
combining this:
with this:
*** edited out inlineperformancemag.com image as it was causing malware warning - Tim ***
add some CNC work, carbon fiber, a little paint, spit and grit and i think it should be tight.
okay so i only had about an hour yesterday to work on the bike due to some conflicts, and should have more time today, however i was able to make some headway it stripping it down.
I am really sorry for the crappy pics, my camera was having a bad day.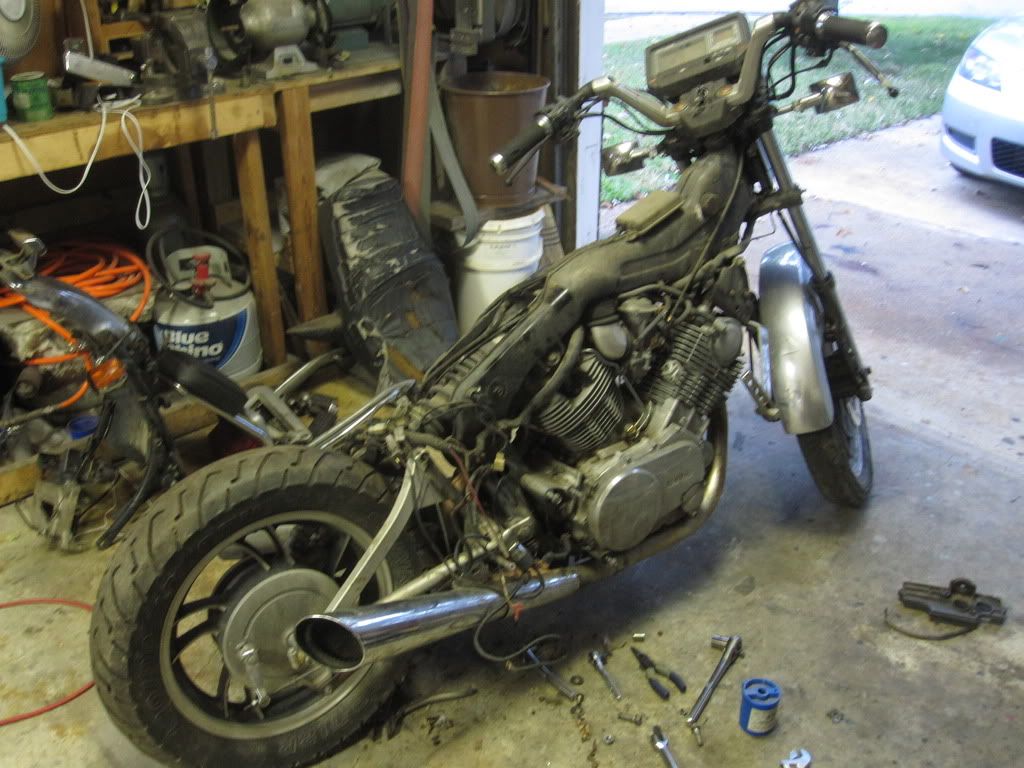 just some of the crap i pulled off of this thing
Is it just me, or does this bike have a lot of electronics for a carb, air-cooled bike? Maybe because of the digital gauges? i am going to go through the wiring diagram and see what i can cut out.
sadly there isnt a whole lot of "progress" right now as i am just stripping everything off and figuring what i have to work with. I got some 1.5" tubing ordered through my friend who has been using it for the roll cage in is opel GT. going to do a vertical stack of two.
The pile of stuff i have pulled off just keeps growing. though it is about as big now as it will ever be. gonna start cleaning parts up and selling them, so if you think of something you want, let me know.
Got the bike down to engine and frame.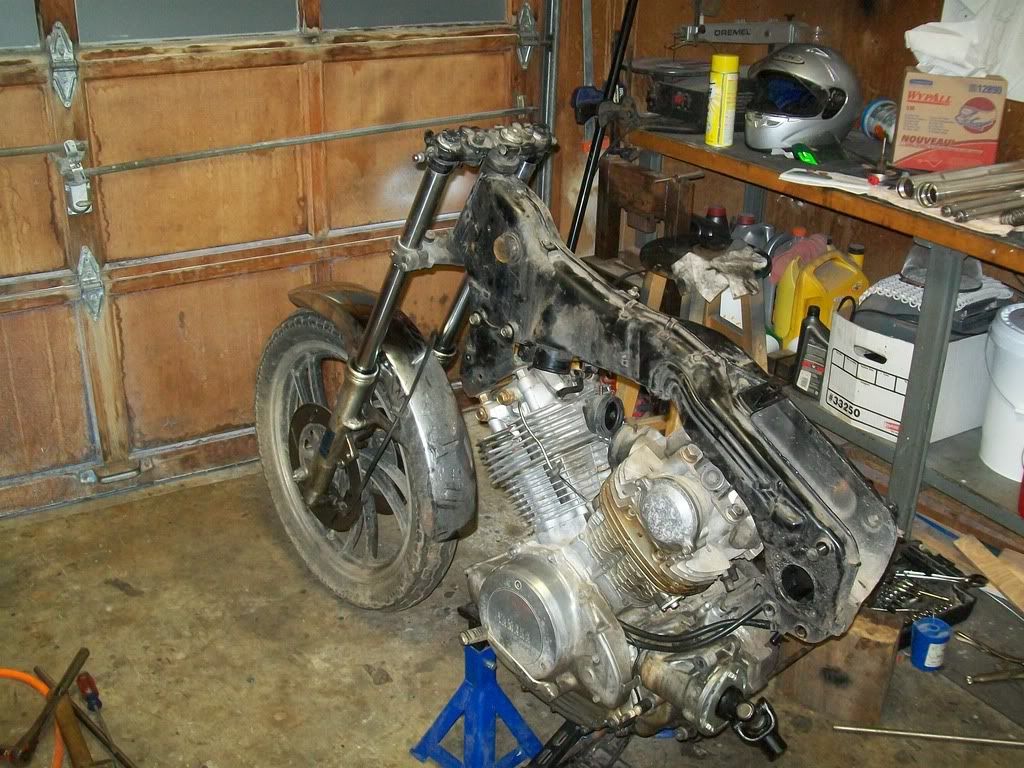 i also got the swinger and rear wheel off, but the primary drive is stuck to the wheel, so i need to get that off. i am also contemplating rebuilding the swinger a little beefier with round tube to match the frame.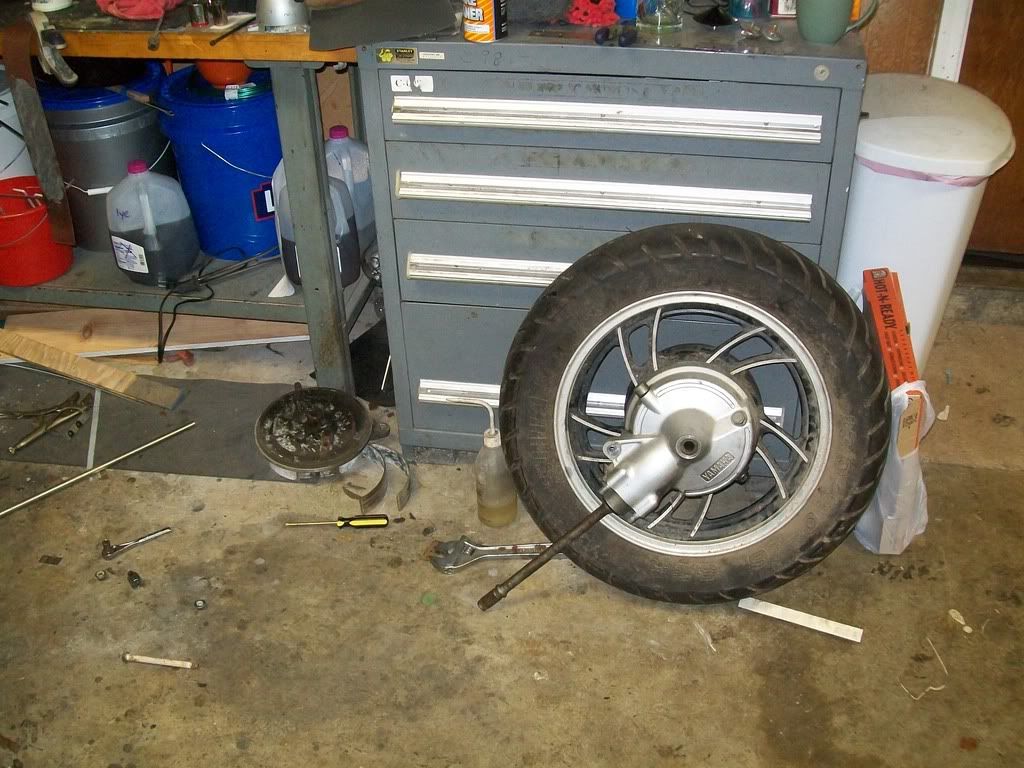 i like how it looks like this...
all in all i am getting the bike to where i can start the frame building, then i will be upgrading the swingarm. after that i will make the "lower" frame to tie the swinger, engine and main frame together. once that is done i will make the triples, and have a roller to start the subframe and body-work.