Is that the best you got? OK.. now my TURN...
OK.. a New Year... so a new thread... ;D
Thursdays during 2008 has evolved to be a particularily intersting day...
Our weekly hangs on Thursday nights have expanded from just hanging out at Tims to: Meeting at Tims, RAcing around the city to different bars to,.. Meeting at the "Shop" to wrench on bikes all morning, ordering pizza, shooting the shit etc..etc...
We've even gone from just wrenching to welding and chopping with sometimes 10-15 people passing through, throughout the day!!..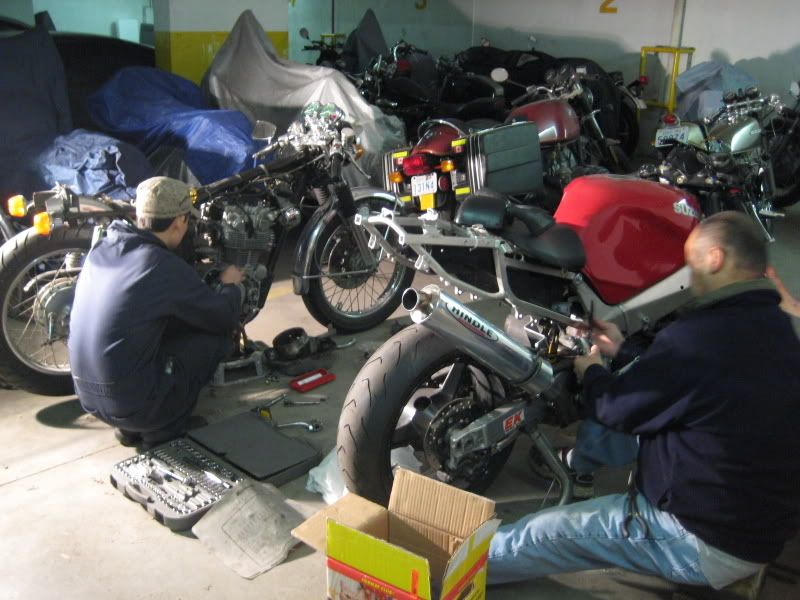 Our group got so large that it has spawned another "chapter": DTT West End Boyz', and another meet meet on Tuesday Nights with an intensive ride then "bowl moving" food at Burrito Boys in the west side of town...(what the hells out there??!!.. ;D)
Just some funny and memorable events from Thurday nights of past...
- Vinnie doing a faceplant after push starting a bike in the Tims parking lot
- The Saucer and Druro bike incident on the Lakeshore
- the start of the Mondo Gallery
- JT riding her first bike.. (all caught on Video)
- Tim venturing past the Princess Gates and long self-exploration, soul-searching, identity-finding bike journey to the Tail-of-the-Dragon (and he made it back!!)
- The DJLing cb450/Penny Phang bike incident
- The birth of KickStart Cycles
- 10 Inch Patches finally becoming a reality!! ( Thanks Carter ;D)
- Many.. many.. more..
I think 2009 will be an amazing year.. Im glad that our Thursday hangs grew to more than just shooting the shit during riding season to an all year round event...Is certainly has made the winter blues a lot more bareable... ;D
We've made some GREAT friends in 08, I cant wait to see whats in store for us in 09!!... I specfically cant wait to see all the bikes we've been working on make their debut this season!!