July 2014, ugh I cannot believe it has been 3 years, I bought a basket case 1978 KZ400 with a little over 17K original miles from a 17yo local kid who had bought it as his first bike to be a cafe project. It had run but he tore down the top end to fix some oil leaks and never got around to putting it back together. Everything was in a bunch of boxes and there were lots of baggies filled with nuts and bolts, some of them marked what they went to. He said he had the title but could not find it when I went to pick up the bike so I got the lot for dirt cheap figuring it would just be spare parts. I told him if he found the title to give me a call and I'd give him another $100. A few days later he called and said he found the title and a couple of other parts like the seat pan and some odds and ends.
I truly was starting with a basket case:
The tires were new though the rims were a little rough and the spokes were really rough:
The frame was in good shape with only a little bit of surface rust here and there: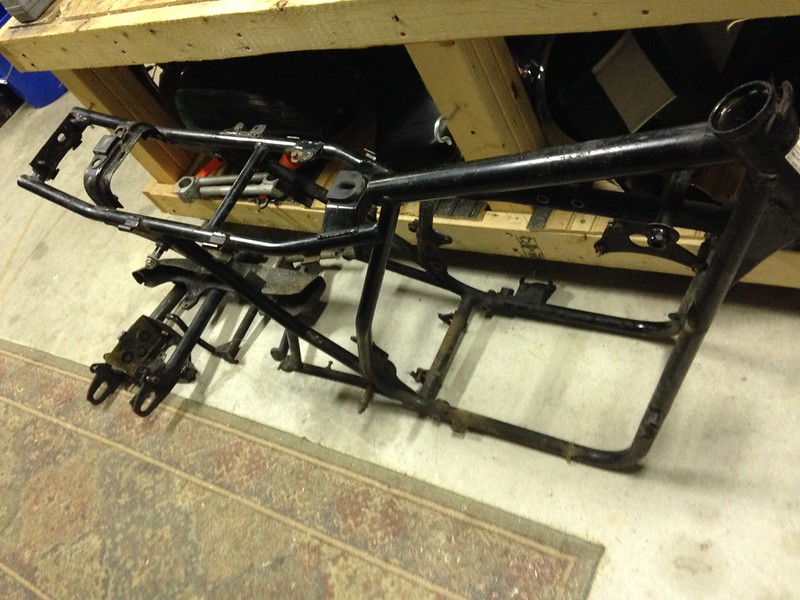 Forks were dirty and tarnished but looked like they would clean up:
The tank had original paint and was in really good shape with some nice sun fading and only a couple minor dings. I planned on just using it as it was.
So what to do with it? I have a cafe seat and some spares from the previous KZ400 build. I know these bikes pretty well and have learned a lot of lessons so I ought to be able to build it pretty cheaply. So should I go cafe? Nope, let's build a scrambler. Kawasaki never built a factory enduro off the KZ400 platform (like a CL350/450) so I want to build one! I ought to be done before cold weather hits, right?