Re: '80 KZ750 Twin - Project:WARHORSE - RUNNING VID!
SHE'S ALIVE!!!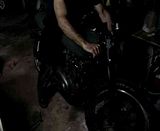 I know, I know, cell phone vid sounds is terrible. I'll get a better one up as soon as I get it to the riding stage. Sounds raspy and pissed off when you crack it (I'm in love), but almost smooth when at a constant rpm. The factory H-pipe probably helps that.
Thats my friend Rick on the bike. He's the same guy who wired up my 360. Speaking of Rick, remember the other bike I mentioned in the beginning of this thread, the one that is in the back of the civic? I gave that to him for helping me with the wiring on my 360. The motor was seized and it had a small animal nest INSIDE THE CARBS! He got it running the other day. yeah, I'm impressed too.
after a full night of fucking with the timing and carbs, she runs and even fucking idles! not perfect by any means, but at least its a place to start tuning from. I'll get to that as soon as the swelling in my foot goes down from kicking this thing over so many times tonight.
I'm pretty relieved that it runs considering the shape it was in when it entered my garage 6 months ago.
the head and tail/brake lights dont work. blinkers are good, though. As soon as I get those sorted out I can start to ride then really dial it in.