I 'inherited' a 1982 Yamaha Virago XV750 from my Dad - he just lost interest in it and decided he didn't want it anymore and didn't want to go thru the hastle of selling it. In the 10 years he owned it, he only put 700 miles on it ... so it sat a lot. I'm not much into the cruiser style so I decided to cafe it.
First off, this is my inspiration - Cafe Zero ... a heavily modded XV750 cafe'd by Zero Engineering (Japanese customizer). The bike now resides in the Netherlands I think. Not many cafe'd Viragos out there ...
Here is my XV750 as it rolled into my garage on 8/16/09. Dad repainted the tank years ago (IIRC it was dark red). I didn't try to start it since the fuel was nasty and the front brake wasn't working.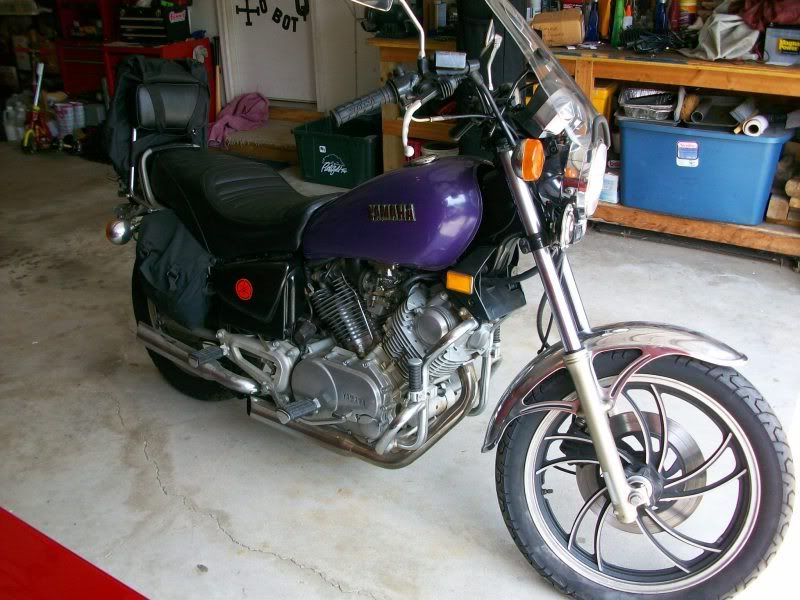 After stripping some parts and the first wash-down later that day. I now have a pile of parts that won't be going on (but will keep should I decide to ever return it back to stock).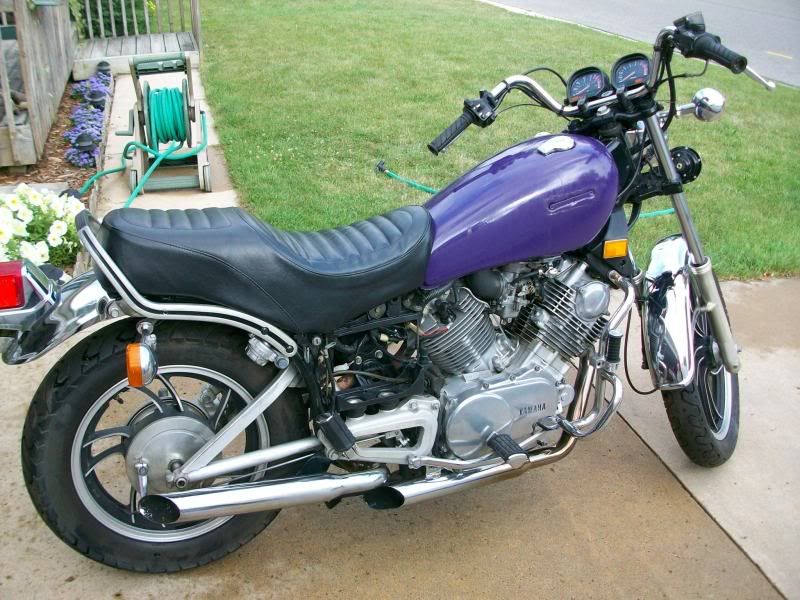 About a month later ... in-cafe process (and lots of cleaning as I go)
I've cleaned out, de-rusted, stripped, smoothed and painted the tank (black). Cleaned out and re-installed the carbs (front was stuck open - flooded the intake port, rear was crusted-up). Cleaned out and rebuilt the M/C and caliper (brake fluid was gelled). Stripped and painted the handlebar switches. Polished up the rocker and upper chain access covers (still need to do the side covers). Now in the process of moving the battery, fuse box and lowering the gauges & headlight (~1"). I'm going with a clubman rather than clip-ons.
Next steps;
- Remove & paint rear swingarm & shaft (black)
- Lower & clean front forks (can't decide if I want to paint black or not)
- Adapt a rear wheel to the front (a Cafe Zero type mod)
- Raise the back of the fuel tank & new rear subframe (a Cafe Zero type mod)
- Modify a ratty XV750 seat to a cafe style (narrow, flatten, reshape and hardcover/bumpstop)
- Lighting
Wheels are either going to be black or gunmetal grey with a thin natural lip. If gunmetal, the tank/tail stripe will also be gunmetal. If black, the stripe will probably be silver or grey.
Hope to get it running and rideable for a bit before winter sets in. Over the winter I plan on making my own rearsets and will probably redo the exhaust similar to Cafe Zero.
Updates to follow ... let me know what you think.