I got an email the other day saying the DTT forum is all back and upgraded... logged in for the first time in quite a while and sure enough yeah it's all new!
Anyways, I'm back from sunny Brisbane in Australia, still riding my 82 Suzuki GS450E to work every day (when I can resist riding my Katana of course) and in May this year I finally finished my dream bike... a Suzuki Katana. It's an 84 GSX750S Katana with an 1100cc motor in it which works just nicely for what I want.
Only issue I have is after riding the Kat the 450 riding position feels awkward and wrong, so I'm going to have to adjust it to suit what I now like, meaning clubman 'bars and rearsets as a starting point. The 450 also needs some TLC after an altercation with some diesel a couple of years ago resulting in a dented left header and road rash on the muffler.
Seems I don't have a recent pic of the 450, deleted all my originals with the Photophucket deal a while back and only have the Katana pic's so far in Flickr.
For the moment here's the Katana, and I know this isn't your typical DTT build, but don't worry I'll get the 450 up here soon enough!
https://flic.kr/p/2gTVbgb]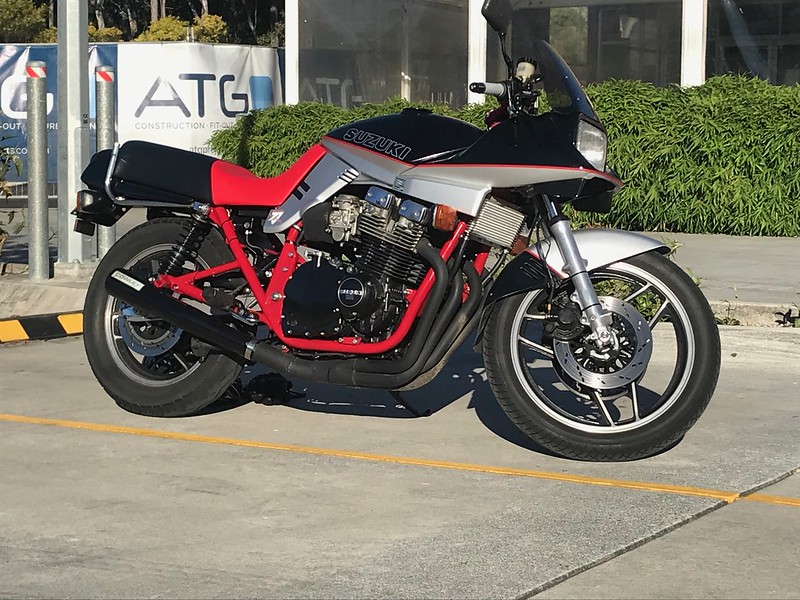 Untitled
[/url] by
https://www.flickr.com/photos/89703844@N08/]starpoint73
[/url], on Flickr