Keep er' Between the Ditches
DTT SUPPORTER
DTT BOTM WINNER
All the cool kids (and Irk Miller) are building hard tail bobbers and choppers, and being a highly impressionable youth I decided that I want a piece of the pie. I had picked up this basket case xr500 a while back with aspirations of taming the single tracks of Georgia with two carbs feeding the song of the supertrapp triumphant, but alas I looked back and in the stable I have 3 dirt capable machines (tw200, xr200 and dr650)
I couldn't justify buying yet another machine to live out my dreams of spine crushing glory (hence the name "bird in the hand") so I dug the xr500 out of storage to get a move on.
Before any xr purist gets too bent out of shape, the frame was already a bit worse for wear with broken tidbits, AND if I ever see the folly of my ways, I have another xr600 frame sitting there and I'm keeping all the stock bolt on bits, it can be a dirt bike again.
That brings us to the lump. The frame is an xr500. The motor that came with it was nice n toasty with a max overbore and slightly wiped cam journals. I traded it off to the local bike breaker for an xr200 motor. You can check out the carnage that ensued here if you so please: http://www.dotheton.com/forum/index.php?topic=76184.msg914733#msg914733
Mr.E and Kanticoy were gracious enough to find and procure me a dual carb 1987 xr600 engine at the barber swap meet which I collected from kanticoy at Christmas time. It appears to be mostly complete and I'm hoping that I can get it together and running without having to first tear it down. The 600 motors will drop right into the 500 frame easy peasy.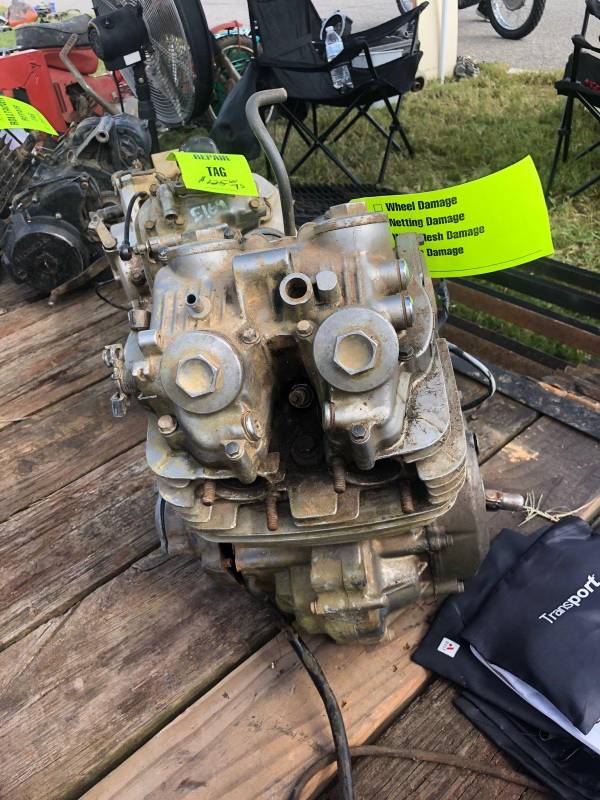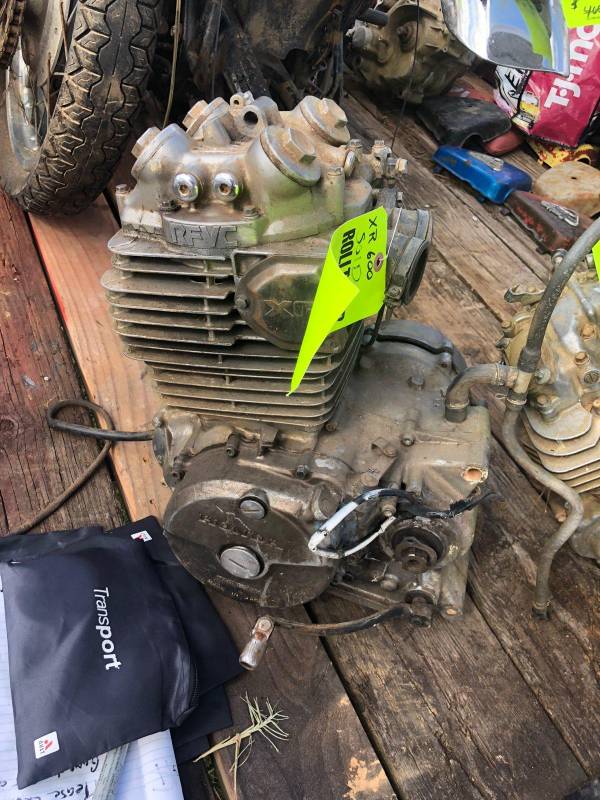 I got a minute last Saturday to finish breaking down the xr500, sliced the sub frame off and got it sitting down where she should be with the help of temporary struts in place of the shock. For now I will be running an early Suzuki t500 titan front end with a shouldered alloy 18" hoop laced to a titan 2ls front drum. I will be running a Yamaha r5 rear drum out back, also laced to an 18" shouldered rim. I've always enjoyed the look of a short rake angle bobber, so that will be kept at the stock xr specs. The next installment will hopefully include finishing up my frame jig (that I started to build 3 or so years ago) and making up some bracing to hold the frame together as I start the butchering of the cradle.