Born to lose, destined to fail.
High time I start a bolt on thread. Got tons of parts in and remembered to take photos intermittently.
The state which I got "TK-421"
Starting disassembly to replace bars, grips, cables, gauges, petcock, fuel lines.
The way the fuel lines were ran before. Notice the stopper on where the petcock should go and the lines from the carbs coming from the bottom tank leveling vents.
New petcock. It fits a little snug but seems to be fine. Haven't had a chance to do a run test yet.: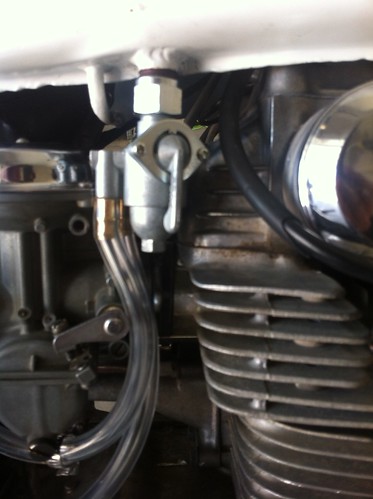 The nightmare that was the wiring found inside the headlamp bucket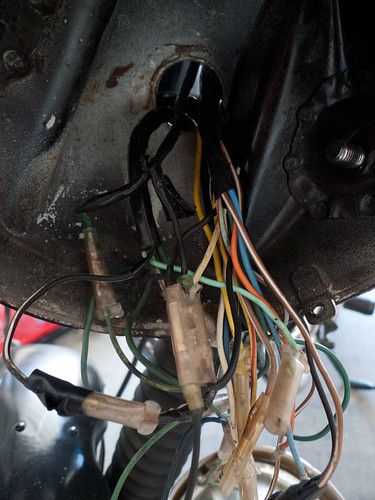 The biggest pain in the ass during the changes was the neutral light. It was only working intermittently. So to fix that, and replace the cluch cable I had to take off the exhaust, as it sits right in front of the rear crank case housing. No way to wiggle the housing around it (I tried for 30 min). After I finally got it off and got the clutch cable replaced I found the neutral ind. switch. It's a little tab that sits under the indicator that completes the circuit when in Neutral. It was way out of position so I tweaked and prodded and poked and tested until I got it working reliably. Believe it or not that took over an hour. It's a very small area where it only completes the circuit in nuetral. A few times I thought I had it and it turned out that N light stayed on through all gears.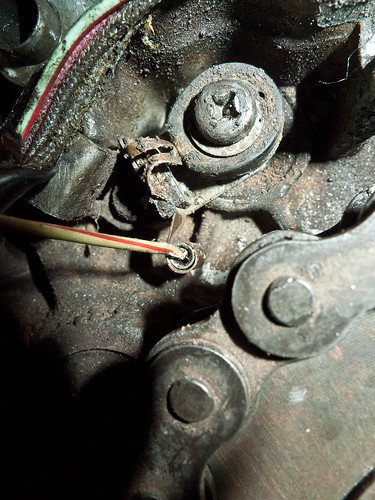 And a random in progress shot. (while the exhaust was off) Most people say pay no attention to their messy garages. You can pay attention to mine if you want. I'm not self-concious about it.
I'm working more today. I'll try to remember to take more photos and keep the updates coming.