Gold Coast, Queensland
DTT SUPPORTER
I have recently acquired a '90 XV1100 as a present from my lovely missus. It belonged to my brother in law who had it in storage at his mothers house for the past 10 years. I have found the standard problems with a bike that has sat for so long, gunky carbs, deteriorated rubber and surface rust on flaking paint.
My plan is to get her running and reliable again to use as a daily ride, so not much customisation is going to happen. I have already replaced the handle bars with a set of clubmans facing upwards which gives the bike a much nicer feel. Because of this I will have to replace the clutch lever and master cylinder.
Spotty has told me about a front brake mod dor the Vmax that may work on the xv. For now I was planning to use the original system as my funds are limited.
I have a front tyre in my workshop which will fit but will need to purchase a rear. I was also looking at replacing the dual carb system with a single for easy access and maintenance. Anyone that has worked on an XV1100 will know how much of a pain removing the carbs can be.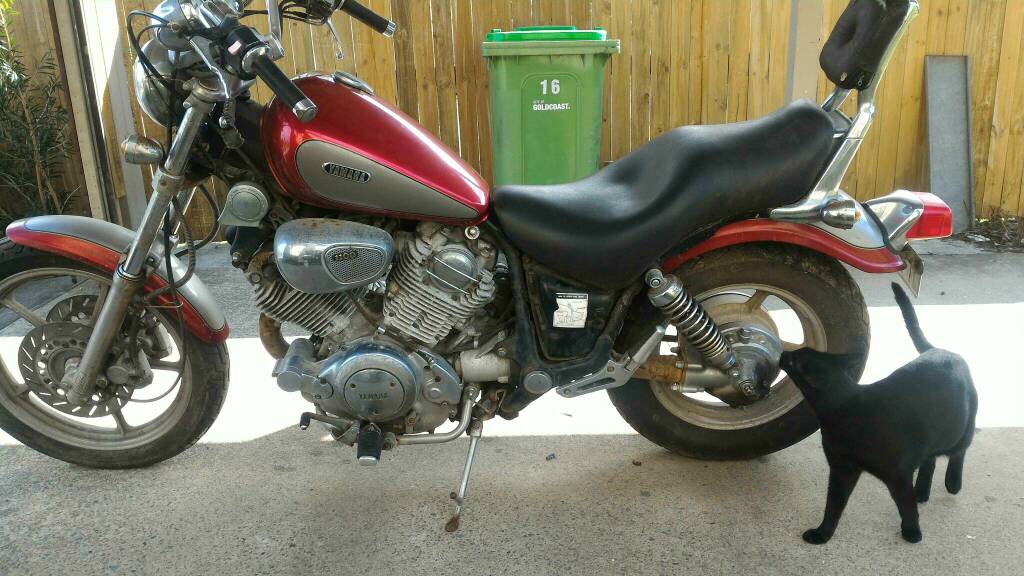 I am not a fan of chrome so I will be removing most of what I can.
My plan is to paint the wheels gloss black when I remove them to replace the tyres. I will also be removing the sissy bar due to the fact that I cannot have a passenger for a year and was planning on putting a rack in its place.
Being 6 foot I will also have to remove some foam from the seat so that I can wiggle back a little further.