Re: building a better bol d'or (super sport for you north americans ;-) )
Basement rat said:
gee. tough crowd
How's this:
I've put the 'conventional' forks on for the time being, because I can't be stuffed working out the USD set just yet :
I know these fit. Got my new calipers mounted (you can see the originals hanging by the lines), and need to measure the lengths for some more braided lines. Not sure the CBR900 replacement set will fit with these handlebars?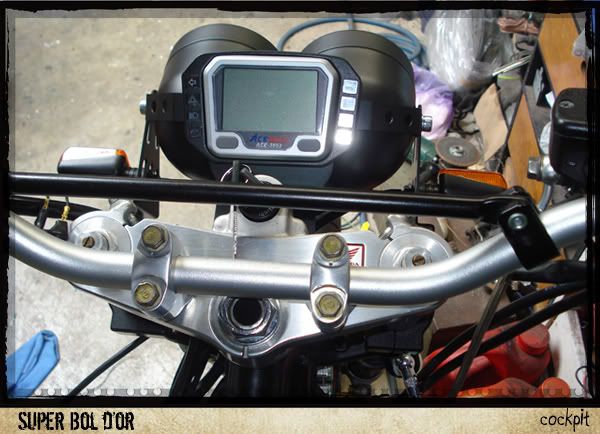 Got all the wiring sorted, except for the (redundant) fuel gauge. It keeps flashing 'low' because it's not getting a signal. I'm looking at hard-wiring it to stop that, just waiting to hear back from the distributor.
notice the handlebar-end device to stop me gouging (more) skin off me head while I'm bobbing around the workshop on my wheelie-stool wiring this sucker
I'm really liking this 'metalic charcoal' paint.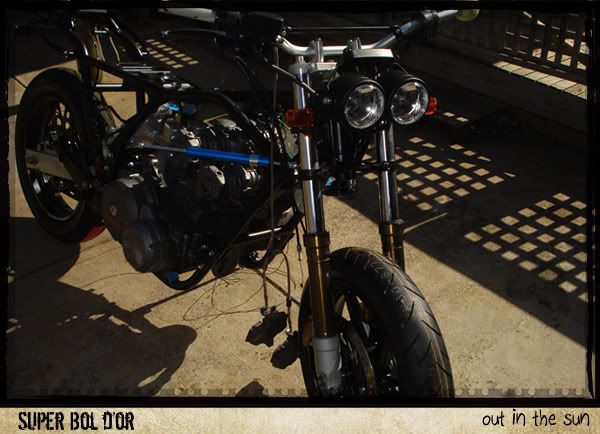 Still waiting for my rear tyre. I want a 170 and it's taking awhile to get one, so no bum-pics until I get rid of that old (CBX) comstar ;D
I'm having some trouble finding someone to weld my tank together. As soon a you mention 'petrol tank', all the panel beaters start shivering and sweating ???
Still, it's a big phone book.
cheers
ian