Thought I'd share this on this forum as well -
Thought I'd share some links for my setup to create a carb sync kit. Have had a hard time finding all the pieces - everything I purchased to sync the carbs is below!
Carb brass fittings 6mm x .75
(if the link ever expires, search eBay for "6mm x .75 muzzleloader nipple")
Two way valve splitter
(to use 1 vacuum gauge)
Valve regulator
(to provide steady vacuum so the gauge needle doesn't jump all over, you really only need 1)
5mm vacuum line
(enough to split between each carb)
5' 5.5mm fuel line
(to connect gas tank off the bike)
Fuel line connectors
(to extend the lines to the carb)
Carb sync wrench
(not totally necessary but it'll be a nightmare without it, trust me)
Vacuum gauge
(if you wanted to, you could get two separate gauges and eliminate the two way valve splitter but up to you, I prefer one gauge for accuracy)
Pictures below, hope this helps those looking for a setup. All in all it's about $100 for the whole setup. Common Motor also sells a kit for around $75 which is definitely a GREAT deal but have been out of stock and I've been needing to sync my carbs for awhile now.
These are the brass fittings for the carbs
I used a drill bit and drilled the hole out just a bit for better vacuum flow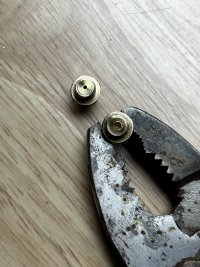 Here they are attached to the carbs, I do wish they were a bit longer but the clamp helped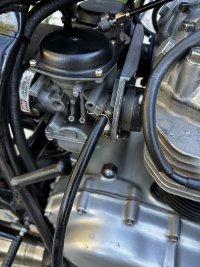 Here is the setup, the regulator and splitter worked PERFECT for syncing them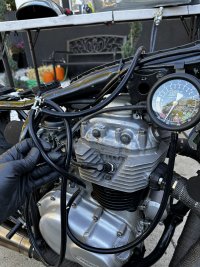 And here is the gas tank on a table connected to the carb gas lines with the fittings