Dirtbag Challenge cb360
Not a harley, cost $400, put $250 in parts, 1 winter. $650 total, well under the 1k allowed. it was a NY flood bike. not sandy, irene. the engine was locked up. came with a parts engine. po tamed it with a hacksaw and cut off all the seat mounts, then gave up. the current seat is from a rm250. $24 on ebay shipping included. ad said its from a dt125 but they can't guarentee fitment. ha. I cut it back a bit with tin snips and put it back togather with four 1/8" bolts as mounts. the molded foam cuts neaty with a hacksaw. 4" of molded padding actually is comfortable. new tires as wide and big as will fit easily. 100/90 front 110/90 rear shinko 712's. new wheel straps and tubes. new sealed grease bearings. home made regulator and rectifier. home made harness. all led. lights not bar switched except the signals. lights turn on with the bike. new petcock. integrated front turn signals, new headlight. home made 1968 triumpth style wire ears. rear signals, brake light and running light on two 1157's rear red lights jb welded inside the frame tubes instead of the ubiquitous hoop. two 12v ice cube relays take care of the turn signal logic. led flasher. http://www.dotheton.com/forum/index.php?topic=76304.0 battery delete with inspection day bypass. I use a switch, battery to lighting circuit. one position to battery the other position to the stator. Ignition switched to stator on both positions. 2 poles 3 position 20 amp switch. lansplitter bars from a bmx bike. db killer baffles in the pipes. mufflers removed. loud pipes save lives. pz30 bootleg honda carbs the kind that come with the lifan 200 crate motor for free. not for racing but perfect for a dirtbag. gy6 manifolds. pods. brackets and bike cables to splice the honda throttle cable to the pz30's. how did I know these bootleg bad boys would work. 2 x 200cc is more than 360. cables cut and fit to choke. new points. valve job. yes, bought the valve tool. pods. new seals, exhaust hardware and studs removed and changed to springs.
every cusom bike has a back story. mine is no different. every repair on this show quality antique gets done with modern parts in modern ways, restomodded in a way that looks antique. that means by default 4" wide rear max to look period correct. all the new tech is hidden under the seat. my builds are quick, dirty and unique. I am not a pro mechanic. I do it to relax. I consider it leasure time. takes lots of beer and weed but I always finish. this is not a 38 page build thread where it never makes it back on the road. projects ends when the inspection sticker goes on. then it gets posted. anything ugly gets gloss black enamal. used an expandable $2.99 pep boys adjustable rubber freeze plug to block the hole that was the starter motor. removed the internal stater chain and gear. any weight that can be removed gets stripped out. lost the frame past the rear shock, tach, battery, battery box, air box, starter, mufflers, chain guard, turn signals, center stand, throttle return cable, exhaust studs and doughnuts, rear fender and tail light.
idles like a sewing machine because of the new carbs. comes to a stupid slow idle with release of the throttle. neoprene needle valves rule. starts first kick every time. good power up to 85 mph. thats as fast as i've had this sow splitt'n lanes in traffic on the major deagan. at that speed I can hear the cush drive complaining.
turns heads. this bike has been done so many ways in so many different styles. it's like like ode to my rifle from full metal jacket with this build.......this is my cb360, there are many like it, but this one is mine. My bike is my friend. turning wrenches is my life. I must master it as I must master my life. Without me, my honda is useless. Without my honda, I am a pedestrian. I must fire my cb360 true. I must ride straighter than the uber who is trying to kill me. My bike and I know that what counts in war is not the rounds we fire, the noise of our backfire, nor the smoke we make. We know that it's all about knowing your limitations as a mechanic......................
if anyone wants to know specifics of anything I've done just ask and I'll do my best to explain how and why. looking forward to justin longhorn reading this post. special thanks to the state of vermont for keeping me legal.
here is a pic before inspection, with mufflers. more pics to come.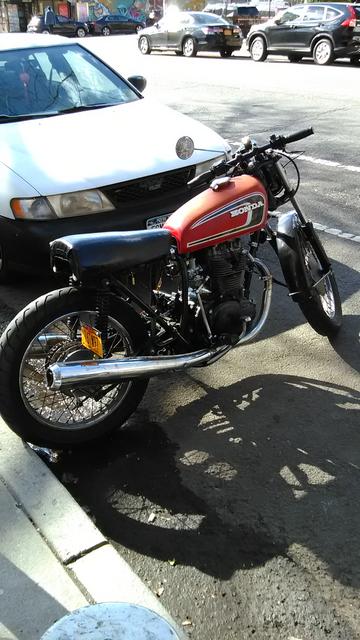 ]