(NOTE--if links are dead, try the photobucket fix: http://www.dotheton.com/forum/index.php?topic=74587.0 . Worked for me.)
My turn to share my abomination. Over the last 3 years in India, I bought a salvaged 1977 Indian military Enfield and built it to a fairly trackerish machine. Used a local mechanic because I was new to the bikes; that turned out to have been a poor idea. So I learned a lot correcting issues and thrashing the living crap out of it.
It's back in the States with me now, so it's time to re-build into truly functional motorcycle it over the next year, while I'm deployed. Will be doing the work in bursts between R&R trips every few months.
Tried clip-ons just before I left India, but they didn't suit the bike well. So it'll be back to tracker bars on the rebuild.
And I added a alloy seat/tail section built by Ken Hosford from the board. Here's a local fabricator working on the subframe for it. Note tank, carbs, and torch in close proximity...also notice photo taken from across the street.
Lot of problems to correct and tweaks to make. I'll be dropping in a new engine worked over by Ace Engineering (see
Kneeslider's old write-up
) plus a lot of other goodies.
First order of business was getting the bike to Tom McVay of McVay motorworks in Providence, RI. He's a great guy who's relocating the footpegs (more mid-set than rear-set; was unable to get an Indian fabricator who could mount them where I originally wanted them) Tom will be building offset mounts using an alloy plate held off from threaded bosses in the frame by bolts and spacers. This will let the mid-sets clear the transmission and primary cases.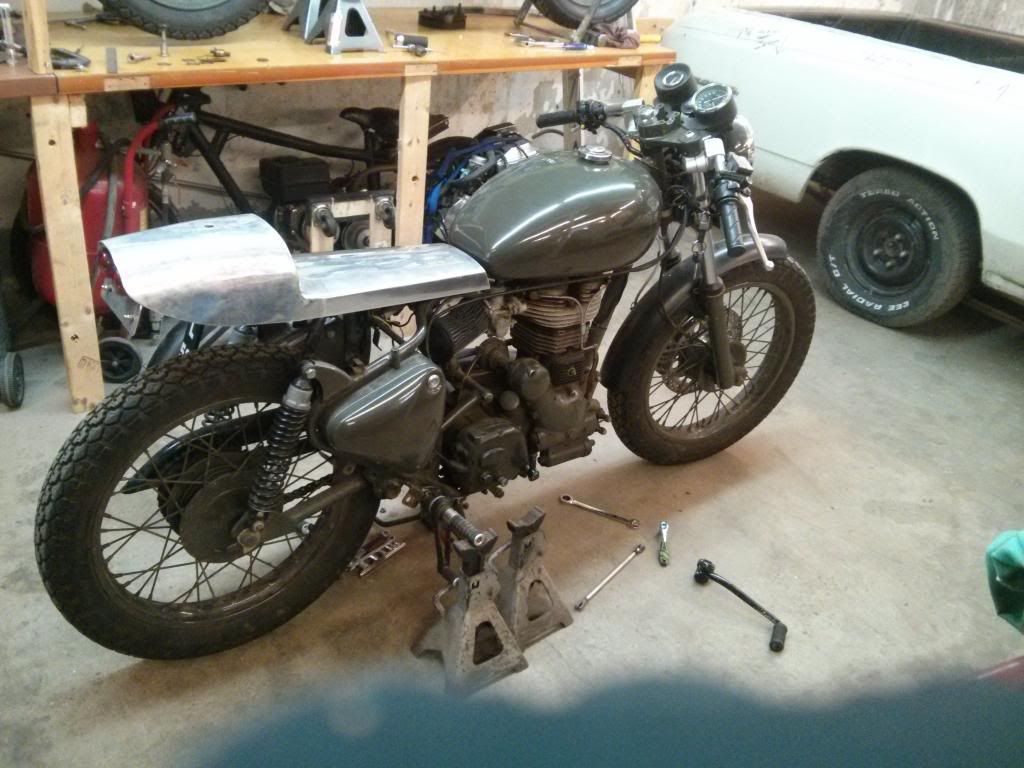 After that, he's going to fab up a wraparound kickstart lever to sit behind the pegs, with the peg tucked up under the toolbox. This will also allow the pegs to tuck in tighter to the frame, by eliminating the bulky folding component of the stock kicker.
Tom will also do:
-Rear disc brake mount (floating)
-Alloy seat subframe, to replace heavy steel one
-New clean mount on the downtube for my spin on oil filter
-Stainless exhaust (after bike's complete)
This bike is going to stay am ugly mongrel, for sure, since I just tend to bash on stuff rather than spit-and-polish it. But it'll be a much, much faster and more reliable mongrel for me to ride. And it'll end up with shinier alloy bits all over it (seat, rims, etc) compared to the full-military setup I have now. (Actually had the thought to nickel the frame last night, to contrast with the OD green...we'll see...)
Dunno how much progress I'll have to show in the near future, but hopefully I'll have it together by the time I'm ready for my next move in about a year!