Is that the best you got? OK.. now my TURN...
Looking to trade my 2015 Alpinestars GP Pro Leather Jacket, preferably for the same or similar jacket but one size up!
Practically new, Size 40US/50EURO, looking for a Size 42US/52 EURO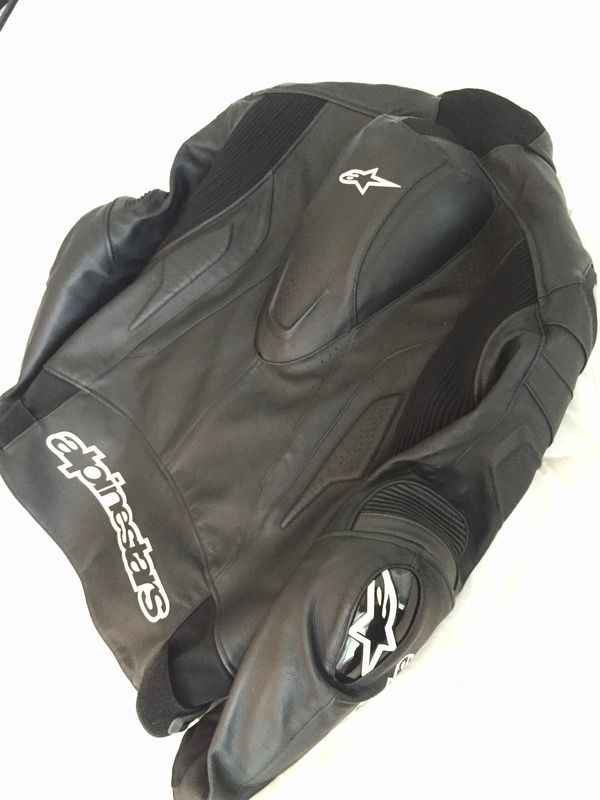 Its truly an amazing jacket, no feeling of restriction in the shoulders and back. It us just too small for me. It fit me perfectly a year ago but now I need a size up.
I'm 5'7 183lbs heavy in the chest and arms
This jacket features:
A fully featured, premium leather performance and sport riding jacket, the GP Pro incorporates strategically positioned accordion stretch inserts to offer superb levels of comfort and flex fit - on and off the bike. Its exceptional protective capabilities can be ramped up by Bionic protection accessory upgrades for a jacket that is as rugged and durable as it is stylish.
Protective Qualities
Alpinestars race-derived, external Dynamic Friction Shield (DFS) protectors in the elbows and shoulders feature injection-molded shells and dual density foam padding.
Removable, internal CE-certified protectors offer superior impact protection to shoulders and elbows.
Snap connection system allows integration of CE level 2-certified Bionic Race Back Protector for the ultimate in protection.
Chest pad compartments with PE padding (Alpinestars Bionic chest pads available as accessory upgrade).
Durable Build
Highly abrasion resistant main construction from premium, 1.3mm full-grain leather for excellent comfort, fit and durability.
Engineered Fit
Advanced microfiber accordion stretch inserts in key articulation areas on back and elbows for excellent performance fit.
Extensive advanced microfiber stretch panels on chest, underarms and waist for range of movement.
Integrated PE comfort padding on the chest, torso, coccyx and back further enhances fit and comfort while riding.
High-density perforations on chest and arms offer airflow and help regulate body temperature.
3D mesh sleeve comfort cuff edging for breathability; cuffs incorporate zip closures for secure and customizable fit.
Soft, 3D mesh and leather collar construction for breathability and comfort.
Moto GP profile, perforated, back hump for improved aerodynamic and ventilation performance.
Multi-panel lining incorporates 3D mesh inserts to improve comfort, fit and ventilation.
Reflective detailing for improved rider visibility.
Premium YKK fasteners and semi-auto locking zips used throughout garment.
Full circumference waist connection zipper allows attachment to Alpinestars riding pants.
D-ring waist adjustments feature Velcro® straps for secure and personalized fitting.
Extended lower back profile for improved lumbar coverage.
Im willing to consider a trade for a another Alpinestar jacket, Joe Rocket or a Dainese jacket with the hump protector in the back.
Or feel free to try your trade!
txt: 416 888 3030
Located downtown Toronto