GS550 Special - Project Stray Dog
So, here goes. Down here in Middle Earth (New Zealand) there is not the choice that some of you guys get, being a population of only 4 million. So I was looking for an XS650 to start with, but prices were getting silly, even for dog rough ones and not a lot of choice, so a quick look on Craigslist found a beaut in NH that I could get a friend to ship for me, but it would take weeks, possibly months to get here. I couldn't wait, I needed a project now!, so a look on our very own NZ Trademe site found this sad looking GS550, a deal was struck over the phone (as it was a 5 hour drive away) and went and picked it up, then realising I had paid probably twice as much as what it was worth, ho hum, nevermind.
The plan was to get it going, tidy it up a bit and make it look nice, hack all the junk off it, new seat, paint etc etc, you know how it goes, right? Set my budget, off I went. Well, next day it was pretty much dismantled, I could feel the budget slipping from my grasp already. Then I thought, oh what the hell, just do what you want to it and don't get the calculator out to see what I have wasted, sorry, spent on it. So now the gloves are off, no more Mr Nice Guy, etc, its gonna be what its gonna be and now the project is on!
Here she is as bought, a 1978 GS550 B or C not quite sure.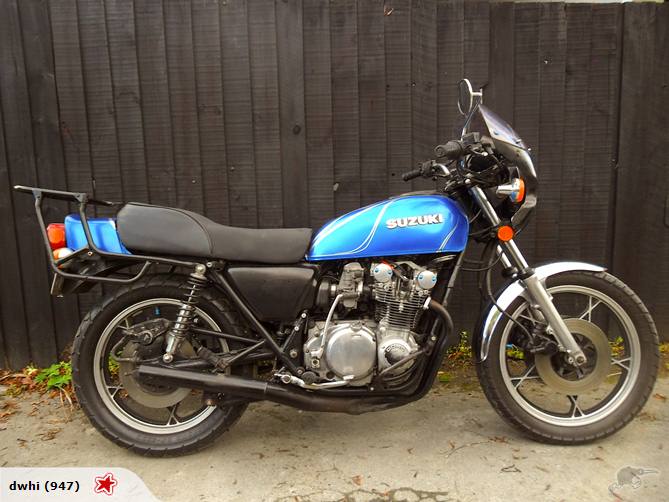 The tear down starts
Hacked of the rear rails, added a loop, that I had to make it two pieces, (long story) kicked the loop up a bit, cut off the lower frame brackets either side.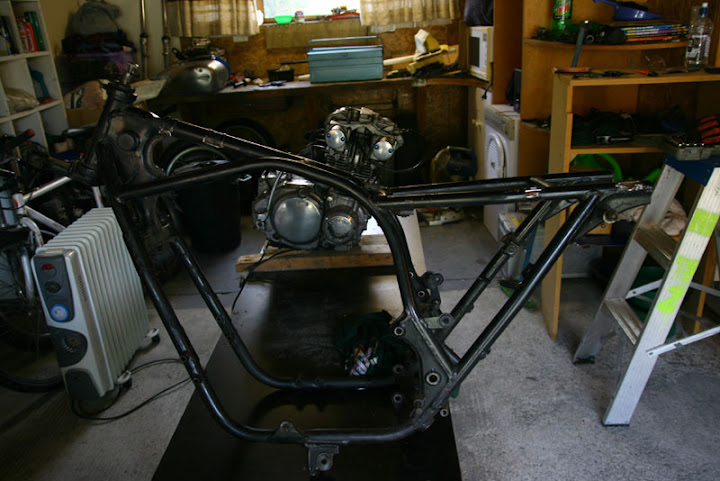 Aluminium seat base, stripped paint off tank, full of filler, so the raw steel look is out the window!
GSX-R1100 rear sets, modified. mounted off the one of the original footpeg mounts and the other off the swingarm pivots, perfect fit and position for riding.
I dislike the GS cast wheels, so the earlier spoke version was found, again, dog rough but will be powdered black rims and hubs with new shiney spokes
Engine being rebuilts, well top end anyway, pistons, rings, pins, clips, valves seals, gaskets etc etc. Ashley from Boulevard Suzuki has been a great help with the parts and shipping as the price here in NZ is horrendous!
Carbs rebuilt with kits from Jerry Cycles. Forks lowered internally by 50mm (2")
So here she is as of this weekend, seat ready for covering, frame 99% done, engine awaiting valve grind, been soda blasted and ready for paint. This stray dog is definately budget blown!
Any input, ideas, criticisms welcome, its my first build, can ya tell hahaha!