Comfort the afflicted and afflict the comfortable.
DTT SUPPORTER
DTT BOTM WINNER
Years go I was regularly attending Honda Sport Touring Association (now the Motorcycle Sport Touring Association) events around the country and especially enjoyed demo rides at the larger events. Honda, BMW, and other manufacturers brought in their trailers full of bikes and allowed everyone to test ride whatever they wanted as many times as they could. I had pretty much considered myself a "Honda guy" for years though I had lots of experience with Suzuki, Kawasaki, and Yamaha as well. At one event I fell absolutely head over heels in love with a BMW K1100RS just like this: (Even now if one just like this came along in the right condition at the right price I'd be VERY tempted... and black is near the bottom of the list of my favorite motorcycle colors.)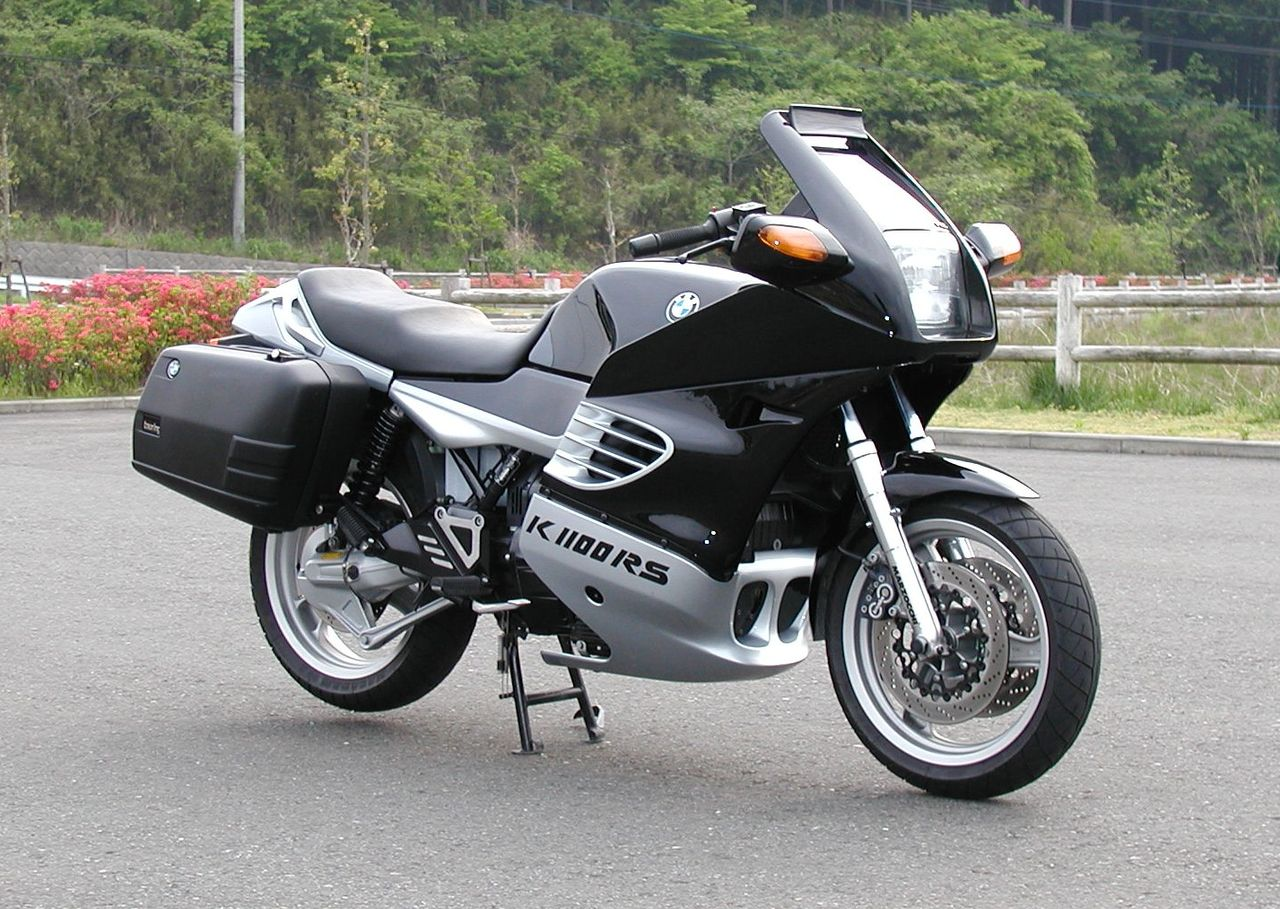 Sadly, the income of a recently divorced, soon to retire military enlisted troop couldn't handle the purchase of a BMW but my love and appreciation stayed and over the years the fire smouldered.
One time my attention was briefly diverted by a brand-new-but-a-few-years-old-at-a-dealer-who-wanted-it-gone Triumph Super III 900 Daytona just like like this. He named a once in a lifetime price but I still didn't have the bux so I had to pass.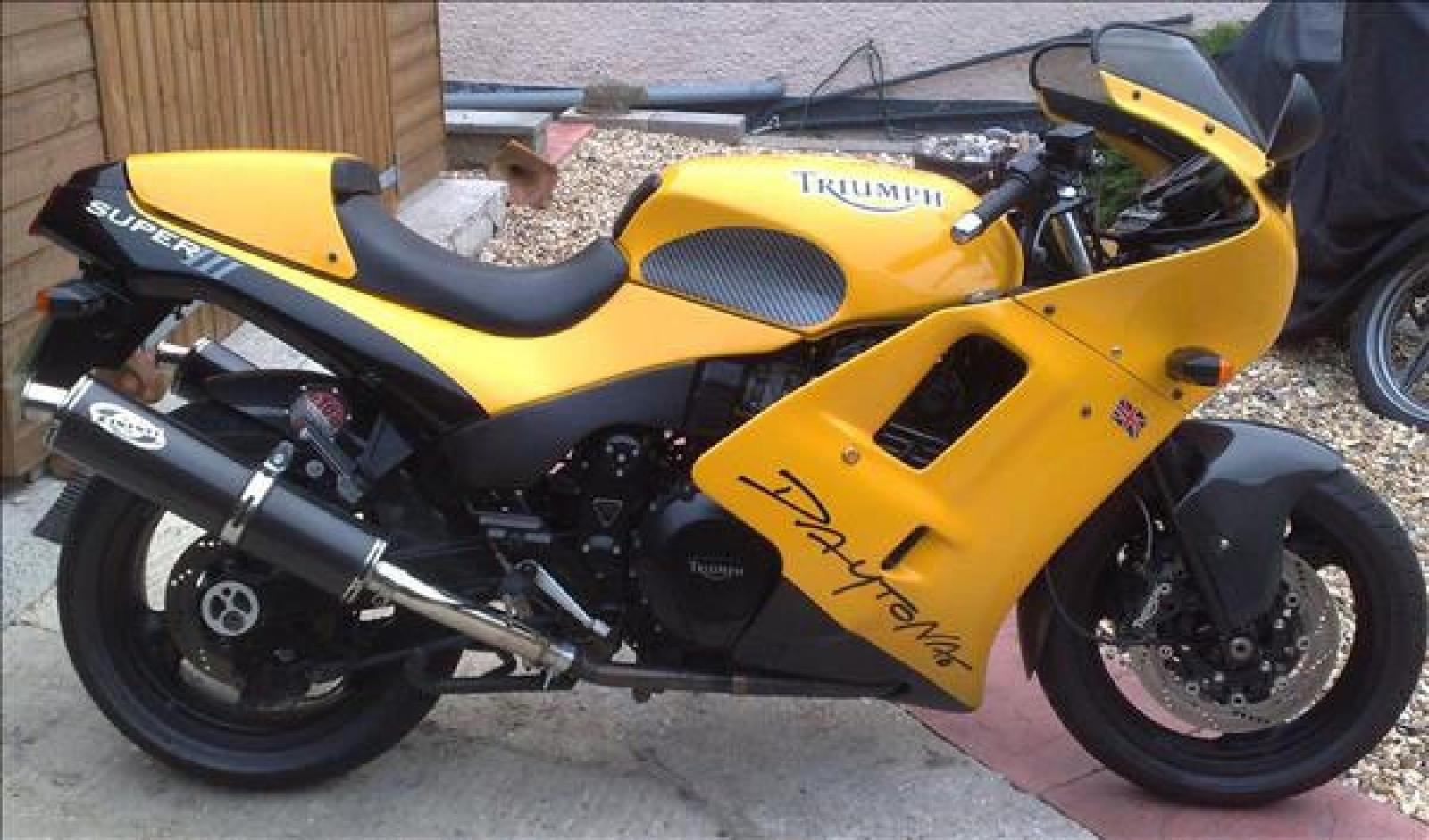 A few years later I still thought the K was the way to go but I tried out a Boxer and the R1100RT lured me away from the Bricks.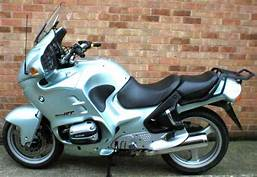 Real life and it's obligations continued but I finally found myself in the position to start searching. I quickly learned that technology has passed me by and the Ks and Rs I had come to love were now "old bikes." Yes, they could be purchased for a very reasonable price but they were likely to have high, sometimes very high, miles and need work and parts. Parts for BMWs ain't cheap and it wouldn't take long to invest far more than the bike's value in parts just to make it nice. I decided to continue to cruise the usual outlets in hopes something would come along. A K1100 like the one above or an RT with the right combination of miles, price, and condition were the main searches. One day a good friend and i were talking and he told me his son was trying to sell his BMW. He'd gotten a Boxter and his wife told him that he could keep the Boxter or the Rockster but not both so the BMW had to go. I wasn't familiar with the model so I did lots of research and gained an appreciation of the strange hybrid that is the Rockster.
@Hurco550
and I went to check it out and I learned that guy had owned the thing for 12 years and had put less than 6000 miles on it the whole time. We both rode it and it lived up to the promise; perfect condition, heated hand grips, ABS, low miles. After a couple more days of deliberation and research I made the deal. For a price that was very reasonable, not a steal, but reasonable, I brought home a 16 year old BMW that had only 7300 miles.
What is the Rockster? The first ones were white with black stripes and wheels and were numbered as special editions for the BMW 80th anniversary. Only a couple thousand were made and 200 were imported to the US. BMW then made the Black/Orange and the (more uncommon) Black/Green for four or five years. At the time the usual crowd of BMW owners were lukewarm about it; it wasn't dignified.
What is the Rockster? The basic frame/engine is the R1150R. The forks, shocks, and (wider) wheels are from the R1100S and the headlight is from the GS. Add the eye-catching paint scheme and a strange two-tone tach/speedo (more on that later) and it's a unique and nice performing machine. The only thing I can figure is that they were trying to imitate a Street Fighter type of bike.
Last edited: