Keep er' Between the Ditches
DTT SUPPORTER
DTT BOTM WINNER
I know this is outta the normal wheelhouse for here, but I'm just curious if anyone has built a little "off grid" cabin and would like to share some insight. I'd love to hear any tips or tricks on "things you wished you had known" or "things you would do different" etc.
Here's some background. I grew up about 15 minutes from my current home on the 75 acre family farm (outlined in red) . About 55 acres are tillable and still used for grain farming, about 10 acres are strewn about on different plots around the edge and are residential lots inhabited by my parents (outlined in green), aunt and uncle (outlined in yellow) and one random neighbor (outlined in blue), and the far north-west corner is about 15 acres of woods. This whole farm, less the residential lots, is owned by "cousin Bob" and the 15 acres (and access lane which are outlined in white) are willed to me when he passes (which we hope is a long ways off yet). The access to the woods is via an abandoned railroad bed, suitable for just about any vehicle barring recent heavy rain, in which case 4x4 will get you there with little guff.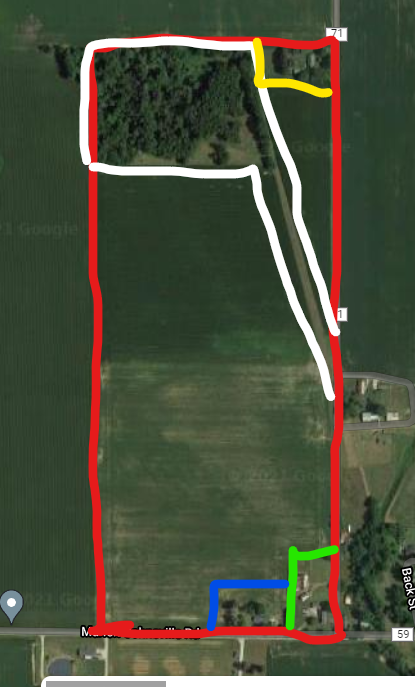 I grew up in those woods. I have spent countless hours in them camping, hunting, and riding dirt bikes, atv's and snowmobiles. Some of my best nights were sitting around campfires with friends (and girlfriends), first date with my wife and the list goes on. My son just turned 3, and he loves little more than being outside. We have been thinking about putting up a little cabin for weekend getaways or maybe longer stretches in the summer when I'm off as a school teacher.
I have a small list of "criteria" that I'm wanting to work within. These are far from set in stone but at least rough guidelines:
* It needs to be on a skid/non permanent foundation. This is uncle Bobs only real request, as a permanent foundation will up his taxes fairly substantially. It would go from Non-Tillable land (cheapest possible taxes) to a residential lot (second highest only to commercial), likely tripling the taxes.
* It needs room to sleep at least two adults and two kids with a food prep area and small living room/ dining space. We only have one kid right now, but that could change.
* It needs to be sealed up well enough to go periods of time without getting infested with bugs and critters. My parents keep the woods mowed in areas, and it can/will be "checked on" on a weekly or bi weekly basis.
* No running water, plumbing or permanent electric, though I may have it setup to run a few small things on a generator. I may look into a pit toilet/ outhouse, but again, my parents place is only a half mile away for facilities and utilities hookups are not feasible.
* It will need a heat source for spring/fall camping. I'd love to install a small wood burning pot belly, but I'm afraid that I may roast us out of it as small as I'm planning for it to be. I may look into a propane setup that I can run off of a 20 lb tank.
* It needs to be "cheap". I know nothing is free, and building materials are high right now, but I'd really like to be in it for $7-8 k if I can.
* The skid/platform needs to be small enough to haul to the location as it will be built about 20 miles offsite (more on that later)
All of those things considered, I am currently looking at an arched design. I have seen these floating around the internet for a while now and have always stored them of my mind as a design that is intriguing. I am a welder and fabricator by trade, so the steel framework is not a big deal. I would build a set of powered rollers to bend 2x2 box tubing into the arches. Threes a company in Texas that produces them, but I want to do a few tweaks to the design and I cannot see spending the money for some bent tubing that they are wanting, especially with my background in steel fabrication. I also like the idea of a simple, strong free span design and what should be a very low maintenance long lasting exterior. Much of that barn siding has a 30 year plus life span.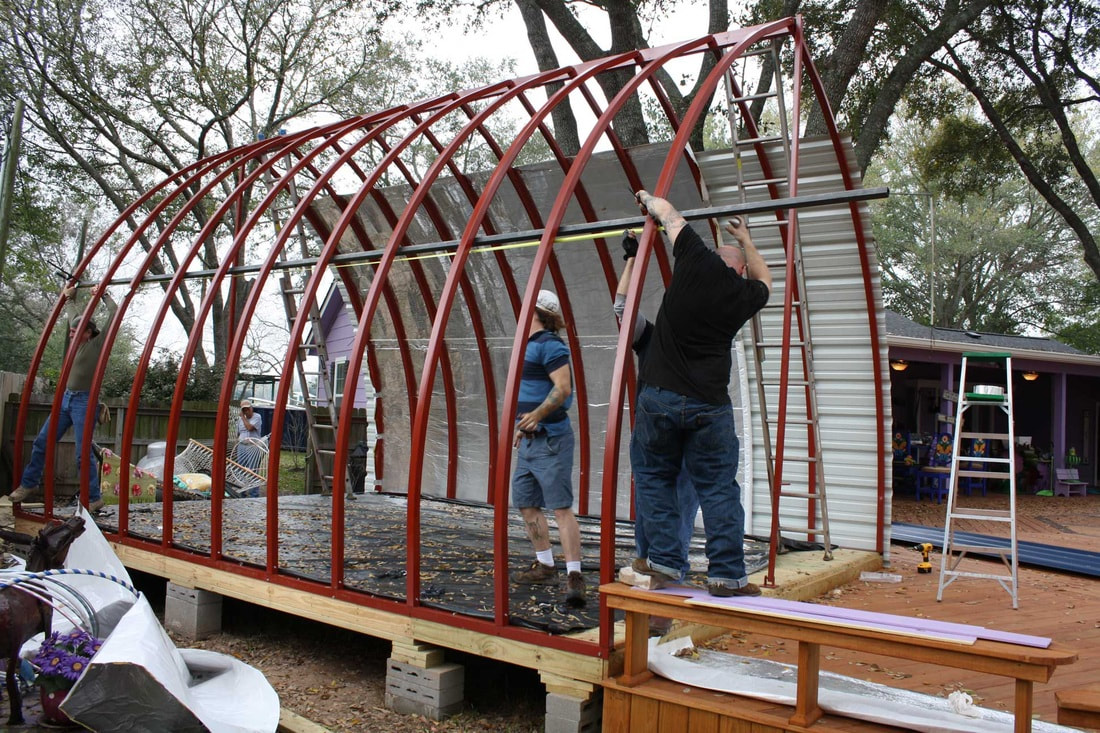 I have been playing around on auto cad and trying to figure out what the sweet spot on size will be. I am torn between building it big enough to be functional and not building it so big that it transcends the scope of a "small little getaway cabin in the woods" and morphs into an out of budget second home that requires a bunch of upkeep. I feel like this could be "one step above a tent" or a "full fledged vacation cabin" but would like to land on the "tent" side of in-between.
What I have drawn up are several variations. All 3 have partial lofts which would be used as sleeping quarters and will not run the entire depth of the cabin, leaving some of it open span to the peak. The width at the base is 12ft, 10ft and 8ft respectively. The length can be easily changed but I'm looking at between 12-20ft long (deep?) The door drawn on each is a standard 80" x 36" if that helps for scale. The 12 ft wide cabin has a platform to peak dimension of just over 14 ft. while the 8 ft wide platform has a height of just over 12. (also, not sure why the screen grab showed up so grainy)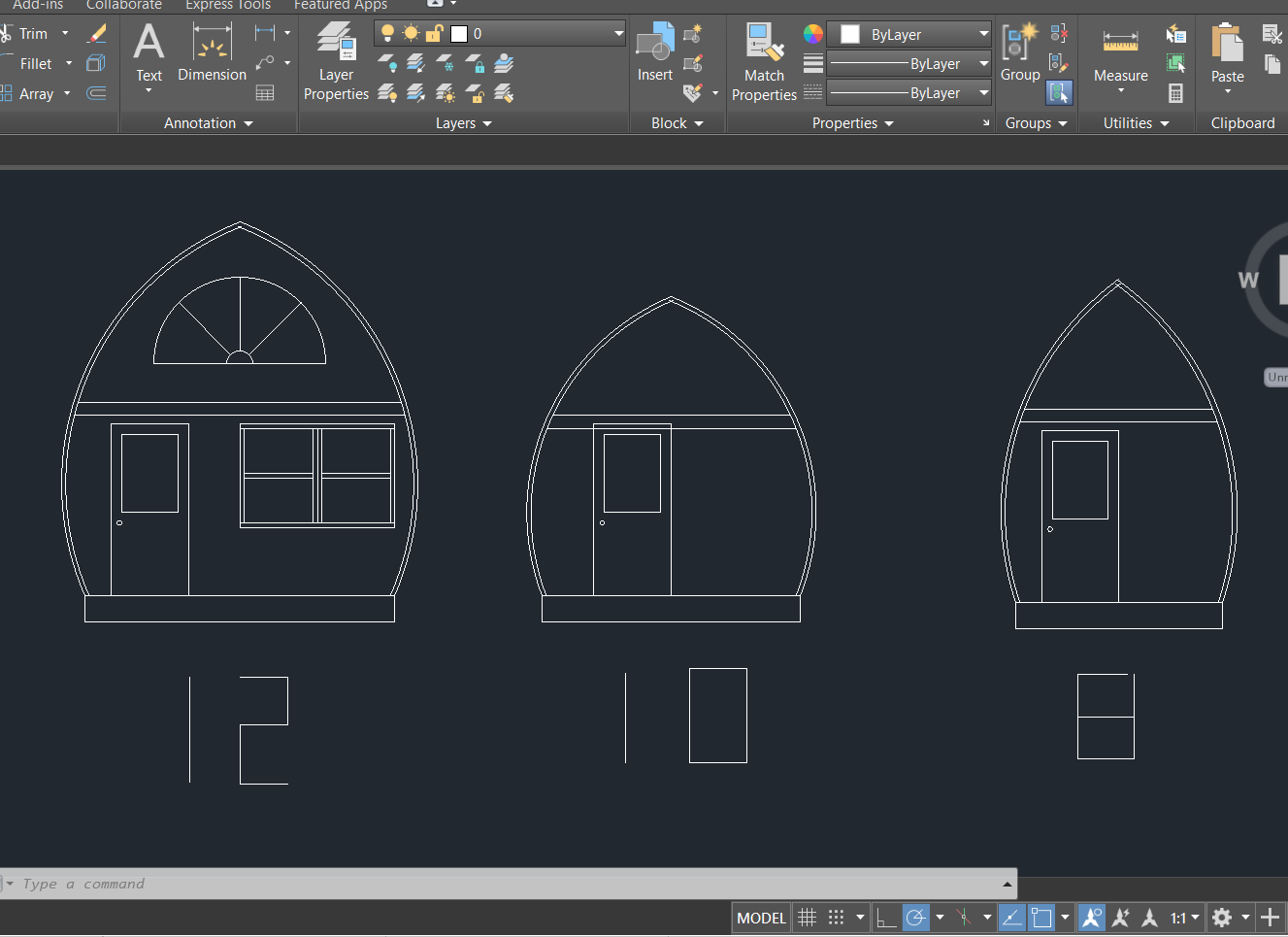 So, what say the masses? Should I go as big as possible because I'll regret not doing so later? Should I go smaller because I'll regret building it so big? What should I know before I start in? TIA