Been Around the Block
DTT BOTM WINNER
This is a quick post to introduce myself. I've been following the site for a few months now and have decided I should become a little more involved in the social side of things here.
I've always had a bike of some sort since I was a teen and I'll be turning 50 later this year. For the last 25 years I've only really had rubber belt based Ducatis starting with a 500 Pantah (although I once did own a 900S2 bevel) with my current two bikes being '08 848s -- one highly modified for racing, the other pretty much a stock rebuilt wreck for my daily commuter to work.
A couple of years ago, my brother picked up a CB350 for the grand total of $0.00 from my parent's neighbour's farm where it had been sitting under a tree for approx 10 years. It had apparently been running "perfectly" before that but, although complete, a decade in the elements had turned it into the proverbial basket case. His intention was to get it running and do a cafe conversion but it continued to sit in my parents garage for another year and half until I suggested to him that maybe I could start the work on it at my place which is where it is now.
Here's a few pictures of it the day I picked it up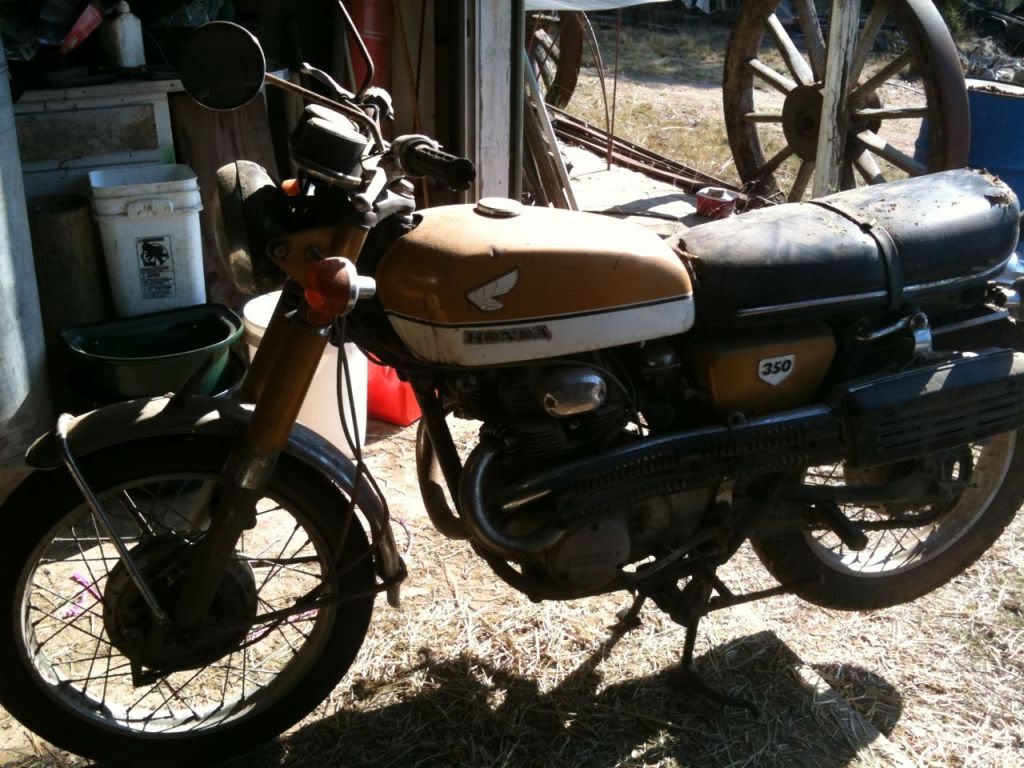 My plan is a cafe conversion (Just what the world needs! Another cb350 cafe conversion :
) inspired by El Poquito over at Benjies Cafe Racers. Although I've done plenty of work on my Ducatis over the years including engine rebuilds, I am by no means experienced in bike building as such or in any sort of fabrication of custom parts. This will be my first build and pretty much my first time working on a non-Ducati bike. In addition to that, the constraints of work and family mean it will be a long term project!
Thanks for reading and I'll post up a few more pictures of what where I'm up to when I get the chance