Therapy is expensive. Riding is cheap. You decide.
So, long story short. I've been waiting 2 years now to get another bike. This past weekend, the wife asked me if I'd seen anything on CL that piqued my interest. After looking at a few projects here and there, I zeroed in on this little TX500 that a guy wanted to get rid of for a very nice price, and the most important thing, it had a title. So we made the trek down to Auburn, WA. It should have taken about 2 1/2 hours, turned into 6 because people forget how to drive on July 4th weekend and back traffic up for 8 miles for absolutely no reason. But I digress... Brought it home on Sunday night and immediately tore into it. By that night, I was 3 engine bolts from pulling the motor.
Fast forward to Monday night. Engine came out without too much fuss. Definitely a lot lighter than my Cb750. I set it aside for a few and took a crack at the framework. Harness, headlight, controls, battery box, signals, fenders... All came off. Harness is shot :/ along with all the regulators, coils, rectifier, condenser, etc. Both forks need to be rebuilt. Shocks aren't bad, just need a good sandblasting and cleaning. Tank is pretty bad inside, haven't decided yet what I'm gonna do about that. Seat is trash, so is the pan. No big loss there. Brakes are in need of complete replacing on the front, rear is yet to be determined.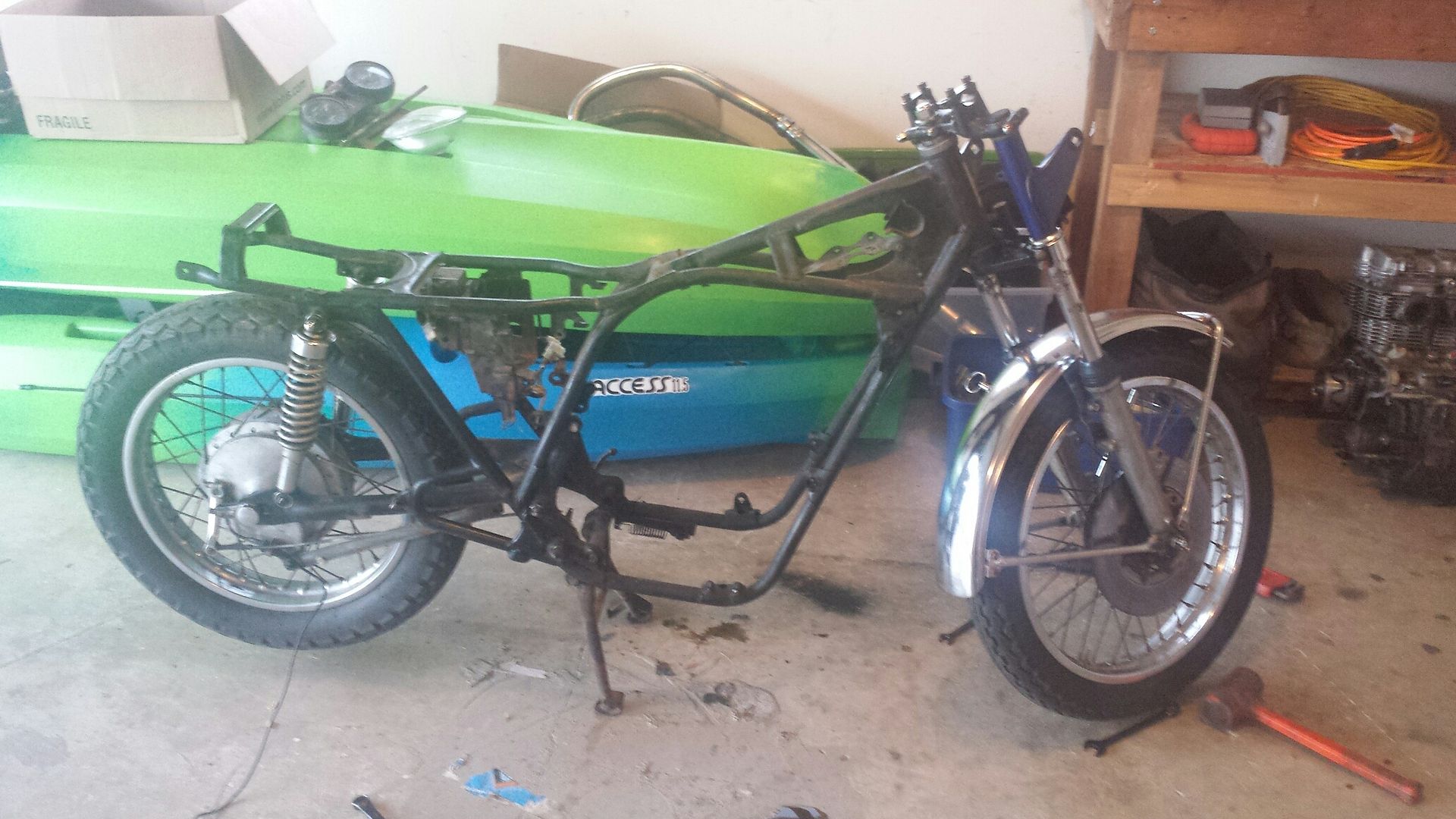 Tore into it today. Little farther in. Met with some bad news. One of the intake lobes has some fairly noticeable scoring on it. Not what I wanted to see. New (used) cams are 25$ on Epay. Not to mention the starter chain and balancer chain are a bit loose for my tastes.
So here's where were at right now. Externals of the engine are torn apart. Frame is basically just a roller. Harness, and most every electrical component, needs complete replacing. Forks need rebuilding. Engine is gonna need some love. Right now I'm just starting to make a list of the parts, and prices, for everything and contemplating what direction I want to go.