Careful Man, there's a beverage here...
Well she is done (for now)...
Introducing Lulubelle.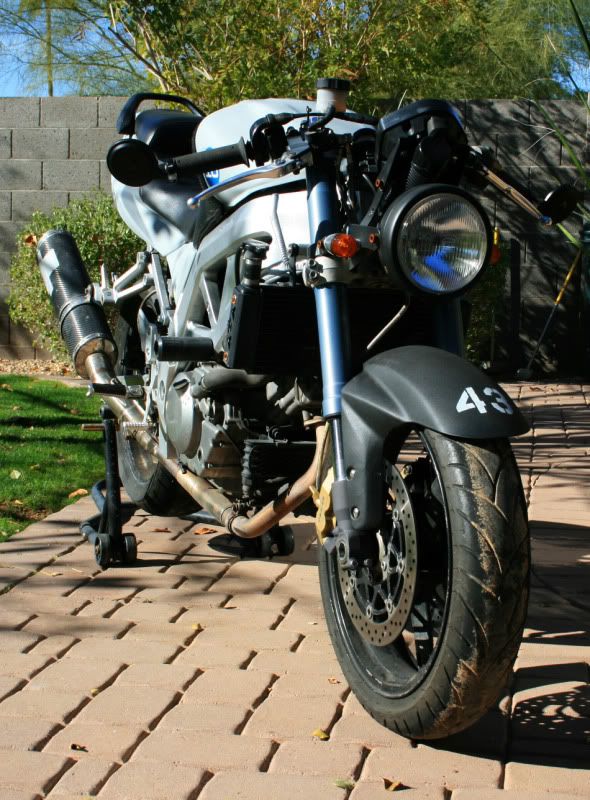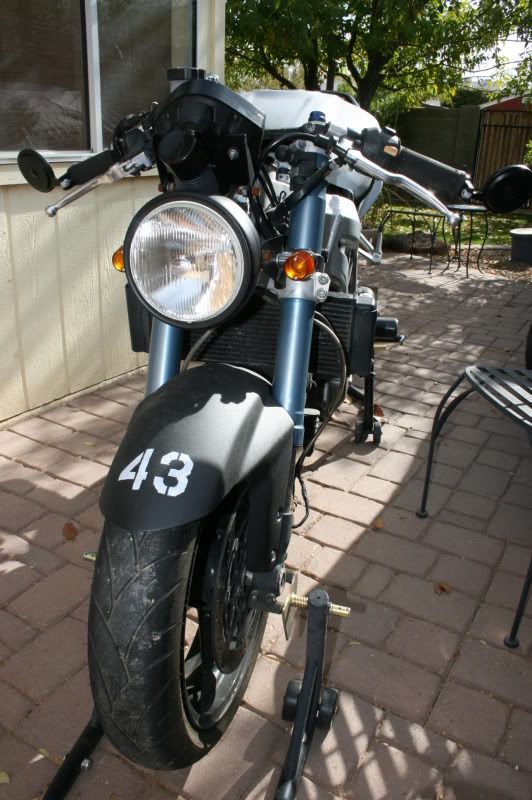 I picked up this '03 in March of '11 from my little bro-in-law. He had picked it up on Craigslist about 6 months prior. When it's battery died he decided that he no longer wanted it. I had been itching a bit for a bike since I had sold my Bandit 1200S a couple years ago.
The bike had 43,000 miles on her and she was in good operating shape but real rough looking. I gave her some TLC. I replaced the rear shock with a ZX-14 unit. She needs engine work; I can hear valves and cam chains and the little hamsters inside making all sorts of racket. Also a fork rebuild would be nice.
Thanks to some observant members here, it became clear that this bike was originally owned and modified by 'That Guy' in California. He did the GSXR front end, CBR F3 rear wheel, and other misc things. Who knows how it ended up in Arizona, or how many owner's it's had since.
It had clearly been down on both sides who knows how many times. There were all sorts of missing screws, bolts and what have you. She runs alright for an old girl, though.
I decided to go naked and go with a military aviation theme for her. Her name comes from the M3 Lee tank in the movie 'Sahara' starring Humphery Bogart. Speilberg gave a nod to that movie by naming Dan Ackroyd's M3 'Lulubelle' in the movie '1941'.
Some bits of ridiculousness: I have installed position lights (red & green) as most aircraft are required to have. Yes, Mr. popo may have an issue...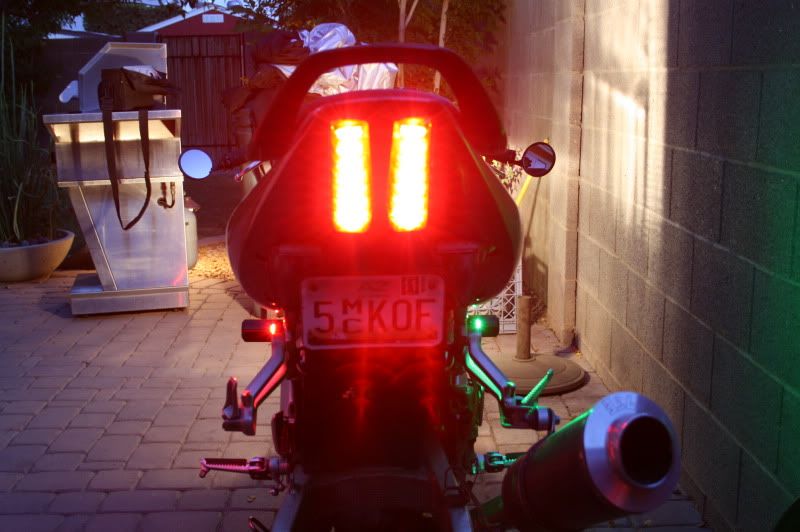 Also analog navigation at it's finest.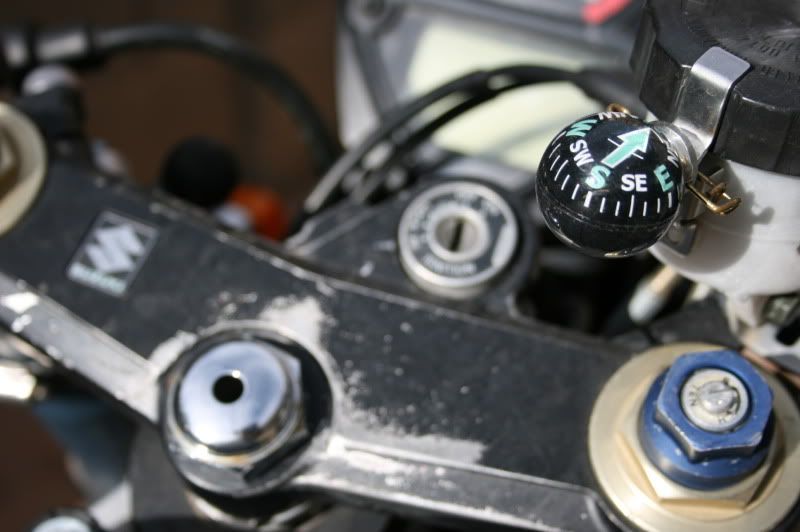 100 low lead? AvGas? Not really. I ain't racing this thing. I make do with 87.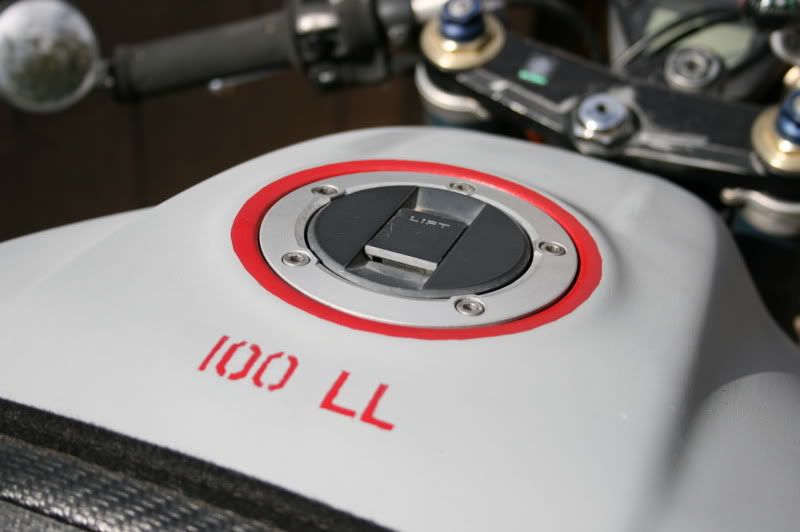 I'm a fan of bright signals, so I added some DOT reflective tape above the rear ones on the undertail. The pop now.
I sprayed the undertail with bedliner and I liked it without the plate so much I fab'd the license plate holder. I'm not sure I like it that much down there either, but for now it works. I may move it back to a more 'legal' location.
The side numbers equate to the year '03, and the last three digits of her serial number '643'. The front fender was also bedlined and bear's a '43' as a front identifier (because clearly someone with a similar paint scheme will park nect to me at some point and I want to be able to tell the difference...
)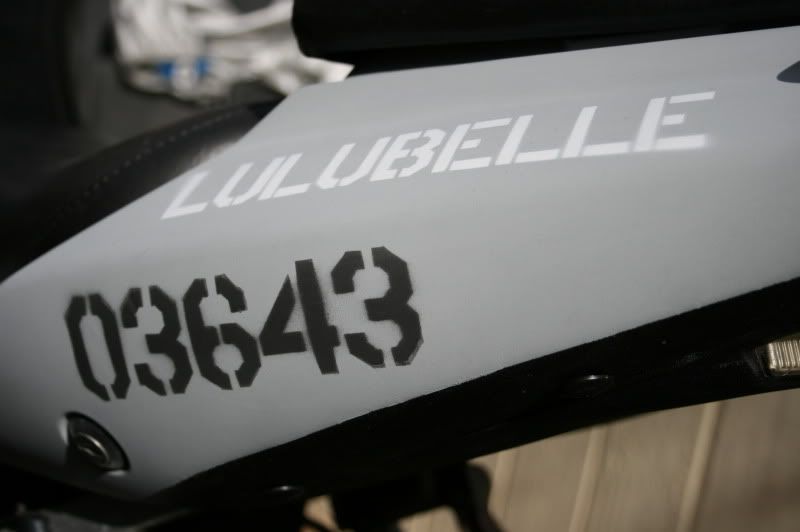 On one side of the tank is the Triangle U representing the tail code on B-17G 'Sentimental Journey'. On the other is Blue 18 representing the tail code on B-25J 'Maid in the Shade'. I volunteer as flight/ground crew on both aircraft. I did the Nose Art on the '25, too.
More info on them here:
http://www.azcaf.org/
Well that's about it...
Cheers!
Todd