Is that the best you got? OK.. now my TURN...
OK..ok...I've decided to sell my other Giuliari seats...
Here's What I got:
79 cb650 Giuliari seat that I've been strong armed by everyone to sell.. LOL...I am/was plannging to put it on to my cb550f.
The pan is pretty flat so its and easy adaption.
I bought it with some tears on left and right side by the front but I fixed all that. So here it is: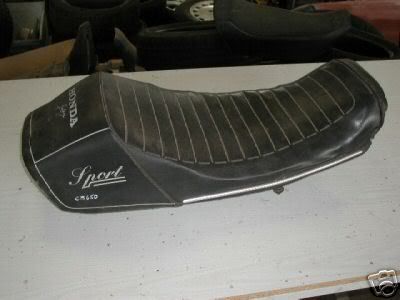 Here is another Giuliari Seat that I can get. This one is specifically for cb500:
It has some small tears on the top of the hump:
These seats are not as perfect as the other one that I just sold in the other thread but they sure are beautiful and would look AMAZING on any old cafe racer
Im asking $200 each + shipping.
Call me QUICK!!!...First come first Server.. Don't regret it...
noelocol@rogers.com
Cheers
NOel