Hello!
I'm nothing without my bikes so my presentation is not completed if I don't show you them!
This is by far the bike I love the most, it's a Moto Guzzi 850 GT California that my dad bought new in 1973. I inherited it in 2008 when she had 273.000 km on the clock and begun riding it in 2011 and I'm still riding it with the greatest pleasure. Handles well, the engine is super rugged, rode it everyday for years and she's now getting some well deserved rest, she's become my weekend ride. We're going for 330.000 km soon (that is 186411 miles).
The bike is rugged but this result wouldn't be possible without the help of my mechanic, which happens to run the oldest Guzzi official workshop in the world (his family begun selling motorcycles in 1890 and Guzzi in 1922)... thank you Roberto!
The California is mostly stock (we can't modify classic bikes here in Italy), she only has bigger jets, racing oil, a modification to the carbs intake and a racing oil plug with an inside magnet to prevent any iron dust going around in the engine. As a result the power delivery is smoother than before and the engine seems to be working with less stress.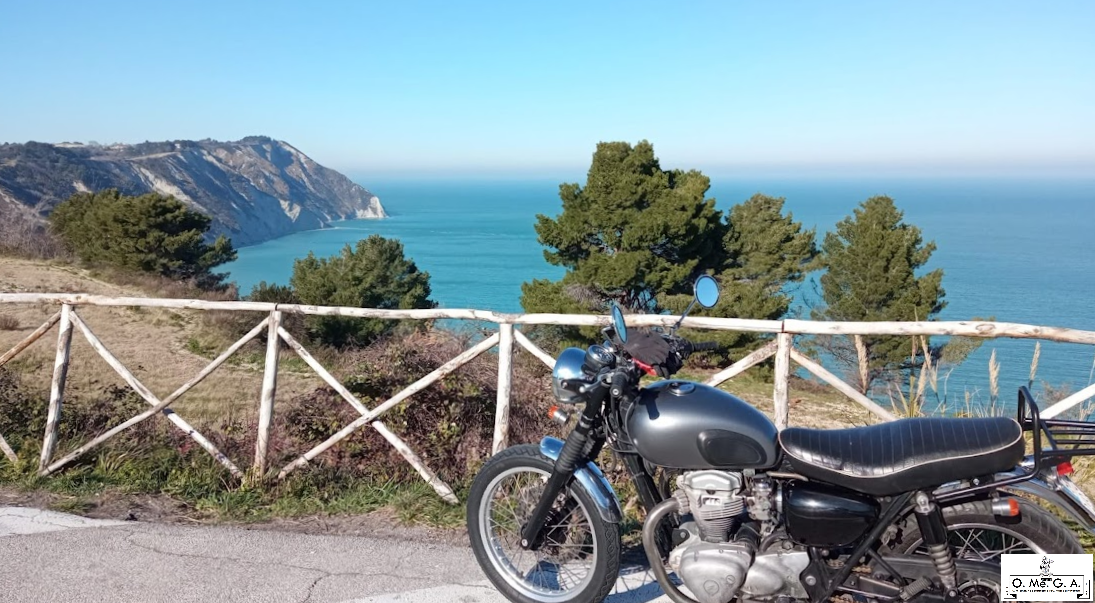 This is the 2003 Kawasaki W650 I bought third-hand last December. It has been trashed, dropped and neglected by the previous 2 owners and was in poor running condition when I got it. But I believed in this bike and now she's recovering; new chain, crown and pinion, new air and oil filters, new oil, and installed the original lights and front fender and now she seems to be running much much better. We've done only 1000 km so far but next works will be new spark plugs and front disk and pads. I love her.
The 2007 Vespa 150 LX I bought second-hand in 2013. Didn't ride it much since and despite my efforts she was problematic in the first years, not nearly as reliable as the Guzzi (I know it's a stupid comparison but you get the idea). Then things begun to get better and last year I did a trip to Germany, 1840 kilometers (1143 miles) in 28 hours, and she managed to bring me back home despite a melted clutch. Installed a racing Malossi one and she's now on sale. Put a lot of aesthetical accessories on her to make her look like some scooter from the 60's.
This is my 1971 Cimatti Bat Boy. It has been my first ride ever and I will always remember the day my dad gave it to me, I was 6 years old and a whole new world was opening before my eyes and under my butt. Will never, never sell it. Restored the engine in 2016 and it started after being sleeping for the previous 18 years. Still fun to ride, if a bit uncomfortable.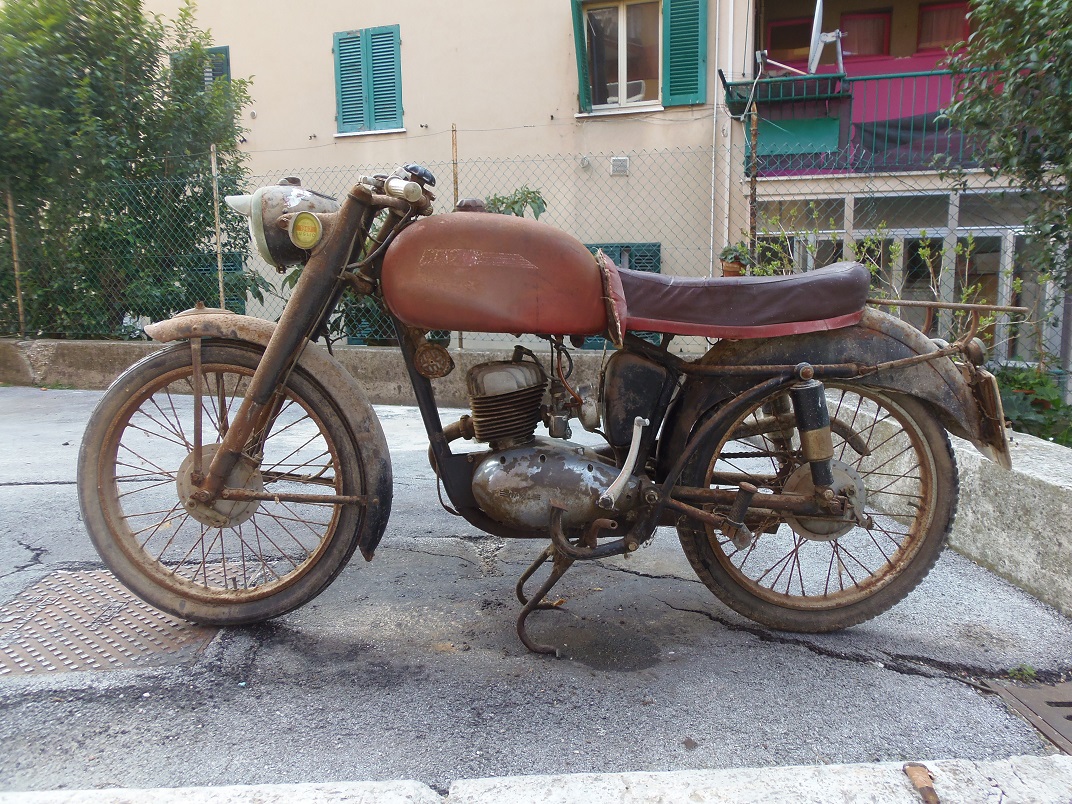 This is not mine. It is a 1952 Mi-Val 125cc Sport and it belongs to a friend of mine. His father died in 2016 and we had to dispose of his working tools (he was a carpenter). Under a pile of wooden planks we found this motorcycle. She was sitting still outside since 1957. I took her home, washed her and restored the engine. Tried to start her and she came back to life after a few kicks. I don't know what my friend want to do with her now, I'd keep her as it is as a souvenir of his father.
NOW SOME OF THE BIKES I HAD IN THE PAST.......
My 1986 Moto Guzzi V35 Florida, the first big bike I ever had. A shitty engine, totally unreliable, but to be honest I had a bad mechanic at the time as well. Sold it the second time I broke a valve. Otherwise she was a pleasure to ride and despite the unreliability we did a lot of kms together. All in all I have wonderful memories of her (above all the happiness of my father when he gave it to me) but still I don't really miss her. Here in bobber-like style.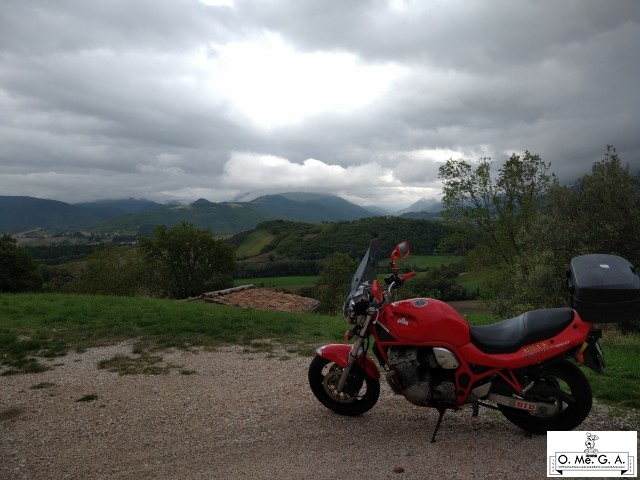 The 1995 Suzuki Bandit 600cc I bought second-hand in 2018. What a bargain! Never paid so little for so much: 700€ for a rugged, reliable and quick bike which easily passed the 100.000 km when I sold her in wonderful running conditions (gaining more than what I paid). But turning her? Forget about it, the worst handling I've ever experienced, it was like trying to turn a bench. I heavily modified the sitting and front end of the bike and after a few months and a few pieces from other bikes, she turned out a wonderful, fast touring machine, able to corner at high speeds without wobblying. But the W650 simply handles much better.....not to mention the California.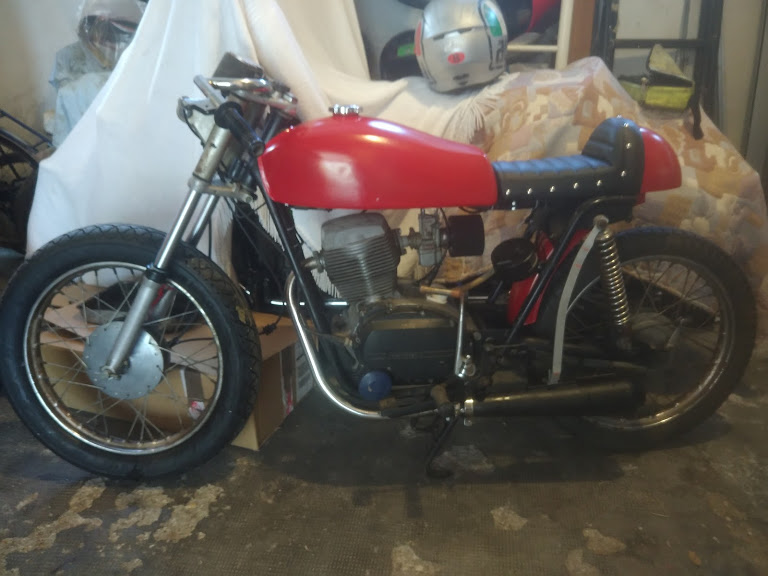 This was the funniest bike ever for track days, it began her life as a 1971 Gilera Arcore 125cc and ended up as you can see. 150cc engine, smaller pinion, cut frame, saved a lot of weight (12,2 kgs to be precise) to the point that even fully faired she was still lighter than when she was in stock condition. She almost costed me an eye (had to undergo surgical removal of iron dust from my left eye, this happens when you cut the frame without wearing safety goggles) but what fun was to ride her in the local kart track! She was good for an indicated speed of 140 kmh when the original one couldn't reach 130. Very very funny!
There've been more, but I can't find any decent pics....... I'm thinking of buying an air-cooled bike only for track days, but it's quite tricky here in Italy, laws are quite strict.... trying to figure out a solution, but first I have to sell the Vespa (and also the Mi-Val should go).... we'll see!
Last edited: