Some may or may not know this bike, but it has been part of my life for more than just a few years.
What you're looking at is a 1981 Yamaha XV1000 TR1, with approx. 113,000km, heavily modified 1063 engine, VM38 roundslide carbs, homemade stainless exhaust and quite a few suspension mods as in XS1100 forks and longer XT600 rearshock and quite some mods to the wiring harness, starter system and so on... Well, the kind of stuff you do, when an older bike is meant to be used DAILY.
A while back, I've built a little turbo-setup for Yamaha XVs to have a bit of dragracing fun. And it was pretty good. Unfortunately, I can't always have fun with turbos and in all fairness there's this bike in my workshop, which does HEAPS more miles every week, than the turbo has done in the last two years.
Now, my current engine is a classic "euro-style" TR1 engine build: XV1100 rotating assembly with 750 heads on a set of TR1 cases. This works to my absolute satisfaction and does the job just fine. Realistically it will push out a healthy 70 to 80 horsepower and tons of torque as low as 2500rpm. Putting 750 heads on a TR1/XV1100 engine pushes the compression up to a healthy 9.x, which spices things up quite a bit, but it comes at the price of breathability of the engine or in other words: The powerband ends at 6000rpm.
Originally, when I started this engine build (waaaaay to long ago) this was meant to be a hopped up version of above recipe, but with bigger valves installed in a set of XV700 heads: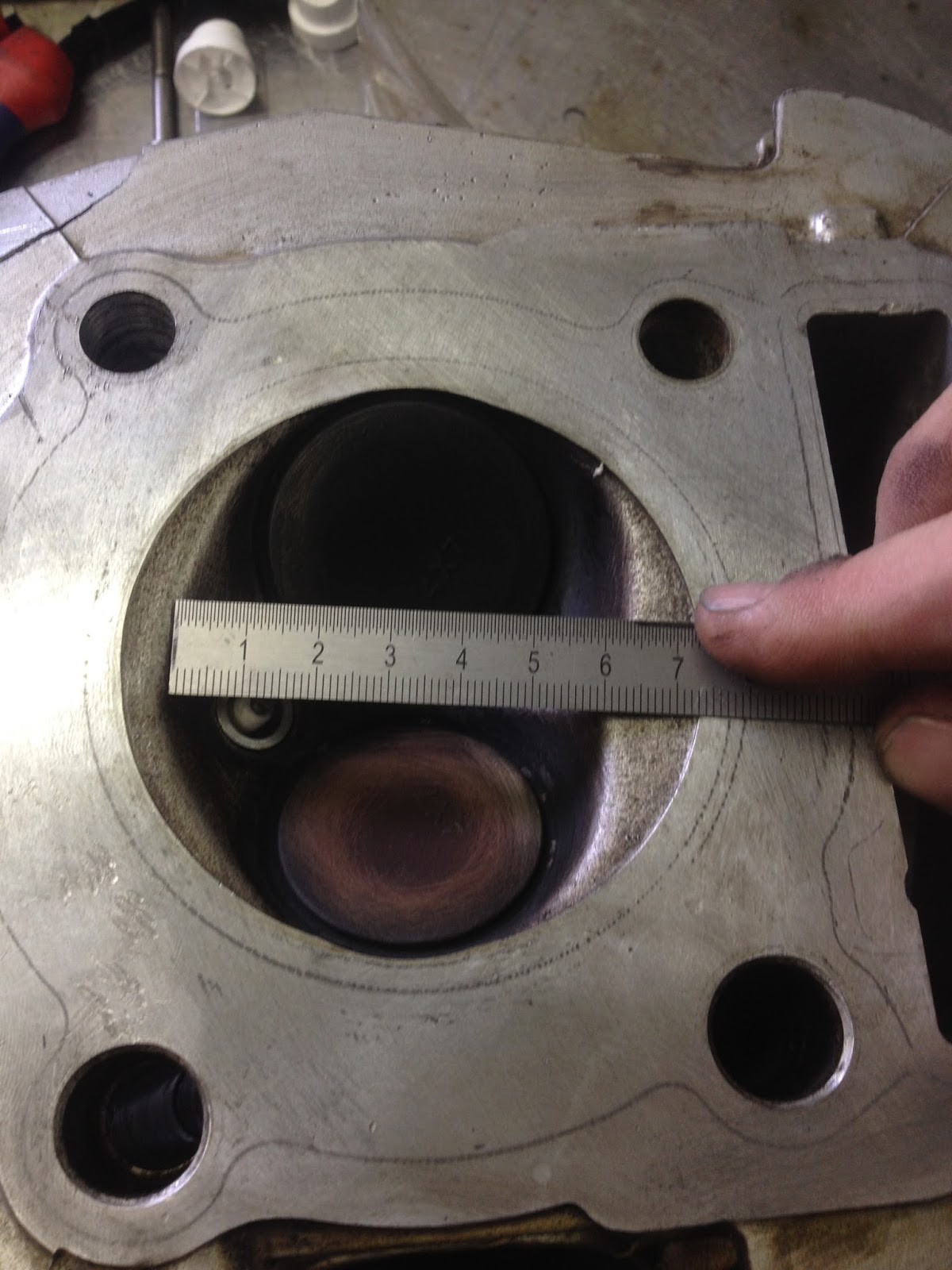 http://greasygreg.blogspot.co.at/2017/06/the-new-tr1-motor-introduction-part1.html
I inspected the parts rather thoroughly:
http://greasygreg.blogspot.co.at/2017/10/the-new-tr1-motor-examining-cylinder.html
http://greasygreg.blogspot.co.at/2017/10/the-new-tr1-motor-crank-part-3.html
and then basically built the engine until it was almost done.
At this I did a lot of measuring and realized two things, in order to make proper power:
1) the squish has to be tightened up a lot ( on the one hand to improve swirl and thus more power, but also as better squish means cooler combustion)
2) there's no way to fit the big inlet valves in the 700 or 750 heads, without turning them down at least one mm
After a long chat with Sepp Koch and picking his brains and trying to get the info out of him, because quite frankly in the last 35 years the man has tried pretty much everything except forced induction on the TR1 and just KNOWS. As the numbers for the squishband-clearance and (what I consider) sensible compression matched with what I had calculated earlier, I decided to weld up a set of TR1 heads to decrease the volume of the combustion chamber and shorten the cylinders accordingly.
Sounds like a straight-forward plan?
That's when life kicked in, in the form of another BT1100 engine. For those that don't know it: BT1100 is the sporty Buell-style bike, based around the V-star 1100 engine. Bigger fins, nikasil-lined cylinders, lighter rotating assembly(2.8kg lighter !!!) than
the old XV1100 may kill some low-down torque, but should make the ol' girl rev-up even faster and keep the rotating masses under control.
So that's where we stand at the moment. I aim at doing an update approx. once a week, but as I am also working on some other projects (there's a new turbo-build, I've got a new to me XT500 4valve and my XS-Triple sidecar wants some attention too, let alone stuff I do on my dad's and some friend's bikes.)