My bike is not transportation, it is a respite
Well I guess it's time I started my BAP thread. I bought my bike last September and have been working on getting it running right. I just wanted to ride it for awhile before really tearing into it. I got it pretty well sorted out and threw some clubmans on it so it didn't look so dorky. I planned on tearing it down this winter or next to do it right. However, a few weeks ago I accidentally bent an exhaust valve while replacing the points housing gasket (I don't really want to get into how stupid that was). To replace the valve, I have to take the engine out. Since I have the engine out I might as well paint the frame. While I have everything off the frame, I might as well do everything else. So it begins.
Here she is as I bought her: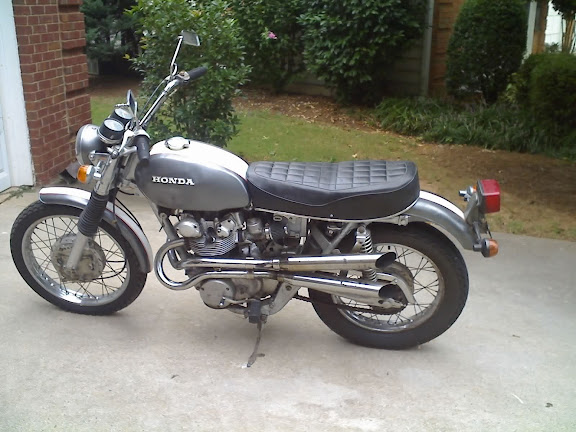 Here she is before I broke her:
I spent a few nights taking stuff off of the bike and managed to get the engine out of the frame by myself (not easy). I made a little engine stand out of some scrap wood to keep it from wobbling around while I worked on it. I then took most of the other stuff off of the bike. I still need to remove all of the electrics.
Engine is out:
Engine stand:
Almost there: