Well Guys, I guess I've taken advantage of this forum for long enough and I should start a build thread. I am a first time builder from North Carolina and my name is Greyson. I've learned a TON (no pun intended) from this forum over the past couple of years. I wanted to start small, though I've ridden dirt bikes and 4-wheelers all my life. From a build perspective I wanted something simple.
I found a 1973 CB175 on craigslist from a guy up in King, NC in "running" condition for $600 bucks. He wouldn't take any less and I was itching to get started so I bought it, wise or not. When I picked it up, it looked like this:
This was over a year ago. The bike was entirely stock and had 99% of parts, including the airboxes and side covers. The guy just replaced the cam shaft which was good. It also had 2 brand new EMGO shorty's included.
After I got the bike home I parked the thing in my dining room and got things looking like this: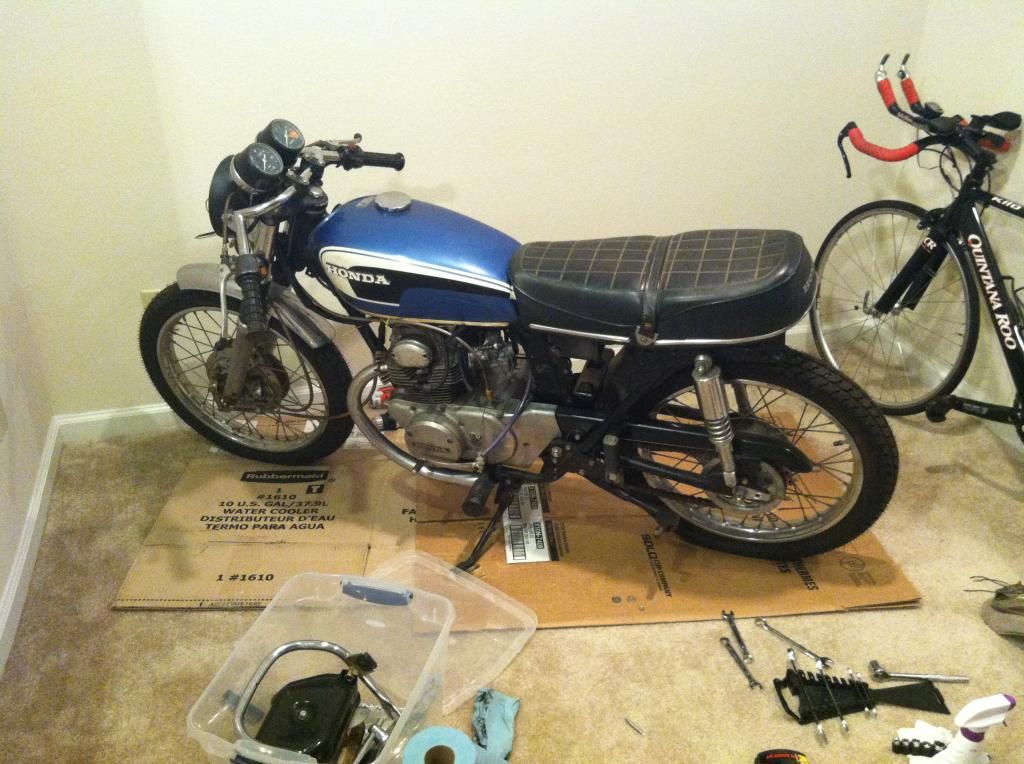 Long story short, I tried to get the thing running decently and had a guy put some new rings in along with getting the wiring sorted out. That was the BIGGEST MISTAKE OF THIS PROJECT. After his work, it looked the same, minus a new headlight and taillight:
For the life of me I couldn't get the thing running right. After the throttle sticking on me a few times and having other issues, I just wanted to get my hands dirty and tear the thing down. When I did, I found the guys' mistake...a bent oil ring out of its seat and a horribly scored cylinder after a fresh hone.
So, my story will begin here. I have gotten a lot done since this point so I'm going to use the next few days to backfill my work done and build up this build thread. I have learned a ton from this thread and appreciate all you guys do to help out. As I move forward I'll post more pictures, as I know we all love picture-heavy threads!!
Thanks guys and enjoy the ride!