Mad Science!
DTT BOTM WINNER
So some of you know I turned a pile of DR500 that my buddy Jared got for $100 into a dual sport over the past several years. MK2 of that bike warranted a new titled frame from a later model DR650 so it left me with a nice titled frame for an 81 DR500. I've had this idea kicking around in my head for a while to build a hard tail and have collected a few parts over the years. A lightbulb went off and I decided that I would look for a motor and built my hard tail out of the remnants of the last build.
Fast forward to a couple of weeks ago where me and some buddies had a swapmeet spot for the Barbers Vintage fest. I told everybody before the weekend got started that the only thing I was looking for was a DR500 lump for a possible project. We were sitting around on the first day and a guy is pulling in with a trailer full of bike carcasses. My eyes lit up as he pulled in as I saw a fender I recognized. I waited for the guy to park and walked over and sure enough there it was: a 1982 DR500 frame and motor sitting there. It was meant to be as his swap spot was literally across the isle from us! $100 later and I was the proud owner of this:
The motor was free and it gave a good burble when I kicked it over. I've had a set of leading link forks stashed away for this project for a while but when another two sets came up for $60 I had to grab those too: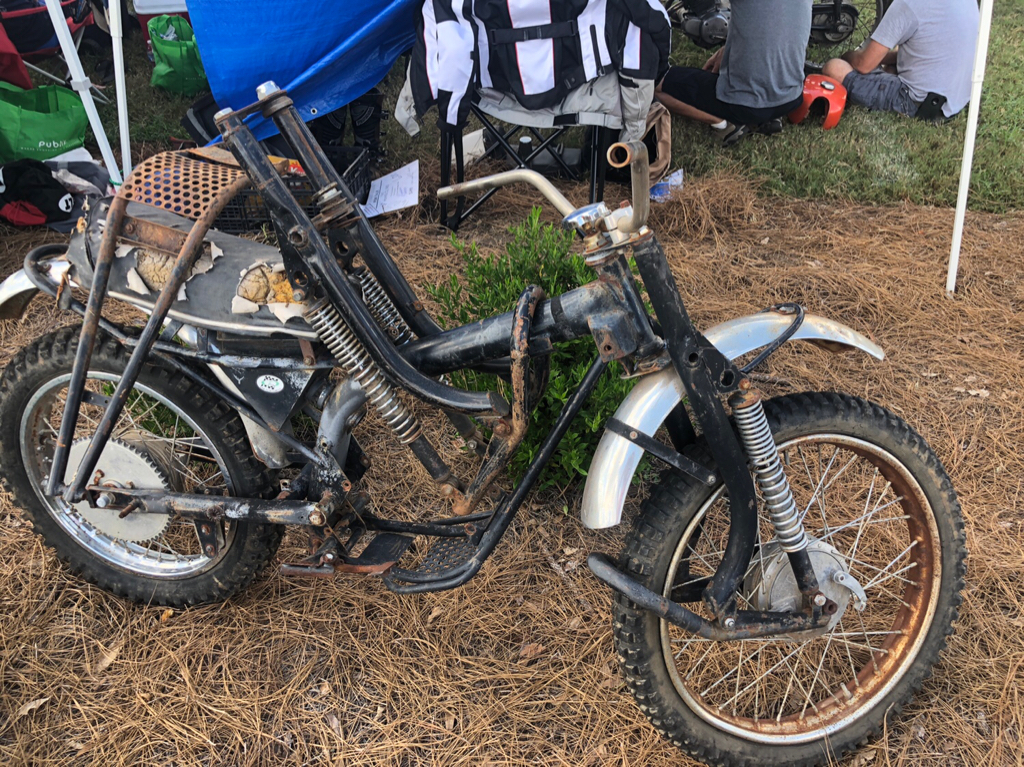 The remnants of the old dual sport have been sitting outside the shop and after barbers wound down and I had a little free time I got to work. No turning back now! This is the titled frame: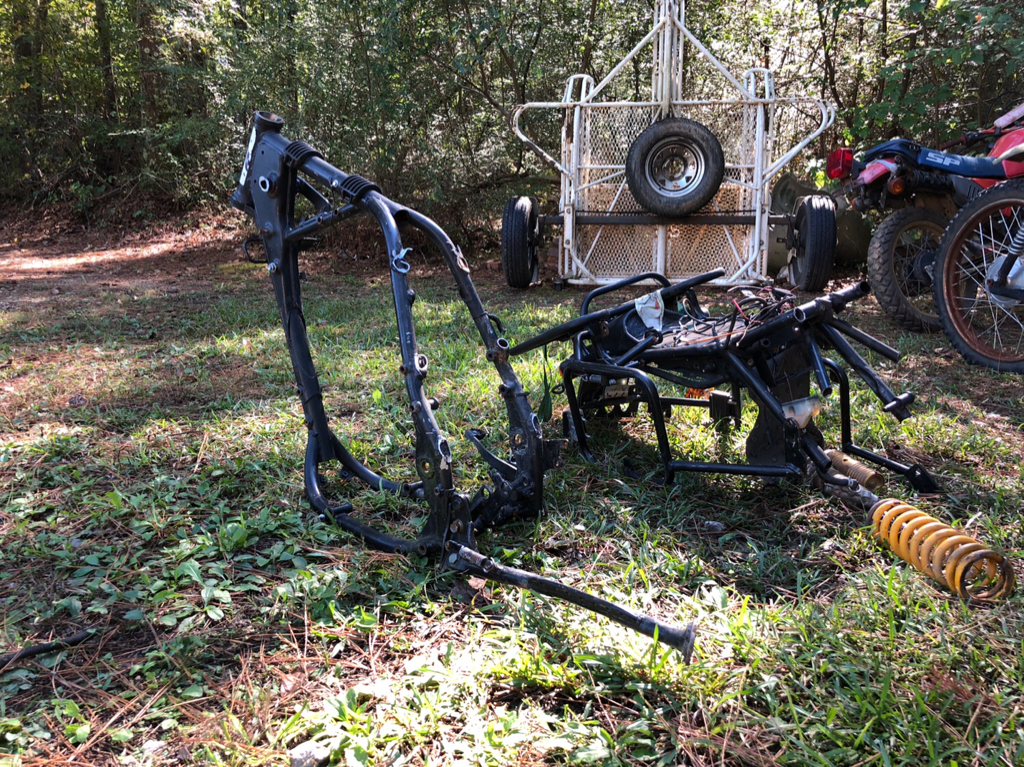 Yesterday I had some time so I decided I would prep the frame and see what it would take to get the leading link forks on this frame. After a little frame clean up: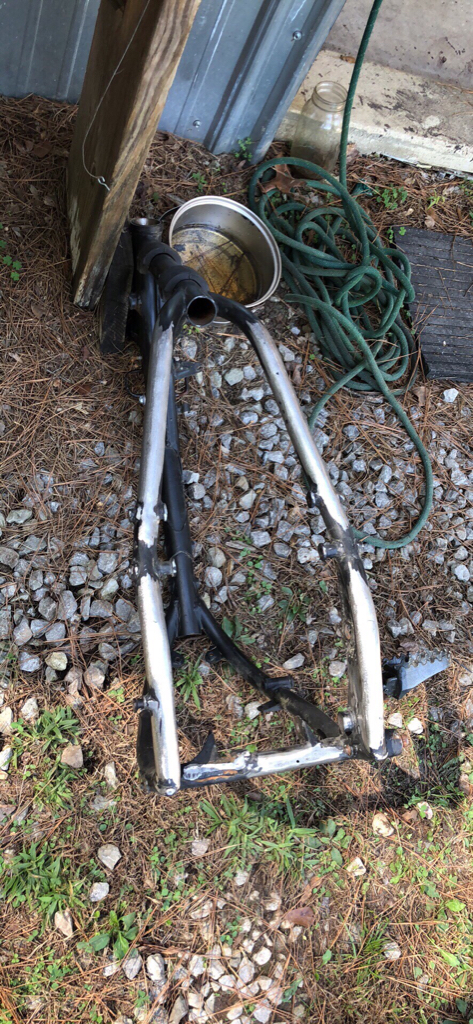 Turns out the stem bases for the forks are the same diameter, but the neck on the DR500 is much longer so it required lengthening the fork tubes after I pressed in the original DR500 stem. You can see where I cut the original tops off of the forks and added in some tubing extensions here.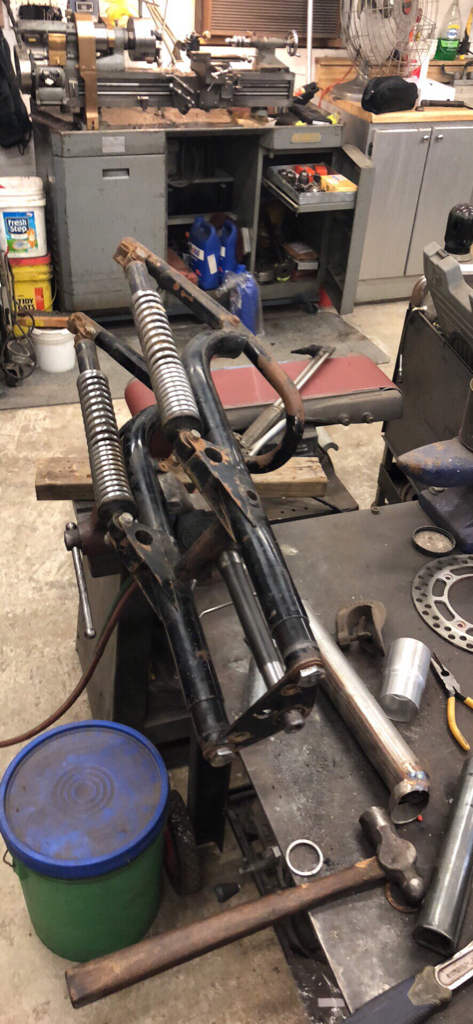 After I TIG welded all of the puzzle pieces together it got me to here. Success!
The last project of the day was to add in some tubing to the rear of the frame to allow me to build off of it for the hard tail section. The original frame had some funky angles so it took a bit of math to get the fish mouths right to add in the tubing extensions but in the end it worked out well. Good place to build off of now: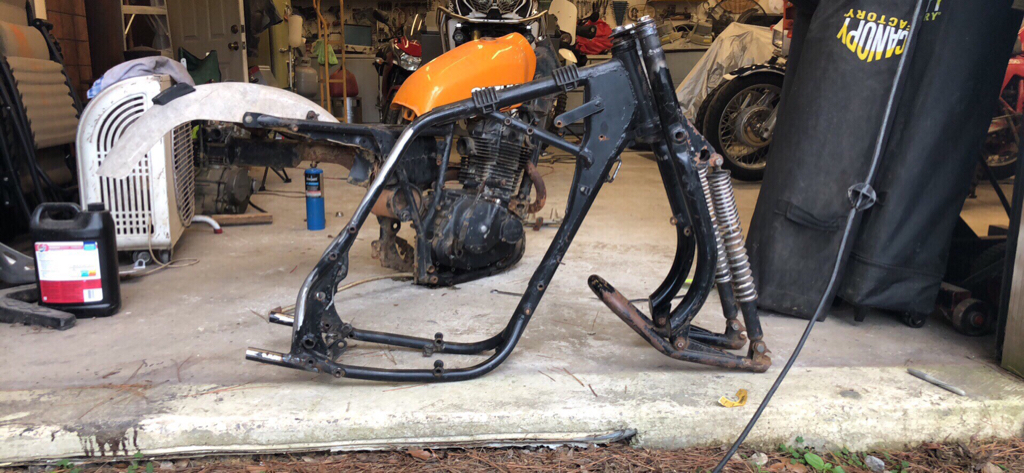 That gets us caught up to current. Lots of parts trickling in as far as wheels, tank, tubing for hard tail, etc. I'll keep this updated as it goes!