It's been awhile since I've been on the forum….new baby, new job, crazy at home, yadda, yadda. Finally got a chance to start working on the engine: '76 Honda CB750. This is my first tear down and am a noob to all of this. Just got my bike license this past summer.
So, got the motor taken apart. The head was leading oil. I dismantled most of the bike, had only the engine left in the frame, did some soda blasting on a home made soda blaster, and rinsed if off with water after. Got the engine in the basement and there is sat. Doh! First mistake and lesson learned. Some water must have gotten in. The photos look pretty bad but it appears to be mostly surface rust. Nothing was seized, even the piston rings. I have the pistons out and the cylinders surface are soaking in some WD40. The pistons themselves aren't too bad actually. I have hoping to avoid having to re-bore the cylinders.
Question: was can I do to remove the rust, hopefully it's just surface rust from the cylinders? (only two have rust on them) Saw on you tube a guy using and recommending using a dremel with a brass bush:
(
http://youtu.be/7GEmuQa3dPY
.
Buddy said it wouldn't harm the surface of the cylinders. Thoughts?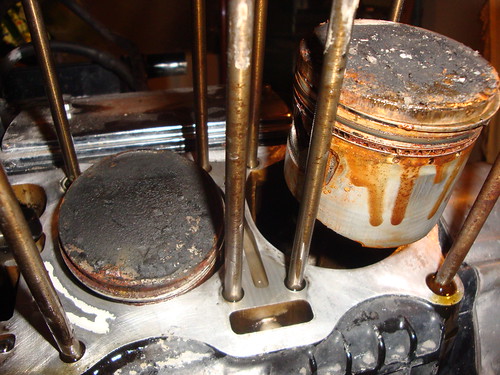 And how would you recommend that I go about cleaning up all that carbon crap on and around the valves/pistons?
Anyway, thanks in advance for reading.
Cheers,
bigring