First some history. As a teenager in the 1960s wrenching at the local Honda shop my bedroom wall was plastered with clippings from Cycle World Magazine of Honda's many race victories of the day. Soon Honda offered their 50cc CR110 and 125cc CR93 production racing bikes to the public and I got to see them in action at a road race at the old Sacramento State fairgrounds and at local AFM events.
The 1962 8.5 hp 14K rpm 50cc 90+mph CR110-
Much later in 2004 Honda produced the CB50R Dream 50 race bike to commemorate the original CR110. Many dealers bought them just for display. I lusted after one but could never justify buying one just to drool over since it wasn't street legal.
The Dream 50R-
Then a few years ago I found out that Honda had produced a street legal version of the Dream 50 for the Japanese market, the DOHC four valve 13.5K rpm 5 speed CB50V. And at that point I had a new bike at the top of my bucket list. After becoming infatuated with the idea of owning a street legal Dream 50 I recently made some inquiries and was steered to a decent example up for auction in Japan-
So a couple months later my little Dream was a reality. It was a lightly used bike mostly needing some cosmetic upgrades and mechanical attention which was perfect for my needs - I scored a bucket list bike while also getting an exciting new shop project. After just a few rides I have to say this is one of the most exciting bikes I've owned, never mind it's tiny size. (Although it does have an aftermarket 84cc big bore kit which makes it much more practical for road use.) The little sucker just plain works. It fits me, brakes and suspension are very good, and the eager little high revving engine happily delivers decent cruising speed even up grades.
Here's the little gem when I first got her.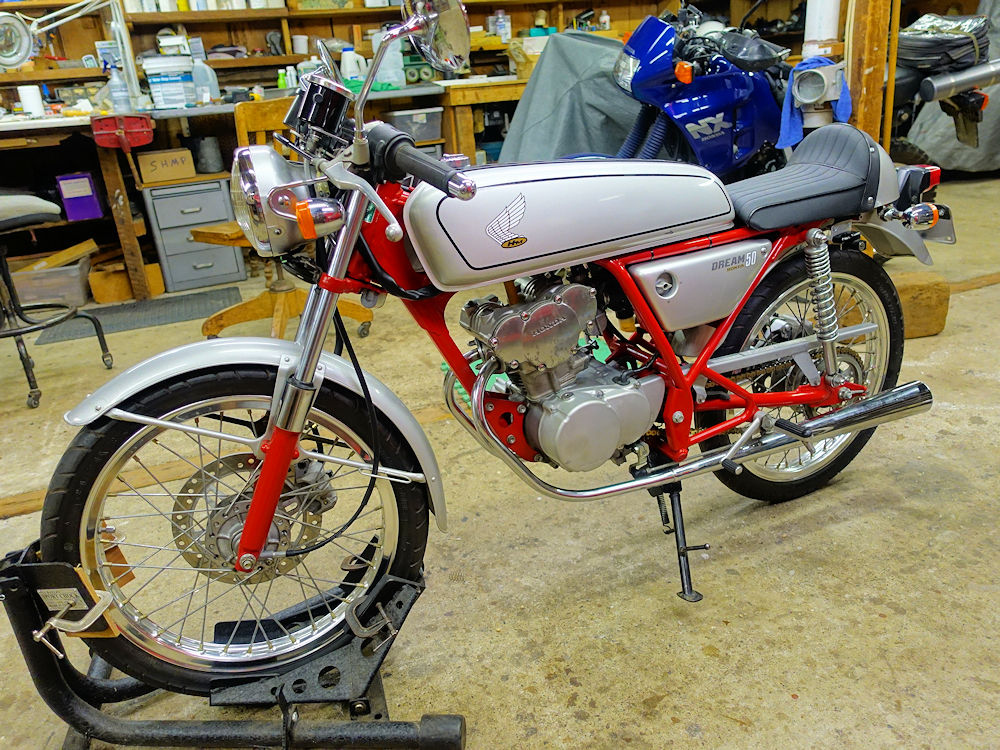 Combination gear and chain driven cams -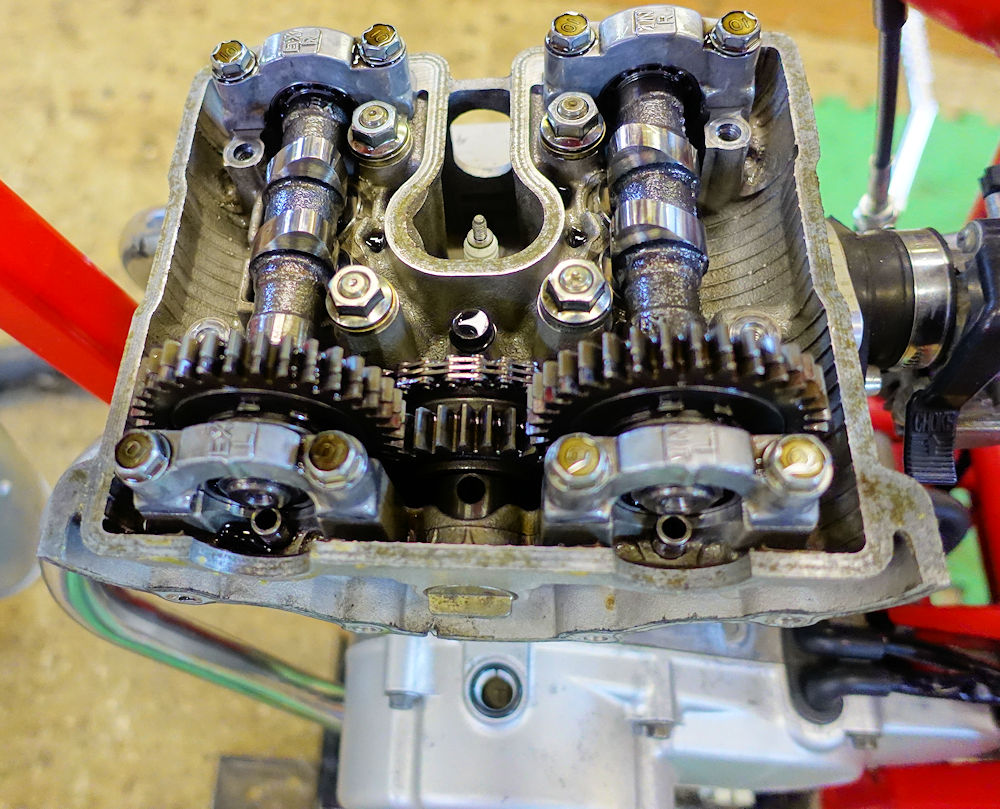 Here are a few shots of some of the work I've done to it. Engine covers, fork sliders, and hubs needed stripping and re-painting or buffing and clear coating. The before-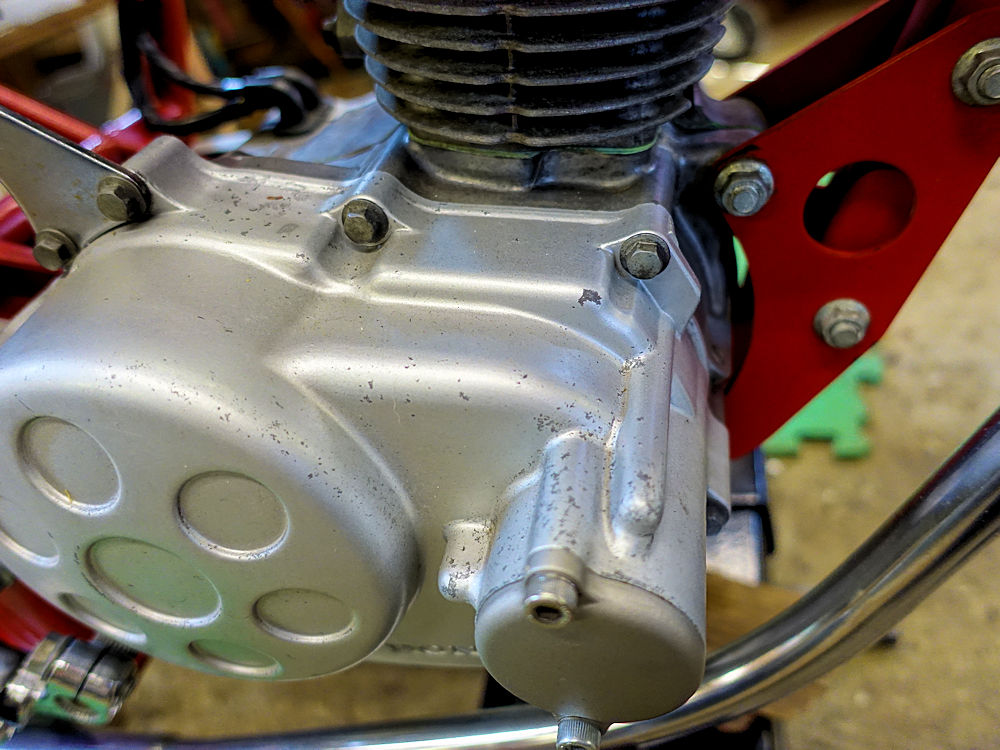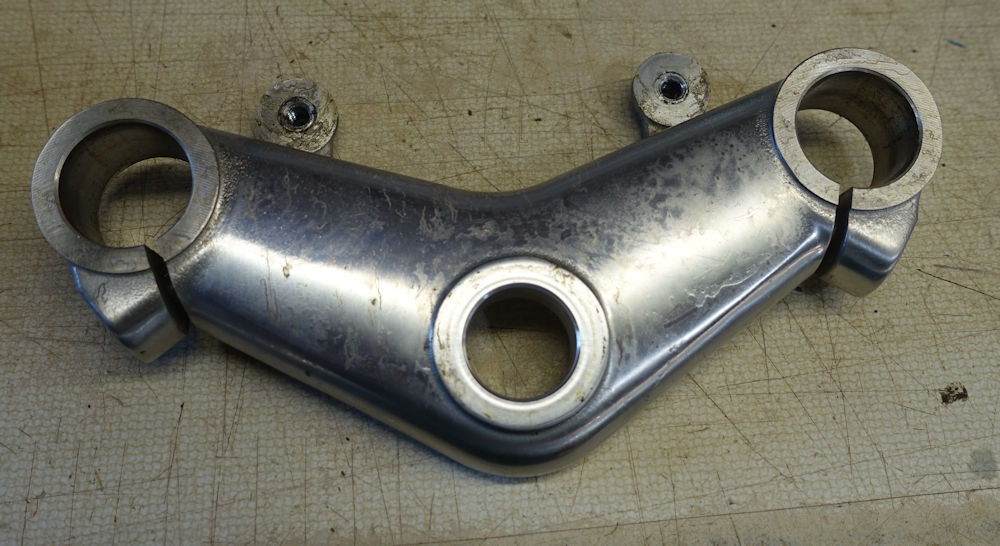 The after-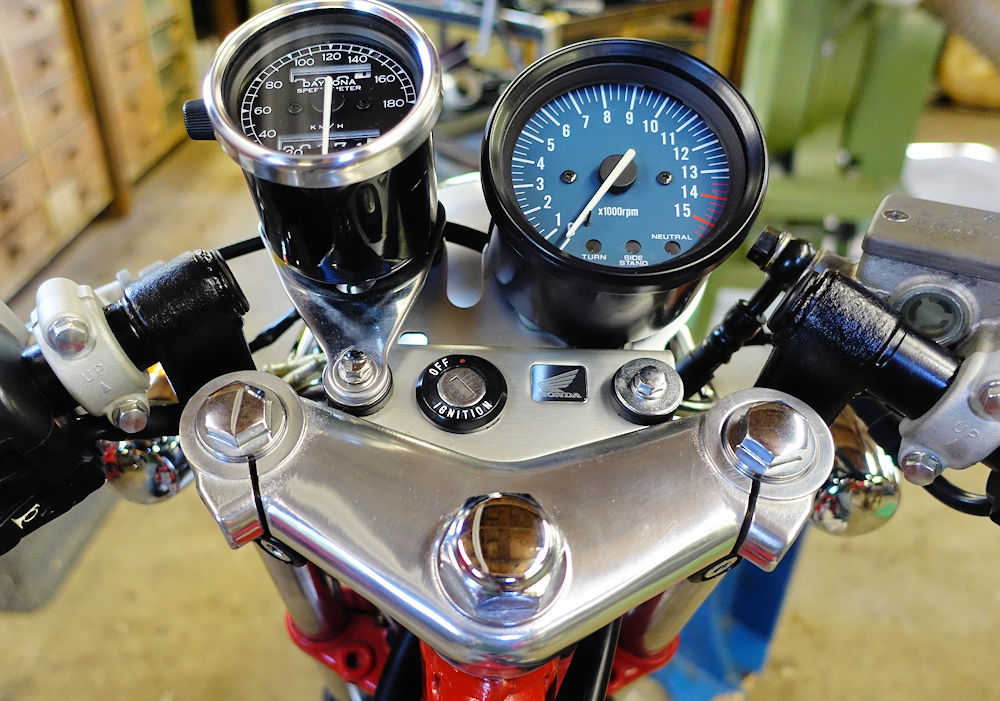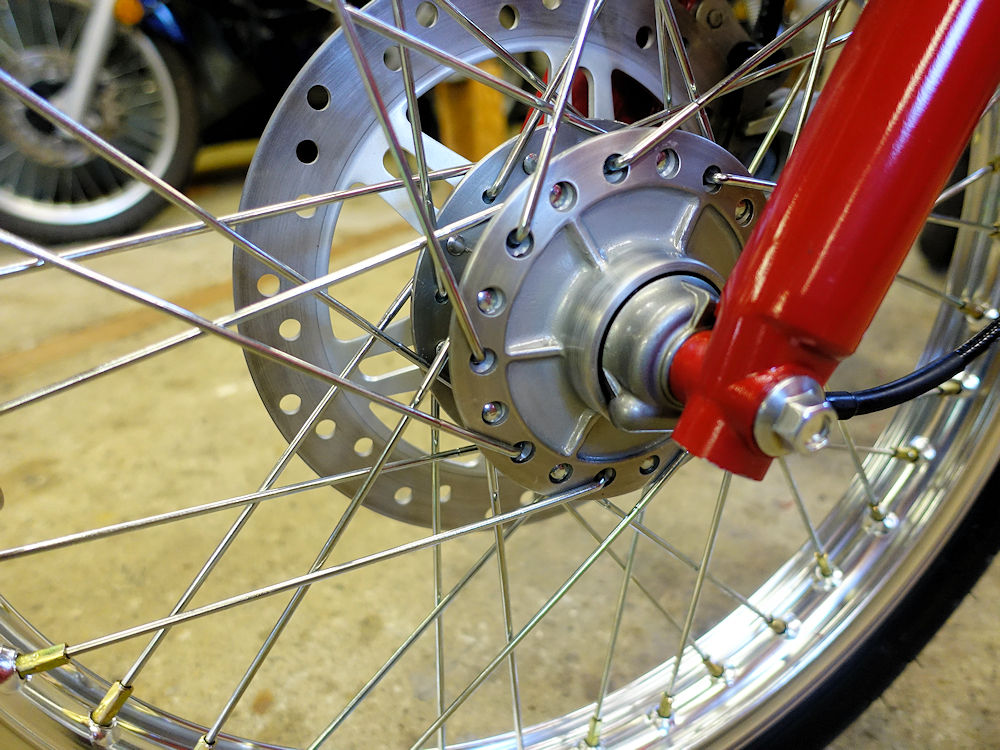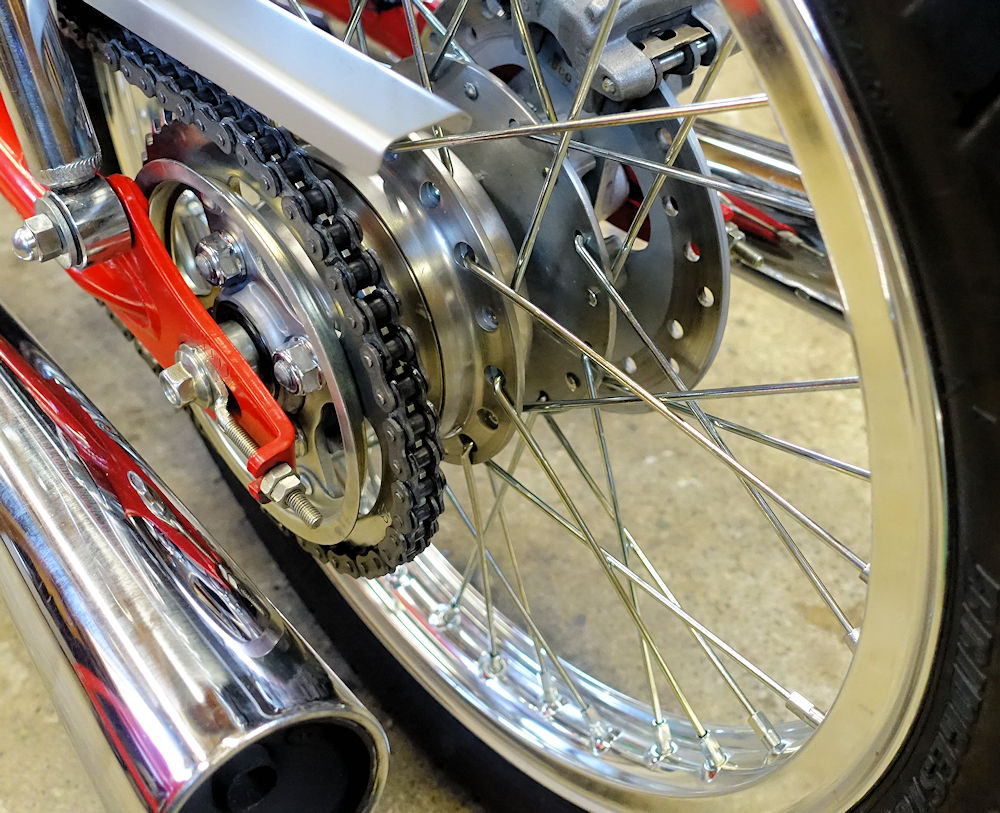 I replated lots of corroded zinc hardware as described in this post:
http://forums.sohc4.net/index.php/topic,174233.msg2027439.html#msg2027439
And since the race-only model was imported to the US in 2004, OEM spokes are readily available here.
About the only major problem was a WOT missfire which after much gnashing of teeth I found to be a way oversized carb (24 mm versus stock of 16 mm). And the PO had chopped out the front of the air box and tossed the air box side cover to make room for one of those hideous pod "filters". So I did some reconstructive surgery using PVC plate and polyethylene and rivets which allowed installation of a large paper filter from a Honda industrial engine. I forgot to take "before" pics but here is the reconstructed box-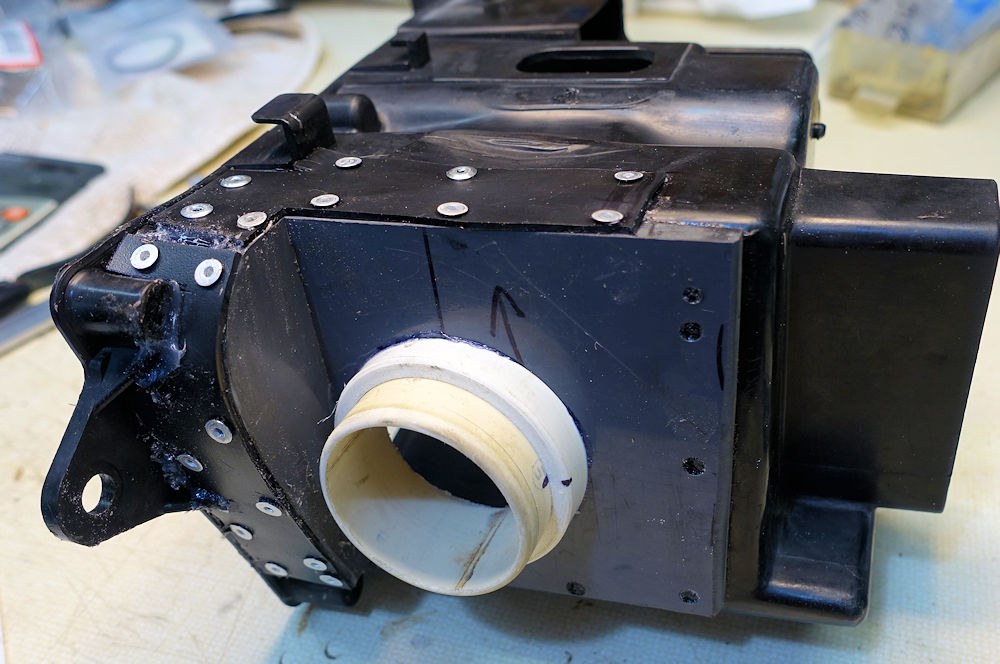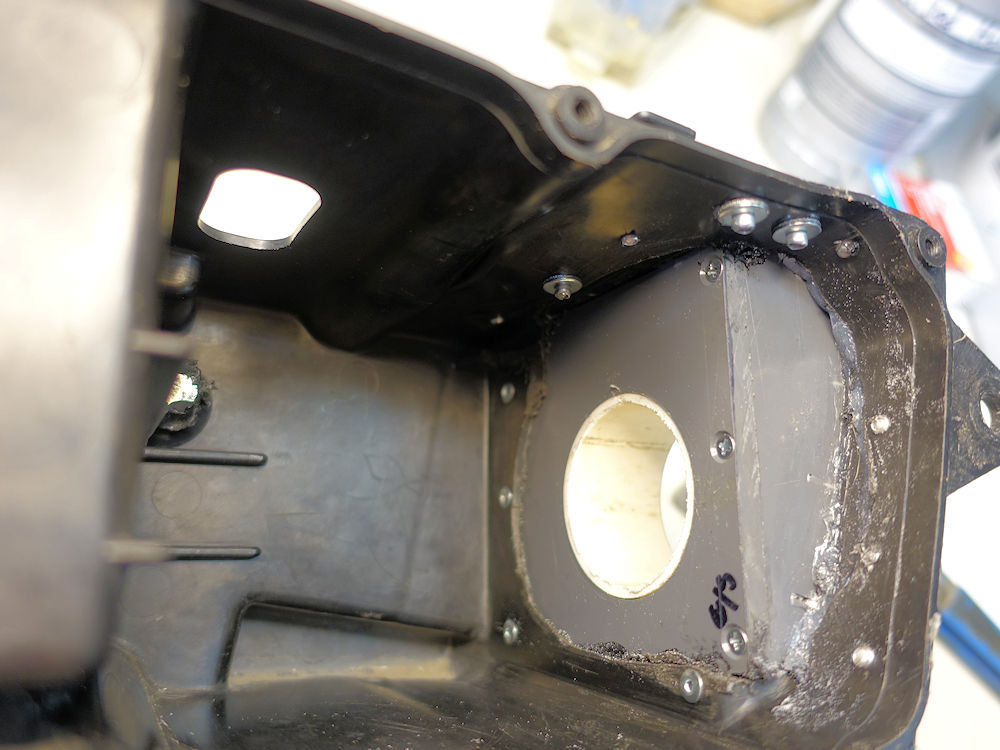 After experimenting with a smaller 22mm carb (still too big) I settled on a Keihin PC20 carb which solved the problem and the bike now runs like a champ. In the meantime I spend lots of time either staring at the little gem or riding it on local twisty roads. It made quite the splash when I stopped by a nearby Honda shop!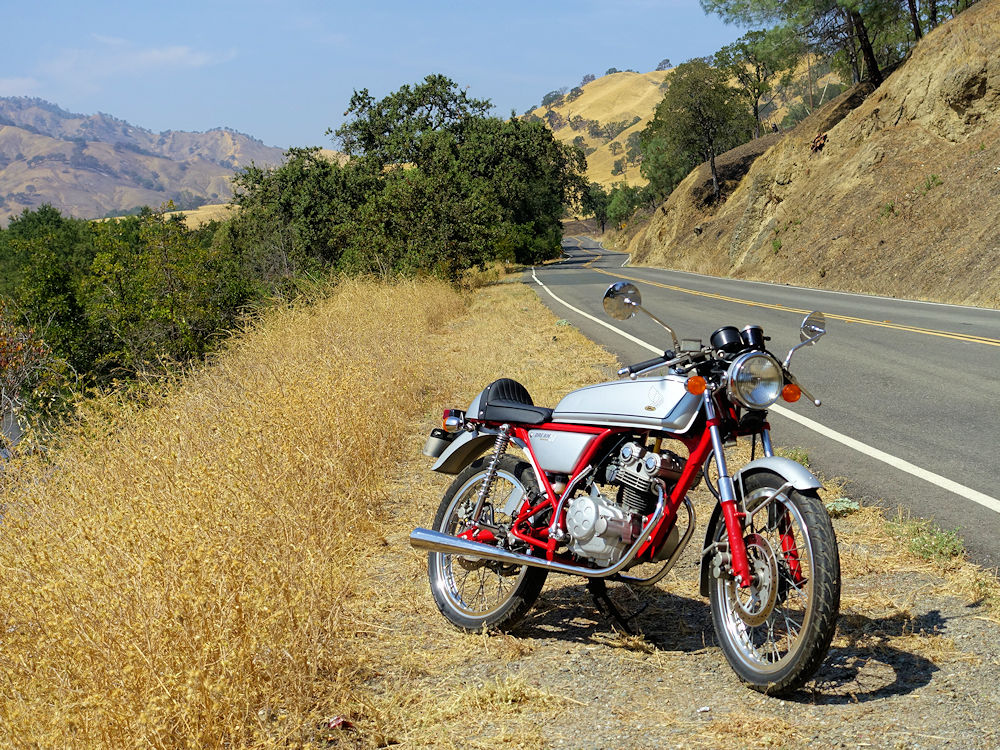 The bike in action:
https://www.youtube.com/watch?v=TRrpxgepMMA&feature=youtu.be
-Bill