Monkey see monkey do is all i see now days!
I always wanted a 1970's bike. I came up on a great find, i found this 1976 honda cb 360T with only 3,000 miles. This bike has ben sitting since 1983, this is the year i was born so i had to have it. Rumor has it that the original owner passed away leaving all his belongings to his best friend. Do to this the bike sat for 27 years in dry condition. This is where i come in !!!
The day my baby came home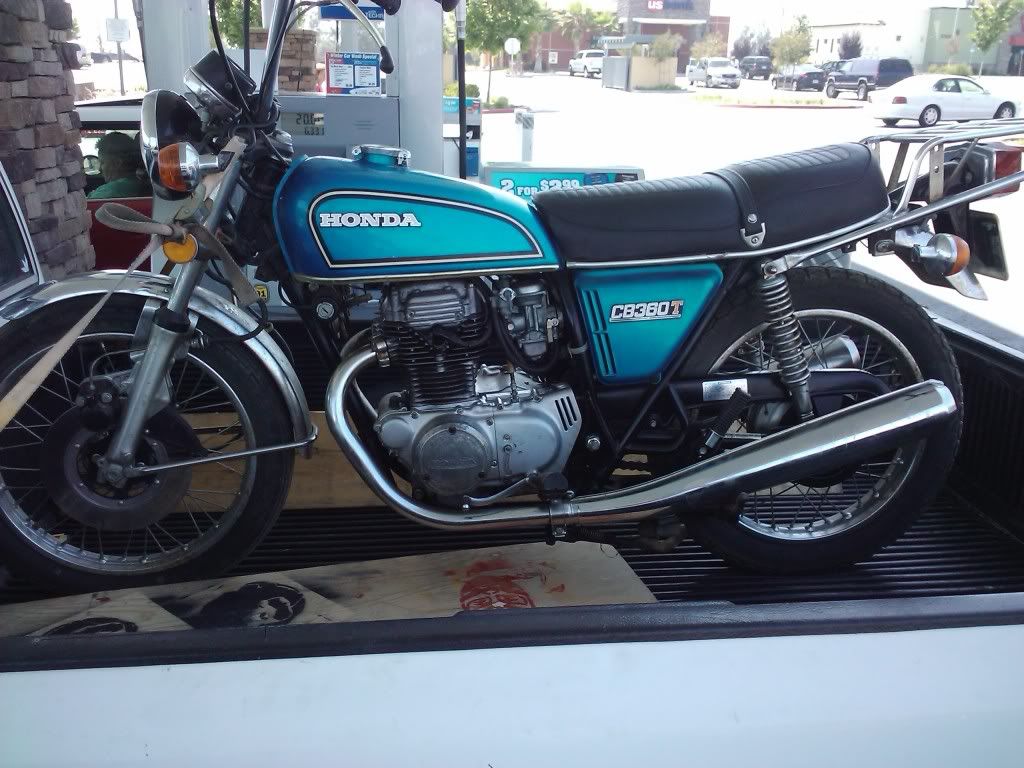 I know i know compared to some of your bikes on hear i scored a clean one!!!!!!!!
My Girls riding in the wind
Cosmetically the bike was in great condition,but mechanically there were issues. The carbs looked like someone had melted red opium all over them.These things were sealed shut , i mean i soaked them for two days and the choke would still not open. i tought by spraying wd40 and hammering them with a rubber mallet would brake them loose and it did . i broke them loose alright the swivel literally broke. A little word of advice if you are reading and planing on wrenching on an old bike be, patient ,take your time,and read up on your bike. These things are 30 years + you cant just go to honda and try buying the part you broke. On that note i learned my lesson early on on my build. i had to buy a spare carb to complete my original one.I am a cheep bastard so spending money on a complete part for just a small pice drives me nuts.
The infamous tar Heroin all up in my carbs
after cleaning and the broken piece im pointing at
Thanks to ebay and craigslist i was able to track a spare carb for cheap (cause im a cheap bastard and i swindle)
I had bad compression so i knew i was having to pull the motor out and find out why.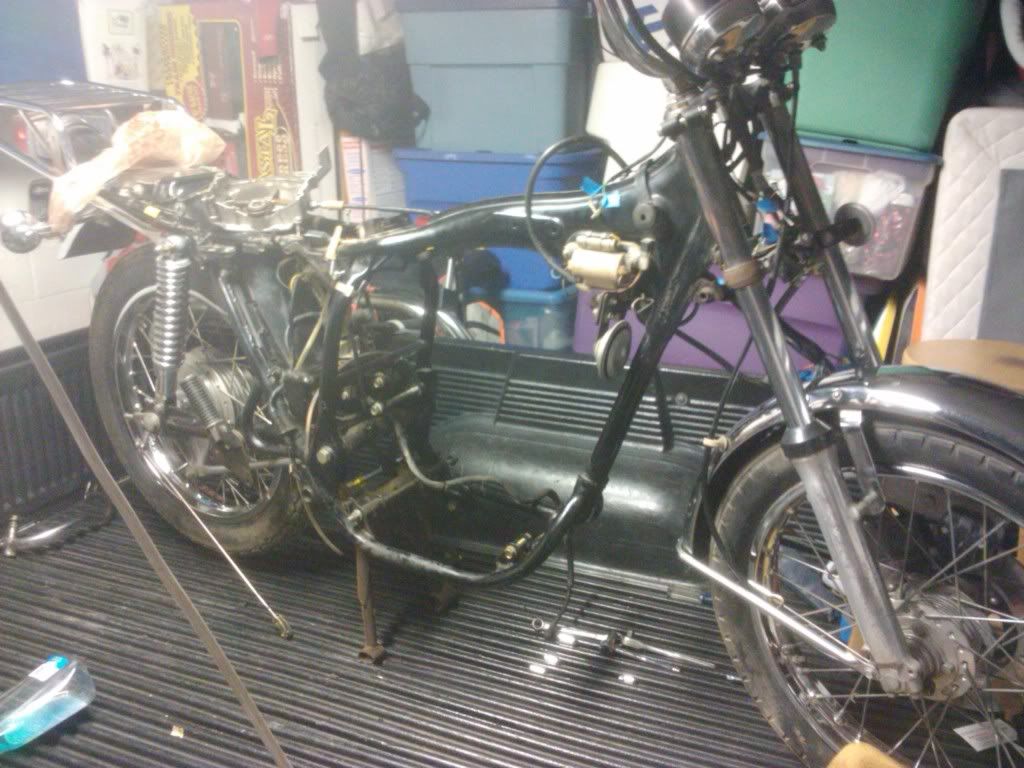 DO to my astonishing discoveries i realized one piston was having trouble moving so i pulled the pistons and realized the rings had the same red crud stuck to the piston. This caused the piston to be stuck in place with resistance. Lucky for me the cylinder housing was in good shape with no scouring
So i ordered a set of new rings and cleaned the pistons.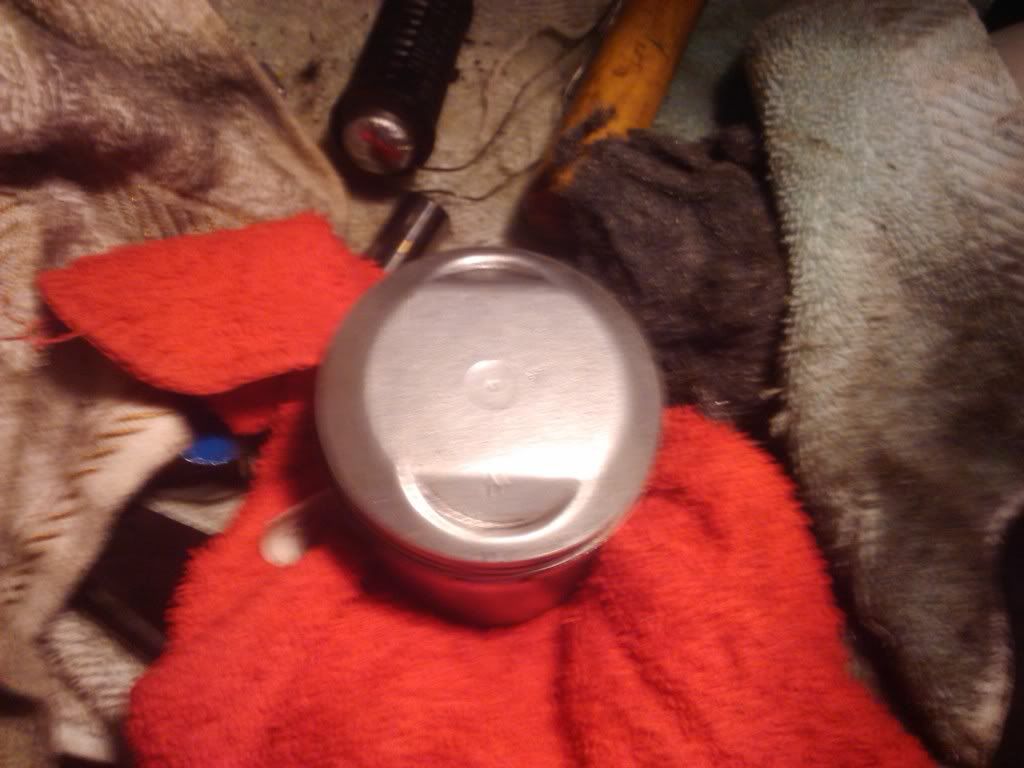 After a little elbow grease
After pulling the engine, and coming across some awsome forums like DTT, and Honda twins . i was inspired to go for the gusto and build her up from the ground up . All or nothing. I had the cafe inbeded in my head three years or so before i bought thes bike . i mean i would wake up in the middle of the night and have honda cb nightmares seriously obsessed !!!!
I decided to paint strip my crank case and polish all the aluminum parts to my bike. This is a before pic.
hear are some after images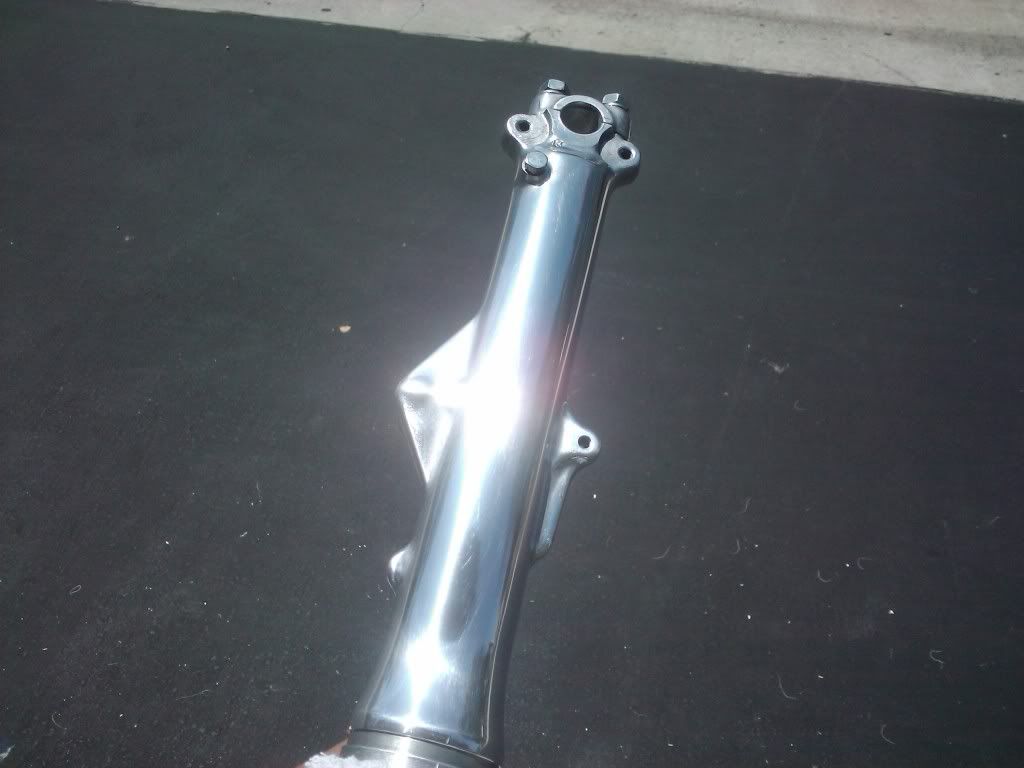 Next i knew i wanted to powder coat my rims blk. so i striped them down and sent them out. A little word of advice if you send out chrome to be powder coated make sure you ask them if they chrome strip, Because if they dont you will have trouble with out gassing.
im super happy with the resoult, i also polished off the hubs.
Does any one know what size washer this is? Its to the right hand crank case where the kick starter goes. I cant find it!!!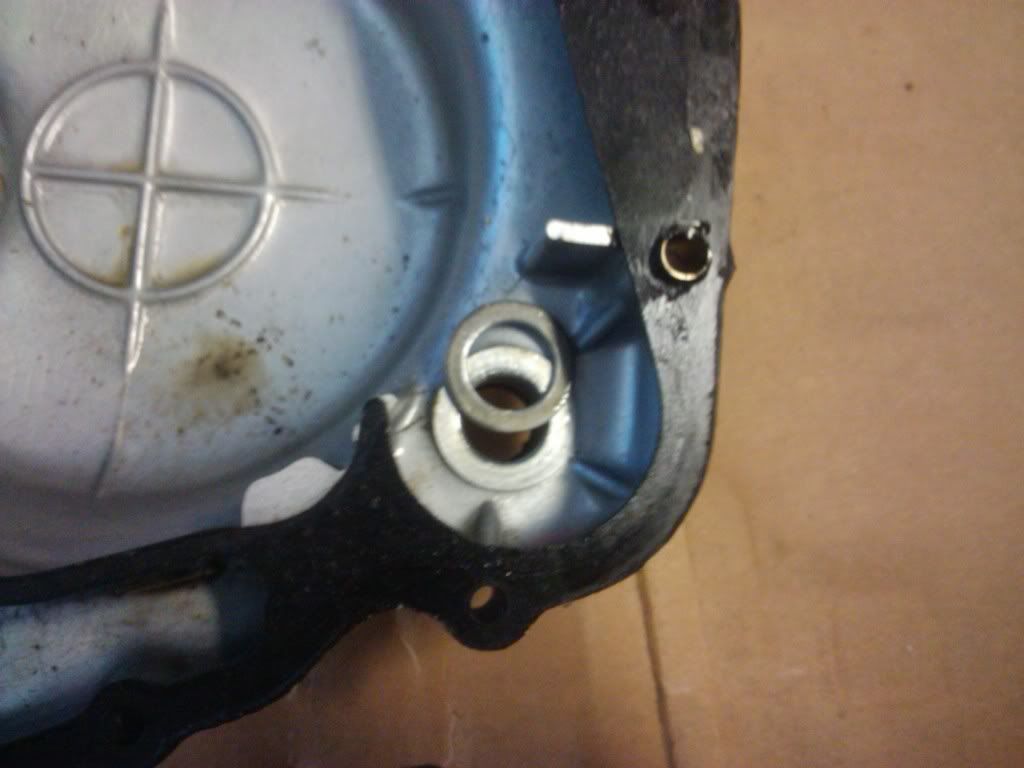 Im down to a bare frame planing on removing side tabs and debating on powder coating the frame.
So i putt paint striper on the frame, and then went to the do it yourself car wash, to use the pressure washer. This worked great butt with only one flaw . The paint striper splashed on me and burned the life out of me lol. Just picture me trying to spray my face with a pressure washer! witch hurts worst acid burning your face or high powerd water spraying your face! you just had to be there . My four year old daughter was watching me hurt my self, and getting a kick out of it. I am glad some one did!!!!!!
i have a lot of help from my junior mechanic!!
My son likes to hang in the garage and move things around saying i fixed it dad. Classic!!!
So i have been debating on wanting to buy some cl 360 pipes. To cut weight and, see what my build would look like with that type of set up. Do to low funds i sort of gave up on this. But If any one out there has a set of them for a decent price let me know!
So i laced my rims. i was scratching the powder coat. Turns out if your fighting the spokes there probably going in the wrong hole.
Dustin kott and his girl friend schoold me on this. Thats right boys a girl showed me how to lace a rim!!! Brother Kott trains them well. Now if i could only teach my wife what a wratchet wrench is i would be in business.
If you dont know about kott motorcycles look him up. This guy is the classiest dude you will ever meet in your life. Not to mention he builds the baddest bikes in L.A. He is a honda wizz and gets geeked on talking cafe cbs. Loveum.He will be responsible for my seat. so when you see it you will know who to call.
i finished up putting together my engine and painted it black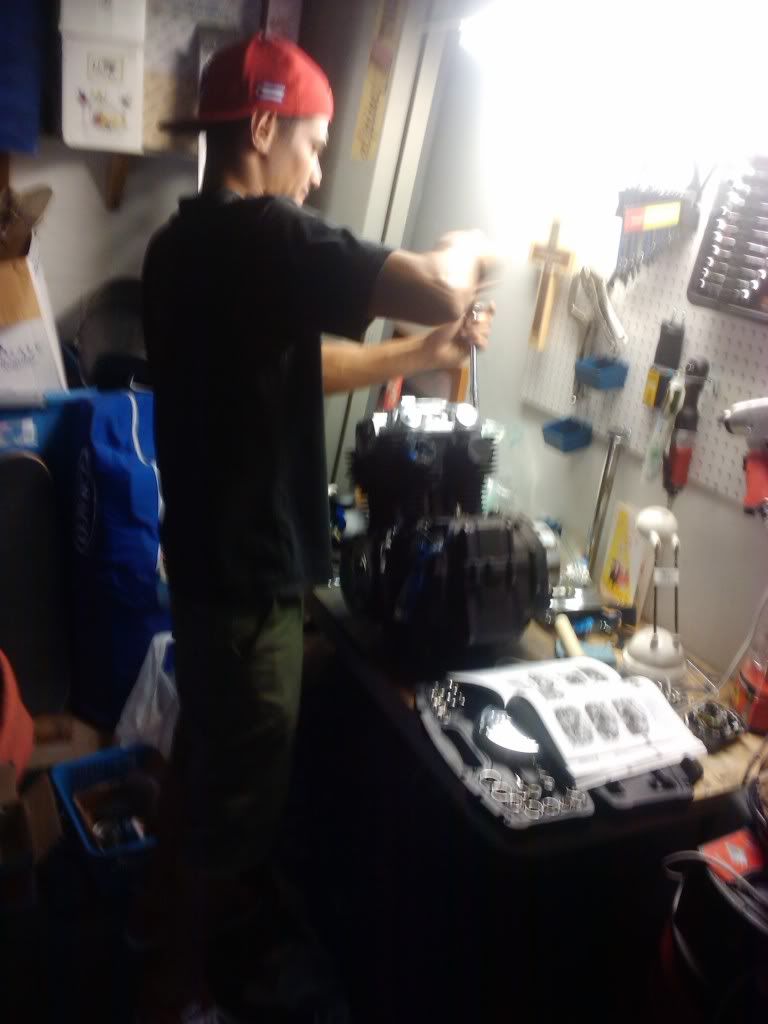 painted my shocks and engine . Then mounted my engine
i also got my rims back from truing and mounted the back rim.
ohhhhhhhhhhhh im getting close i can almost smell the gasoline burning.

i still need to buy clip ons,a chain,fork gators,and a front head light.