Administrator
Staff member
It all started with a minor oil leak....
The head of my XS650 has 2 stripped tappet cover studs, which I've tried to repair to no avail. Thus it leaks minor amounts of oil from around those covers. No biggie but given I completely rebuilt the engine with new pistons etc. it bothered me.
So I started looking for a new head to use, and I stumbled across Ryan at 707 Racing and ended up getting a tricked out head with titanium valves etc, and went down that path of building a whole new engine with a 750 kit, rephased crank/cam, the works and plan to take the XS650 Cafe to the BUB Speed Trials in August.
That's the never-ending XS650 cafe racer project I started shortly after launching DO THE TON back in 2002.
http://www.dotheton.com/forum/index.php?topic=448
The desire to not tear into my current stock engine led me to buy a complete XS650 for $150, specifically for the engine. This got me to thinking... hey.... I've got a whole 'nother bike here and I've always wanted a bobber. Maybe I'll hard tail the new XS frame and slap my old engine in it.
Some further reading into hard tailing and a few phone calls to the Ministry of Transportation Ontario along with my insurance broker convinced me that hard tailing a frame is not for me. But... then I met David from Voodoo Vintage who makes some wicked frames for the XS650. Calls to the MTO and my insurance broker confirmed I can register and insure a full custom frame NO PROBLEM
and David's frames are a small incremental cost vs buying a hard tail kit and having it professionally welded. For an extra $400 you're into a full custom frame done on a jig and fully legal vs. a hard tail kit and questionable legality, at least here in Ontario.
Push come to shove.... I've dropped the hammer on an MK4 XS650 frame from Voodoo Vintage.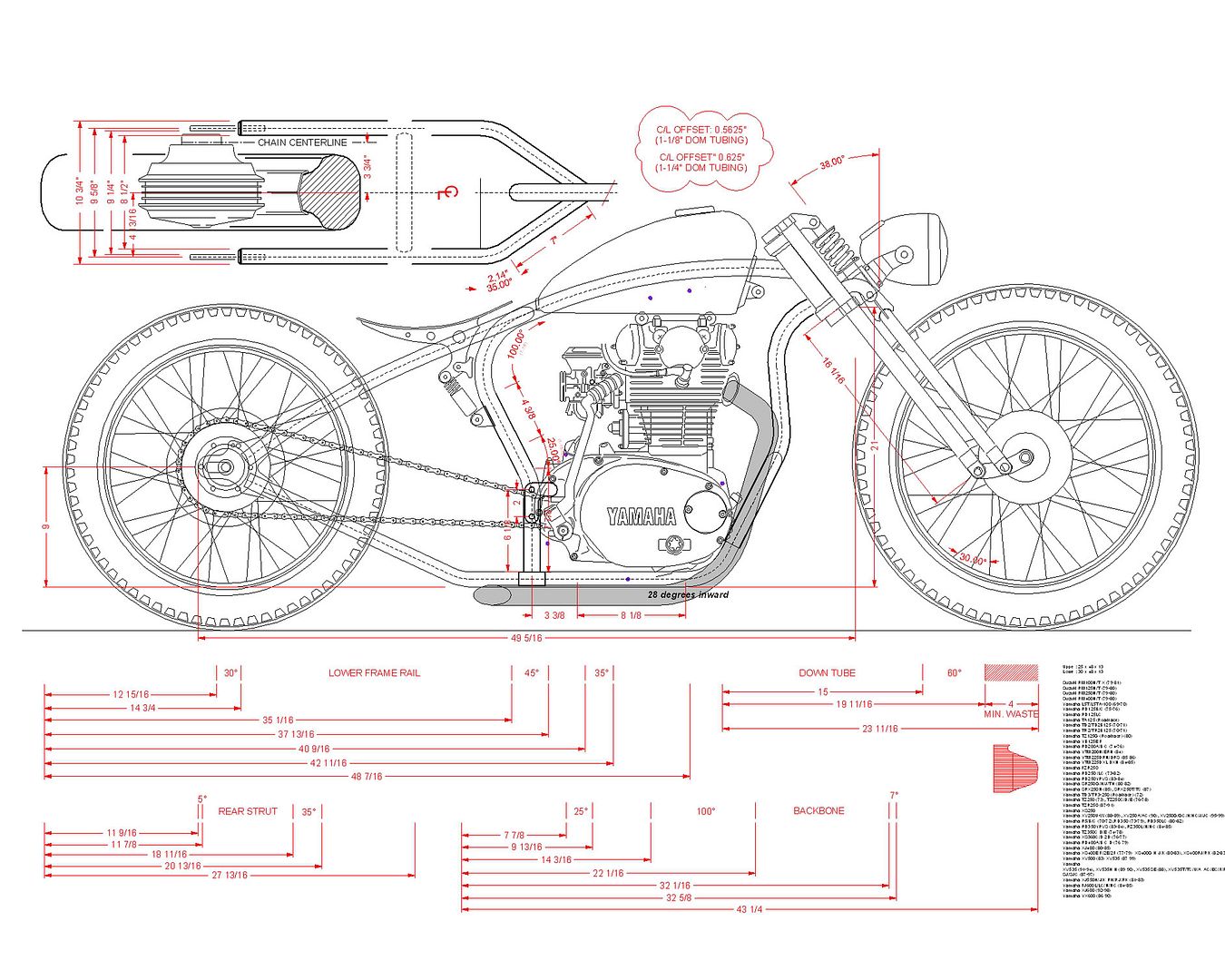 Next I needed some wheels. I didn't want to use the stock 16/19 mags from the XS650 I bought, so I started thinking about the 19/19 set of wheels I built for my SR500 project, but those are both disc brakes and I wanted drums for this bike. I was going to use them anyhow, and started asking around for a set of SR500 mags to use on that bike, but I found Noel had a set of wheels that would be good for this project.
Stock 18" rear XS650 wheel and a 21" XT500 front wheel with the drum brake. Might not be a super-stopping machine but it will do the trick for around town. I'm not doing the 'fat tire' thing with this bike, as cool as that looks - wanted a more traditional timeless look, so the skinny 21" front will work out well.
Off to the races!
So the current lineup of work on my bikes is:
BMW R75/6
- lacing up new wheels for it at the moment and needs new tires - just the wheels then can tune the Mikuni VM34's I put on it 2 years ago but haven't ridden yet
SR500
- Ready to start re-assembly in my garage - need to make some time and get on it.
XS6(7)50 Cafe
- waiting on the crank/cam from Ryan (shipped - should be in my hands in a few days) - gotta go get the engine out of the donor XS, soda blast the engine cases and start putting it together
XS650 Leftovers
- David is picking up the tubing and plate next week - frame should be waiting for me in Buffalo NY to pick up sometime in February
And the 1966 Honda CA95 is sitting all in one piece in my garage waiting its turn.
Good times