It has become apparent that my build is on the road to bobbertown rather than cafeville so I'll move it over here. Not to mention that it's time for a re-christening.
Here's my old build thread http://dotheton.com/index.php?topic=10041.0
Henceforth the Parts Dolphin will be known as the Thunder Toad.
Some update/re-introduction pics:
Finished painting/clear coating the tank. The color is a bit brighter than I wanted, but fine. I'm fairly unhappy with the job I did.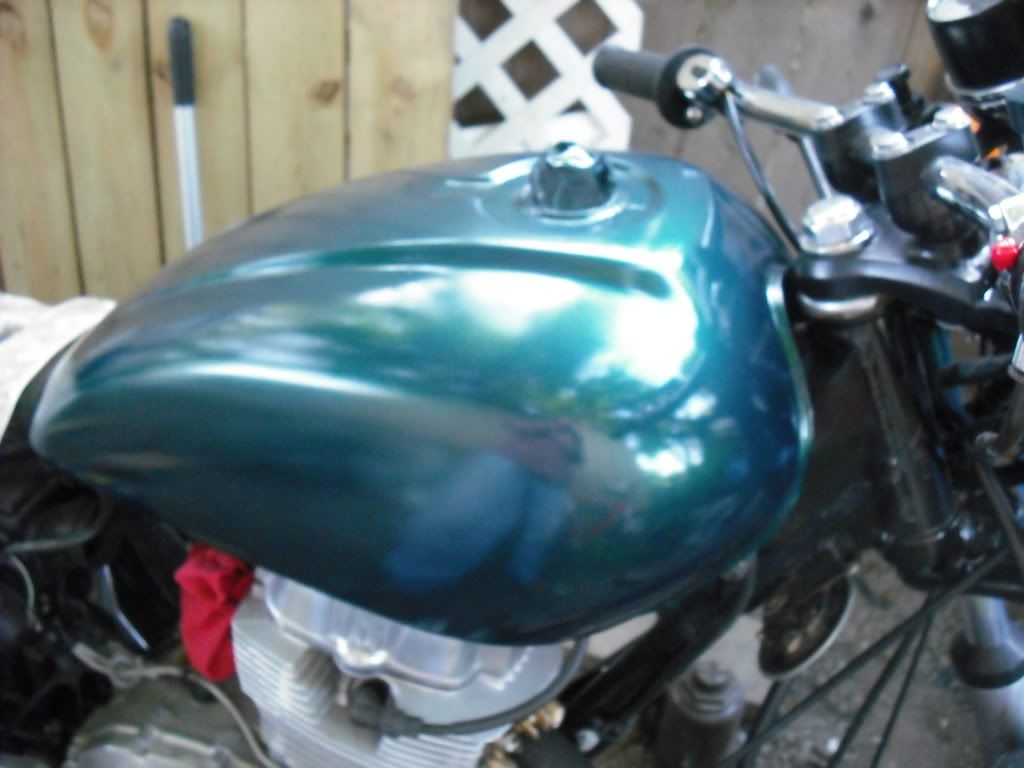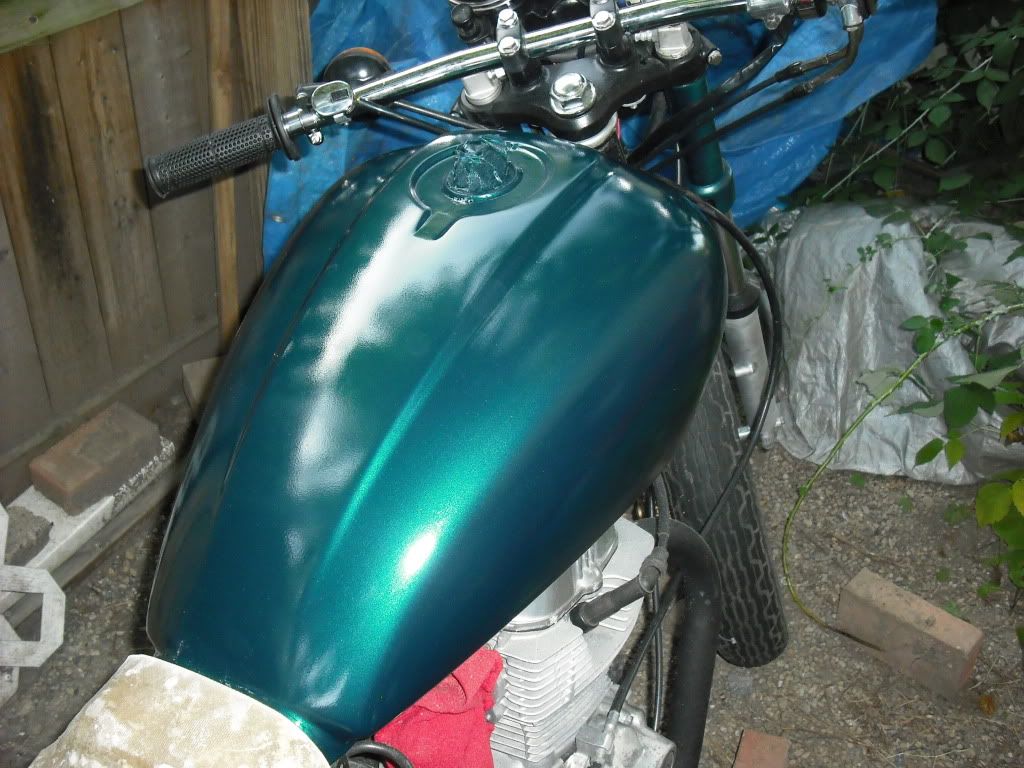 Lots of orange peel. I read several places how it is possible to get a near-pro finish with spray bombs as long as you're diligent about sanding etc. Problem was every time I sanded, no matter how light I thought I was being, I would scratch through. Used two cans of primer and three cans of color and was still getting down to gray wet sanding very lightly with 1500. Finally just shot a coat of green, rubbed with dry paper towel and tack cloth without sanding, and moved on to clear.
I started this build to learn more about bikes, especially body work. What I think I learned here is that painting is best left to the pros. For the price of all the primer, paint, clear, tools, and labor I put in, I could have probably gotten most of a pro job. Live and learn.
Still it looks pretty good from a few feet back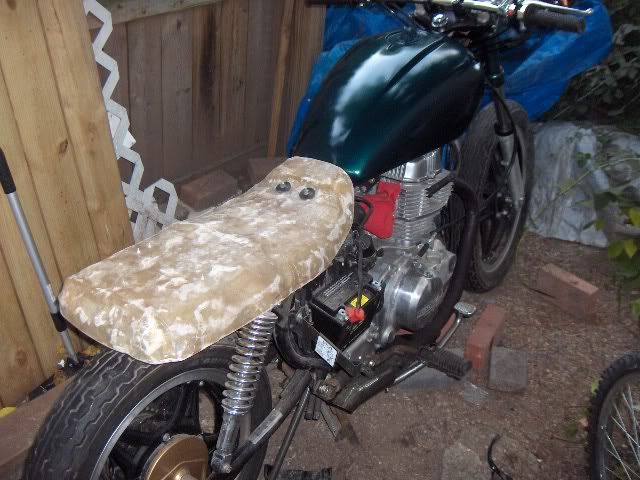 You can also see my trimmed up seat pan. Trashed the first one, cut the rear seat mounts off the frame, and formed up a new lower one. I cut the first one in half and used it for the front half of the new form.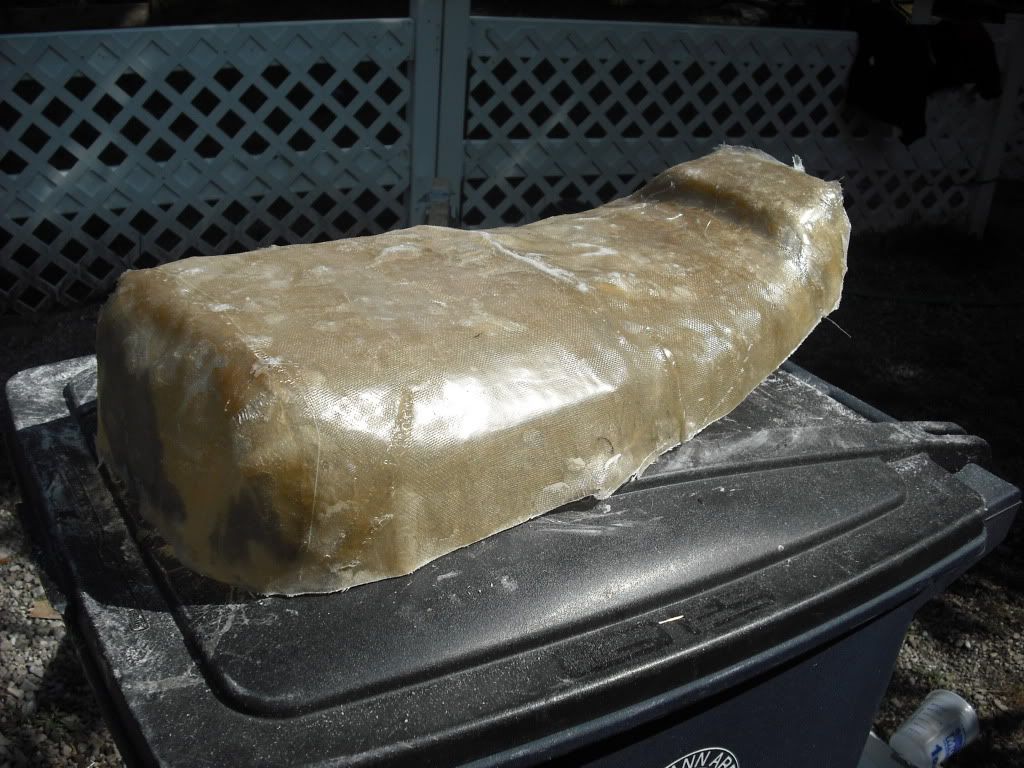 Attached the front lip mount from the original seat, used two cabinet latches in the back, and two rubber feet from the original seat in the middle. May still add some foam to the frame rails to distribute pressure as much as possible.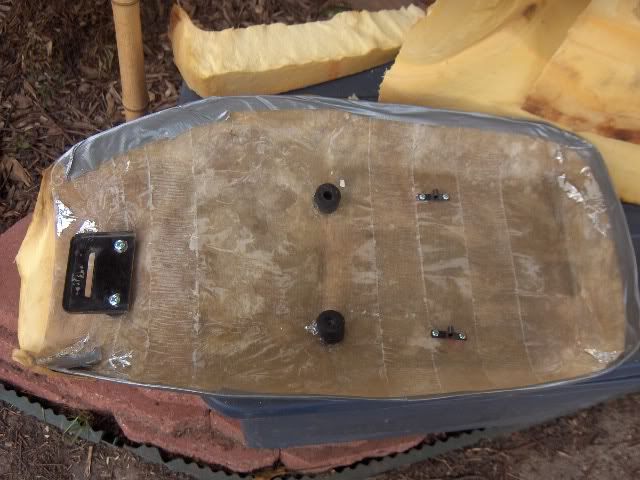 I met with my shoemaker friend this week. She agreed to do the seat for the price of materials as long as I promise to spread the word if it turns out well. Started gluing foam to the pan today. Will hopefully buy some leather Thursday and get the seat to her to start sewing next weekend. I'm totally stoked. The wide flat seat is going to be like a bench seat out of an old sedan. Should add a certain touch.
Now I'm thinking about a tail light. I've been thinking of going with something like this
http://cgi.ebay.com/ebaymotors/ws/eBayISAPI.dll?ViewItem&item=180408785572&ssPageName=STRK:MEWAX:IT
to minimize the clutter. Not sure how I'll affix it now though. I sort of like BaconPocket's side-mounted light, but I'm not positive I can make that work easily either. I'm sure a minimal amount of fabrication will make either of these work.
Attention Humans: Prepare for the coming of the ThunderToad!