Hmm, thought I had a thread on here already, but not finding it, so starting at the beginning:
I had 3 steetable bikes in the shed (restomod chain-drive, spare parts shaft-drive bike, and a BMW R1100S I've been riding daily) - and enough spare parts to build a 3rd XV. As I'm pondering selling the spare parts bike, my wife decides she'd like to be able to ride with me sometimes. She's taken the MSF basic course - twice. Each time, life has thrown us a curve ball and thwarted the plan to get her a bike.
Now she says that she's interested, but worried now age may be a factor, so suggests a trike. In searching Craigslist for a trike, we see a sidecar rig with a dog in it. Eureka! We had recently put down our 15 year-old Golden Retriever, and we are waiting to be chosen by another dog. So, a sidecar rig it is.
I see an ad for a Vetter Terraplane, and after a little research, decide it is a fine candidate. A few days later:
It was in pretty good shape, but the brake hardware was all missing.
So, I stripped it down and verified nothing worse than surface rust. I also find out that original brake parts are unobtanium, so I set about adapting a Virago XV920K wheel and brake.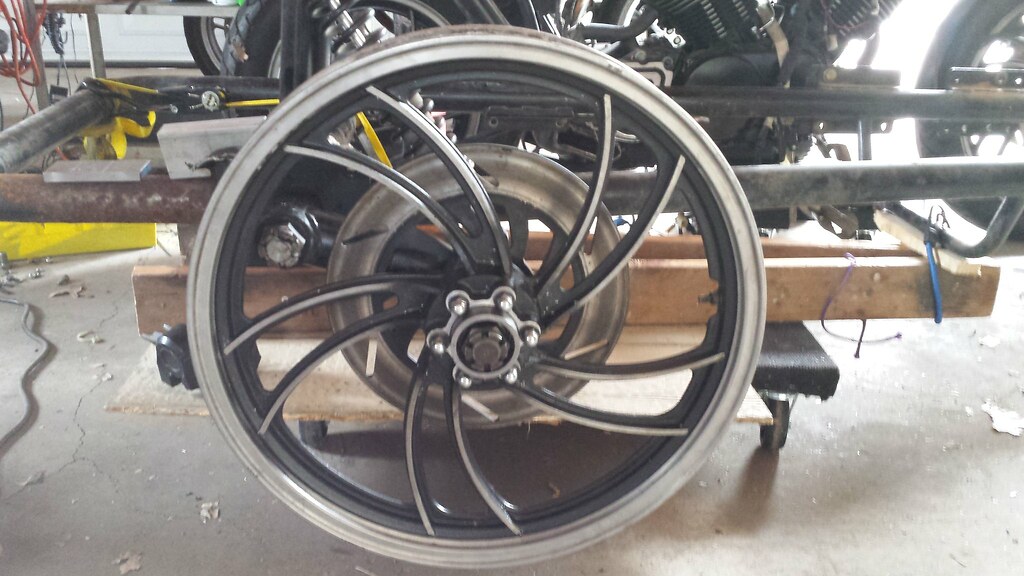 For the tug, I'm adapting my spare parts bike, using a XV-R tank, European TR1 tail, and NOS Vetter Quicksilver fairing:
In the meantime, our new monkey arrives: