Alright everyone, as promised I'm throwing another event here in Jacksonville! The date is August 6th, it's fairly short notice but a lot more effort has gone into this one and has taken more time to finalize.​
Here are the details (I'll add to them as more comes in)...​
"Wolfgang Oil Mixer" ​
Friday August 6th @ Wolfgang Clothing in Historic 5-Points ​
1038 Park Street Jacksonville FL 32204 5pm-9pm​
Come out for a good time surrounded by the bikes and cars that we all love and appreciate!​
Free Beer! Live Music! DJ! Rats & Rods! Panel Jam! Raffle! Motorcycle & Car Show!​
This time around we are honored to have the following companies and businesses sponsor our event.​
.​
Crown Skateboards -

www.crownsk8.com

[*]

Strata Clothing​

[*]

Wolfgang Clothing - Host & Location of Event​

[*]

FTWco. - ftwco.blogspot.com​

[*]

Moon River Pizza - Pizza Supplied By​
.
Dime City Cycles will be attending the event with a few of their project bikes as well as merchandise! Come out and chat with the guys from Dime City!​
For those that are traveling from out of town, I have also spoken with a local Holiday Inn and arranged a special event rate. Get with me if you're interested in booking a room for a night. The owner is leaving the offer open for the entire weekend if you so choose to stay until Sunday.​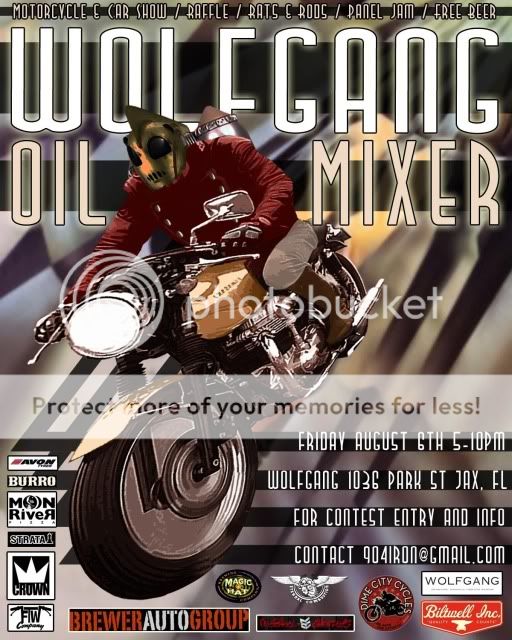 Post This Everywhere You Can! Local Shops, Blogs, Facebook, Twitter​
We want to fill the streets with bikes and rods!​
If you have any further questions about the event feel free to shoot me a personal message or email me at
904iron@gmail.com
​