Yep, another CB360 sucker, er, project. I've made my introduction on the new member page, but thought I was far along enough to start my project thread, so, here goes. . .
Here's my inspiration for this build - British Racing Green with Tan interior (seat). I've always been partial to the Jaguar's and MG's that have that color combination.
Overall I'm thinking of a gloss black frame, bright non painted motor, polished engine case, BRG color for the tank and fenders, and a light tan seat, not as orange as the one pictured, but close.
Well, here's what $400 gets you. . .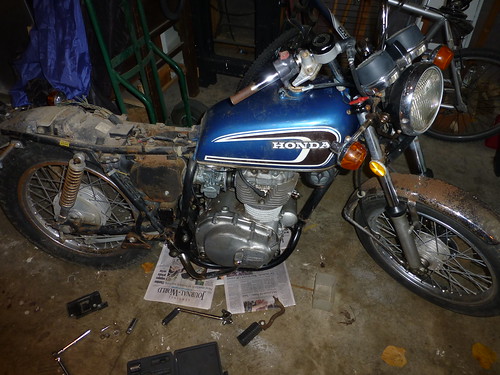 Tank has one small dent, engine was seized, no throttle, sitting for 20 years in a guys shed, and one supportive wife.
After tearing her down, this was the reason for the seized motor:
2 days of penetrating oil, a torch and a rubber mallet the piston was free. Gave me the first look at the valves:
Man, it just got better and better. But, it's amazing how much "good" metal resides under rust. After a trip through the wire wheel, things cleaned up nice. I was also fortunate to have access to a big sonic cleaner.
Like sonicare on your teeth, this sonic cleaner really helped clean things up quickly. It didn't do all the work, but got a lot of the gum and varnish off the inside of the cases.
One thing I'm not looking forward to is the wiring. I won't have a starter motor, and I've ordered a plug from CrazyPJ. I've also sent the carbs to him for a tuneup. What a mess. . .
Although this photo doesn't show it, the frame is now completely stripped of paint and detabbed.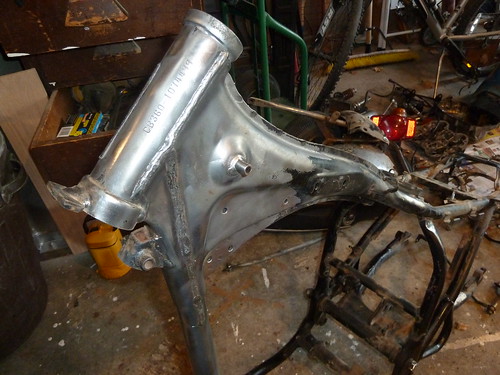 I've started stripping the tank. This stuff is wicked nasty, especially if you get some on your skin!
I starting cleaning up the cylinder walls, but discovered that the piston that was rusted to it has created a large gouge. I could have it bored out, but then I'd have to get larger pistons and rings. I already ordered a new set of 67mm rings, so I decided to order a new set of jugs off eBay that are standard size, but in better shape. I'll save these if I decide to bore them out in the future.
While waiting on the new jugs, carbs from PJ, and odds and ends I've been practising my polishing technique. Here's what I've got so far, shiny bits. . .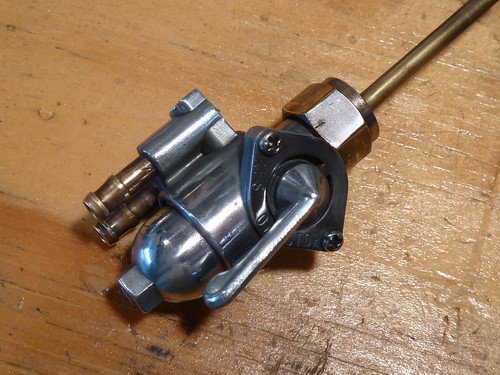 That's it for now until I start to reassemble the motor. But, before I do I need to seal everything with
Shark Hide.
Mike