Keep er' Between the Ditches
DTT SUPPORTER
DTT BOTM WINNER
I figured I'd go ahead and post up a thread here, since I like you guys better than the crotchety old geezers on the hot rod forums. My neighbor gave me this truck as a graduation present about 10 years ago. It is a 1949 F3 that my great-grandfather bought used in 1950. When the family farm sold around 1987, my neighbor bought it and drove it a little bit, but then it sat in his garage until I got it. I got it running again shortly after receiving it and drove it into the barn where is sitting today.
I am fairly caught up on bike projects with the exception of my rd350, (I have two running/rideable bikes currently, how did that happen?!?!) and I decided that it's just time to jump in and get this thing cruising again.
Here are a couple pictures taken of the truck in the late 80's or early 90's, complete with chicken wire and roofing tar "body work" on the front fenders.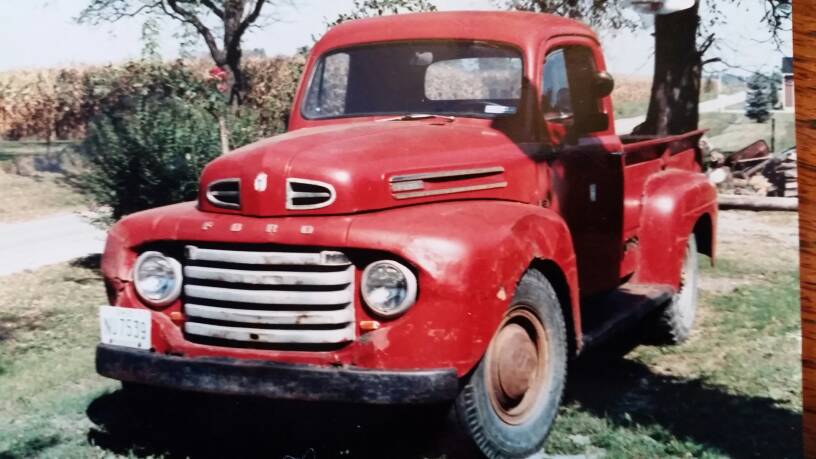 The plans for now are not to do a restoration, but rather to get it running, as budget friendly as possible, and just enjoy cruising around. At this point in my life, I don't have the time or resources to do a ground up resto, but there is no reason not to get this thing mechanically "good nuff" to go cruise around and maybe go pick up a junk bike or two along the way. Ill be keeping the original straight 6 and non synchronized 4 speed. The front end was completely bungled, but the p.o. did buy an all new fiberglass front fender set that will go on. Luckily, the truck has spent it's entire life stored inside, and the cab and hood are in incredibly solid condition with almost zero rot. The only exception as far as the cab goes is one small spot on the floor where the drivers foot rests to hit the gas petal. The bed is unfortunately a bit rotted at a few seams, due to its life as a farm truck that hauled fertilizer.
It is a bit of a unique truck for its vintage as it is a 1 ton with a single rear wheel and a full long bed, and not a flat bed like most. The downside is that in stock form, it uses a timken rear axle that has massive 12.5" drum rear brakes that do not accept any rims smaller than 17". The stock wheels are the widow maker two piece style, that I'd like to get away from, along with tractor like gearing. There were a few 4:11 gear sets made back in the day that help get the rpm's down at 2 lane speeds, but when they do come up, they are a bit rich for my blood at around $700 or so.
I plan to remedy this by doing an 8.8in rear axle swap out of a ford explorer, which will both gain me disc brakes as well as open up wheel options, being as it uses a 5x5.5 lug pattern. Ill match this up front with a disc conversion that will also convert the front end to a 5x5.5 pattern. Ill pull a few leafs out of the massive spring pack in the back to get it a little lower and improve the ride as well as reverse eyelette leafs out front too bring it down a bit as well.
That, along with a little maintenance and a possible conversion to 12v from the original 6v positive ground system, and she'll hopefully be cruising again.
I spent part of today getting some good (ish) rubber out front in preparation to move it out of my dads barn and over to my buddies shop where the work will take place. I will try to keep this thread updated as I go. The blue truck is a bit of an inspiration shot with the same axle swap that I'm planning to do.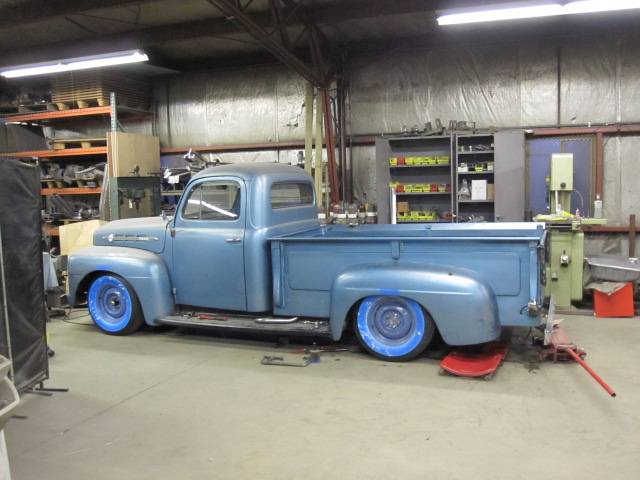 Sent from my SM-G920V using Tapatalk